Boxing: Kenya's Nick Okoth loses his first Olympic fight against Mongolian Tsendbaatar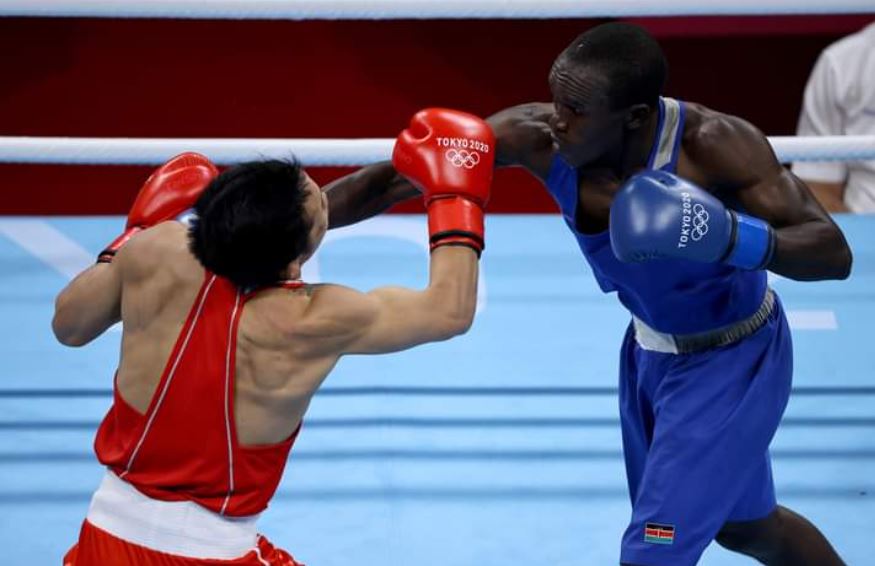 The 2015 Africa Boxing Championships lightweight (60kg) - gold medalist Nick Okoth was the first Kenyan boxer to bow out of the 2020 Tokyo Olympics after losing his featherweight bout (57kg) to Erdenebatyn Tsendbaatar of Mongolia in Kokugikan Arena in Tokyo, Japan on Saturday.
The loss was a setback to the Kenyan team of four boxers under head coach Musa Benjamin and assistant coaches David Munuhe and John Waweru who had earlier hinted of having two of their boxers reaching the medal bracket with Okoth being the best bet.
Okoth was the best bet owing to his outstanding performance in the recent international championships, which in all of them he reached the medal bracket with the latest international tournament being Konstantin Korotkov Memorial International Boxing Championships in the city of Khabarovsk in Russia where he won a silver medal.
He (Okoth) who was tipped to reach the medal bracket lost in a split points' decision falling 3-2 to the Mongolian in the preliminaries of the round of 32.
It was a bad start for the Kenyan boxers as their captain and commander being the first culprit to fall by the wayside in his second attempt at the Olympics having lost in the same stages in the 2016 Rio Olympics in Brazil four years back.
The defeat leaves no option for the 38- year old Kenya Defence Forces sergeant who is in his sunset years in the ring and could possibly hang his gloves after the World Military Games to be hosted in Russia in September 2021.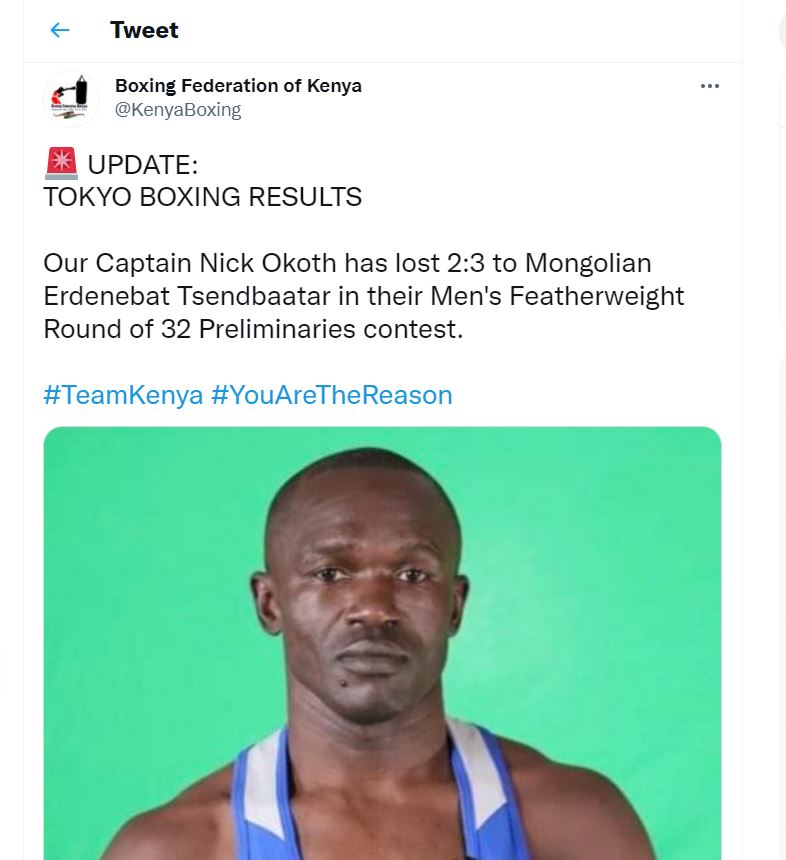 His sterling performance was registered in the past decade in a number of international championships around the globe.
They include Africa Boxing Championships, All Africa Games, Africa Zone Three Boxing Championships, Africa Olympic Qualifiers, Africa Military Games, World Military Games, Commonwealth Games and Konstantin Korotkov Memorial International Boxing Championships in Russia.
The loss leaves three Kenyan boxers yet to take the ring in the chase for top honours.
They are Africa Zone Three super heavyweight gold medalist Elly Ajowi, Commonwealth Games flyweight bronze medalist Christine Ongare and national flyweight champion Elizabeth Akinyi.
The trio is making its first debut in the global games.
Ongare takes on Irish Magno of Philippines tomorrow (July 25, 2021) in the preliminary round of 32.
BOUT REPORT.
PLERIMINARIES | Round of 32.
?? Men's Feather (52-57kgs)
???? ????????ERDENEBAT Tsendbaatar WP 3:2
???? ????????OKOTH Nicholas. pic.twitter.com/BcChjdBbtg — Boxing Federation of Kenya (@KenyaBoxing) July 24, 2021
Boxers yet to take the ring:
Flyweight (48kg) Christine Ongare,
Welterweight(69kg) Elizabeth Akinyi,
Heavyweight (91kg) Elly Ajowi.