Wilson Chumo: The man who opened medal floodgates for Kenya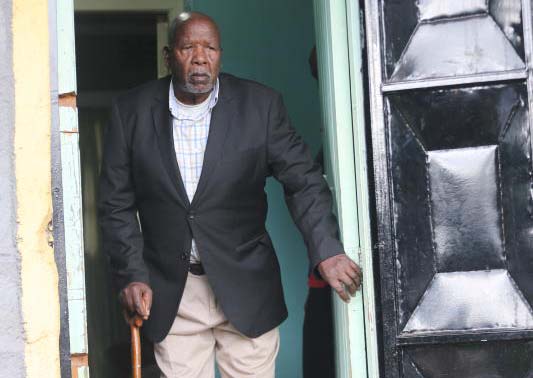 Kenya returns to Tokyo, Japan, today, the venue where it won her first Olympic medal 57 years ago thanks to a man with a lion-heart, mzee Wilson Kiprugut Chumo, now ageing gracefully in Kericho.
At 83 years of age, the giant of a man, who still retains an infectious smile, will surely be pleased to see Team Kenya deputy captain Andrew Amonde carry the Kenyan flag during the opening ceremony at the Tokyo Stadium today.
Unlike 1964, a year after re-gaining independence from Britain and still struggling to locate her place in the Olympic family, Kenya returns to Japan a proud nation with 103 medals (31 gold, 38 silver and 34 bronze).
Chumo's bronze in 800m, arguably, still ranks the sweetest- a medal won through grit and sheer resolve as he braved body blows to hang onto the precious bronze in 1:45.9 and announce the birth of Kenya as a sporting giant.
New Zealand's Peter Snell (1:45.1) and Bill Crothers (1:45.6) of Canada may have won silver in 1964, but today, Kenya holds the World Record in the race inked by gladiator David Rudisha who scorched the London tartan in 1:40.91 at the 2012 Olympics.
"It was literally a fight because I took in the elbows to my ribs. Some of the athletes wanted to knock me down as they hit me from all sides, but I stayed strong though I lost ground," Chumo vividly recalled as he narrated the happenings of October 16, 1964 to told Standards Sports and KTN News recently.
"Just before the race, I asked myself if those I was competing against had three legs or just two like mine," Chumo said with a disarming smile as he burst into a prolonged elderly laugh.
"When the race started, I was boxed from all sides, but I steadied myself to finish the race. I remember when we returned home, the hockey team players, who had also qualified for the Olympics carried me shoulder-high from the plane and down the steps to the awaiting crowd at the airport.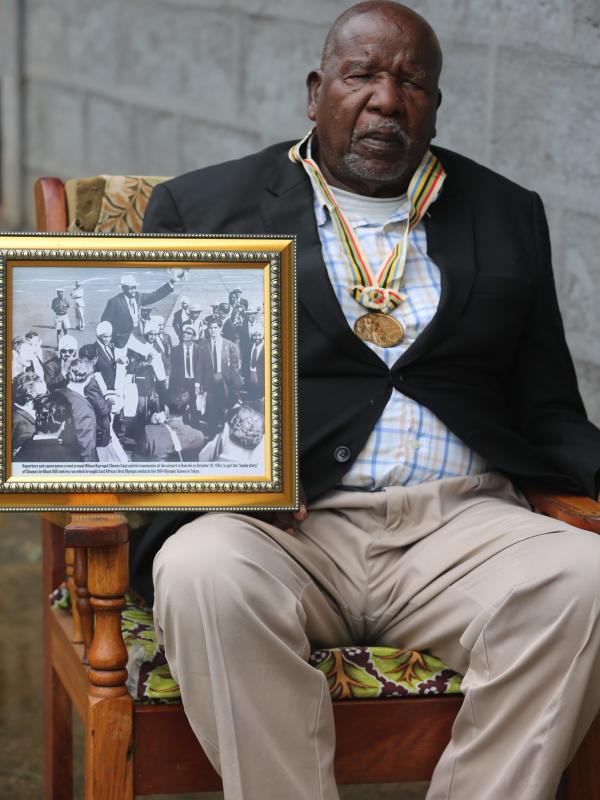 "It was amazing. We were united. We were one. I don't know where those hockey players are today," Chumo said.
It is that unity, encapsulated in the Black, Red, White and Green flag that Amonde will be flying today in the full splendor of the Tokyo Olympic Stadium with billions of people watching.
The ceremony will be a preamble to yet another medal hunt with Kenya's boxers Nick Okoth (Featherweight), Elly Ajowi (Heavyweight), Christine Ongare (Flyweight) and Elizabeth Akinyi (Welterwaight) the first to face the world tomorrow.
Swimming, where Emily Muteti and Danilo Rosafio will fly Kenya's flag, will also start tomorrow as as Taekwondo, where Faith Ogalo is the country's sole representative.
Kenya's Chef de Mission to the games, Waithaka Kioni, paid tribute to the Kenyan representatives for the unity of purpose they have shown heading to the Covid-19 hit games.
"I am won over by the sheer determination of this team. For the first time in my memory, everyone is pulling in the same direction. I have previously been quoted referring to the Ministry of Sports as a 'corridor of confusion.' Not anymore," Kioni said yesterday.
"I have seen transformative leadership in sports under the current Cabinet Secretary for Sports Amina Mohamed and generally President Uhuru Kenyatta's government. Things can only get better," he said.
"Under Amina, we have 87 qualified athletes – an unprecedented number and also considering other established nations have only one qualified representative."