Frank Tundo retires from farming to concentrate on classic rallying abroad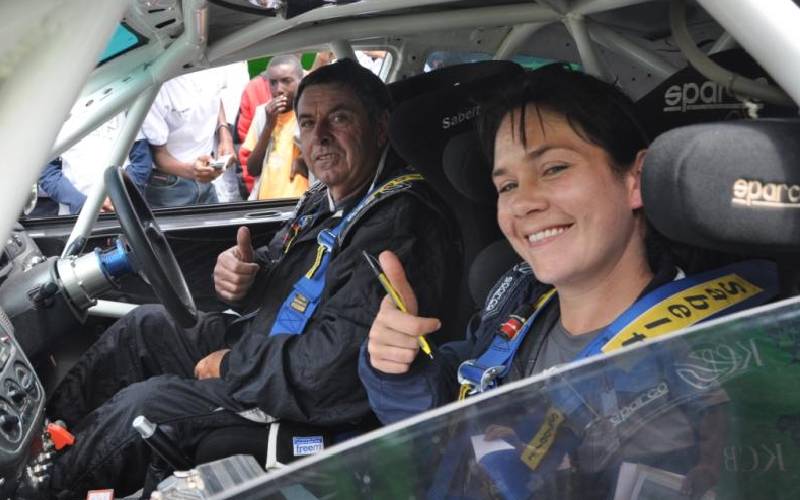 It was a Sunday morning when he was very busy officiating in one of the dustiest and gruelling events of the Kenya National Rally Championships before the cars zoomed off in the wilderness.
He was not ready to spare a minute to talk to us especially when he was tackling the issues of the drivers at the scene at the time flagging off was going on.
It took close to 20 minutes for all the 11 cars that participated in the aforesaid rally to zoom off to the wilderness.
Immediately after all of them were gone, he retreated to his coveted seat at the rally headquarters where he was one of the chief organizers of the Nakuru/Mogotio Rally where we discussed a wide range of issues pertaining to rallying.
And when he opened up, he revealed to us his retirement from farming which was his main source of livelihood while seriously and simultaneously taking part in rallying.
And with that former Safari Rally veteran driver Frank Tundo is once again taking rallying as a full profession as a septuagenarian.
His deep passion for the old machines makes them more interesting as opposed to the modern and modified or factory-made speedy rally vehicles.
His passion for the old machines is unstoppable and unmatchable!
As most veteran drivers prefer to retire early, the 73-year old-Kenyan rally driver is still in love with motorsports and not ready to leave it any time soon despite having rolled several times in his career spanning five decades.
Tundo started rallying in 1972 in his early 20s at the East African Safari (Rally) before it graduated to become the World Rally Championships (WRC) Safari Rally.
And the deep passion for the old machines from the early seventies up to the late eighties in the WRC Safari Rally will not end soon as he extended it to the East African Safari Classics Rally and Global Classics Championships (GCC).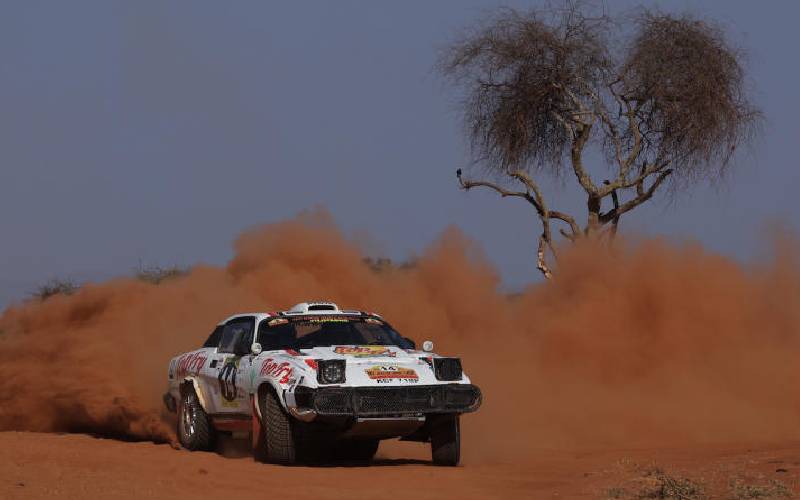 And as the veteran driver took a stab in the East African Safari Classics Rally this year, it will not be the last in Kenya or Africa but his concentration shifts outside the continent.
Global classics
And with the 2022 World Rally Championships (WRC) Safari Rally set for Naivasha on June 23-26, Tundo will almost at the same time be in Sweden preparing for Swedish Classics Rally before heading to New Zealand five months later (November 2022) for the New Zealand Classics Rally.
"It is so interesting to compete in such big competitive classics rallies with these old machines. I'll carry on with them here in Kenya and abroad but for now, I have shifted my focus to compete overseas," Tundo told Standard Sports during Nakuru/Mogotio Rally at Mogotio Cultural Centre on March 6, 2022.
He said he was ready for serious engagement in the classic rallies at the international level.
After touring Sweden and New Zealand this year, Tundo will be headed to England in November 2023 for the English Classics Series.
That was after participating in two classic rallies in Kenya.
"These Classics Rallies are very vital to my life and that is why I take them seriously that could enhance my achievements as an experienced rally driver," he said.
He said plans to have two or three classics rallies per annum was affected by the emergence of the Coronavirus pandemic.
"Had we not have had this pandemic, chances are high Kenya Motorsports Federation (KMSF) could have approved two or three classics rallies on our home soil this year," said the retired farmer.
Tundo was one of the few active Safari stalwarts of the 1970s and 80s who raced with the likes of five-time Safari Rally champion Shekha Mehta and three-time winner Joginder Singh.
Motorsports family
Apart from his driving skills, Tundo has also nurtured one of Kenya's greatest drivers in his son Carl 'Flash' Tundo who has also equalled Shekhar Mehta's record of five wins in the Safari Rally.
Other members of Tundo's family including the wife Lyn and daughter Natasha have always taken part in the Kenya National Rally Championships at different times for the past decade.
And as Tundo heads to Europe for a series of Classic Championships, it will be interesting to see if he'll be accompanied by any member of his family.
However, he later confirmed he's not going abroad alone but will have a navigator from his home country.
She'll be none other than his daughter Natasha Tundo.
"I'll be accompanied by my daughter Natasha, who has always loved motorsports like myself and she'll be my navigator in the three rallies abroad," said Tundo.
With lots of interests in motorsports, he said he'll be organizing one or two rallies locally annually to nurture the talents of the upcoming drivers.
Related Topics