Suave Kisevu shines at King of Course meet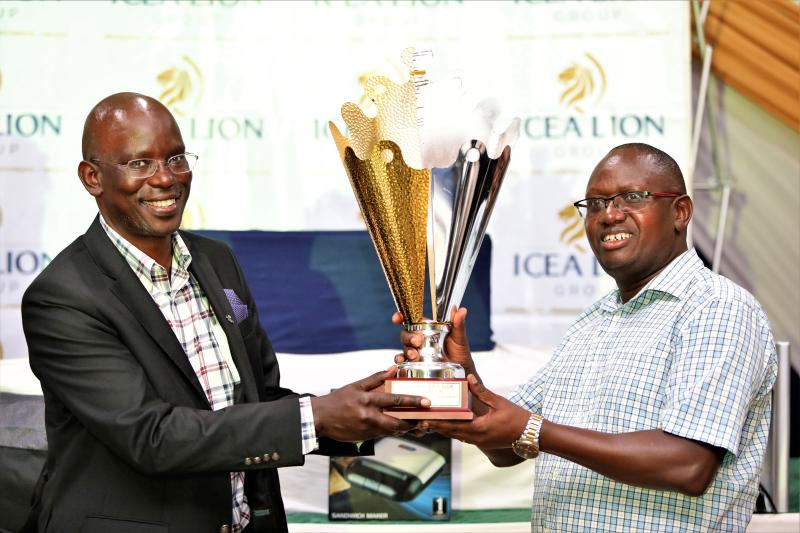 It was an interesting golf outing as two hole-in-ones were recorded during ICEA Lion King of the Course, Year opener played at Machakos Sports Club course over the weekend.
The two aces were sank on the par-three 17th and par-three 11th holes by Faustine Maithya and John Nganga respectively during the tournament graced by a commendable field of 146 golfers.
Apart from acing out the 17th, Maithya also won Nearest to Pin Men prize as it was also being contested on the same hole.
After striking a soft, eight iron from the deck that bounced once and drained into the pin to the exclamation of the team ahead of them that had called out for them to play on.
The both, in line with golfing traditions offered all golfers and guests present a drink to celebrate their rare feat.
It take a golf professional, 2000 attempts to score an ace with some retiring without acing one.
ICEA Lion General Insurance presented the tournament, which the first in a six event series that begun in Machakos before moving onto Thika Greens Golf Resort, Ruiru Sports Club and Nanyuki Sports club.
It will the head to Nandi Bears Club before winding up with a grand finale at Nyali Golf and Country Club later in the year.
Handicap 28, Stephen Kisevu topped the winners scroll after carding 20 stableford points on his outward nine with an additional 22 stableford points from the inward nine to star.
A social golfer, Kisevu claimed his second win since he discovered the gentleman's game, a decade ago.
"I'm surprised with this win. I have been playing golf, solely for exercise as a networking platform and today I came out to participate since ICEA was my first employer but alas, I'm heading back home a winner!!" Kisevu said while delivering his speech.
Ken Kisoi playing off handicap 29 was Member winner on a score of 40 stableford points who edged out Robert Muli and Steve Makau on countback to Member winner third and fourth on a similar scores of 40 stableford points.
Mombasa Sports Club's Lady Captain Virginia Munyao was the best Guest golfer on a score of 42 stableford points ahead of Guest winner second Gladys Kasi who returned 40 stableford points.
Martha Njama playing off handicap 31 was Lady Winner on a score of 42 stableford points with Wanjiku Maingi taking Lady Winner second prize on a score of 30 stableford points.
In the Nines; Nderitu Macharia won First Nine prize with 23 stableford points as Angela Wambui won Second Nine prize with 19 stableford points.
Best Effort prize went to Felistus Mativo who managed 7 stableford points from her round of 18-holes.
Longest Drive Men prize was won by; Colin Nzioka with M Shakim winning Longest Drive Ladies prize.
A total of 16 twos were recorded during the meet by; Ben Bella, Joseph Kombo, Collins Munuve, Virginia Munyao, Mark Makau, Erick Mutuku.
Others were; Newton Ongalo, Joseph Otieno, Ceasar Handa, John Nganga, David Mwangangi, Pro Kiondo, Paul Kyengo, Tito Musyoka, Charles Kikuvi, Henry Kamuti and Florence Riungu.
At Kenya Railway Golf Club; Quartet of Joseph Kagicha, Irene Kimeu, Ronald Wekesa and Ibrahim Lande scored 117 stableford points to emerge as Overall winners of the fifth leg of Road to Gleneagles Johnnie Walker Golf Series.
Coming in second were; the team of George Wakaba, David Mbatia, George Yego and Sam Onyambu who combined for a score of 115 points. While third and final qualifying spot was the team of Simon Onyango, Ronnie Maina, Elijah Wachira and Martha Njama who hit a combined score of 108 points.
Related Topics