Junior Kaur too good in Mombasa tournament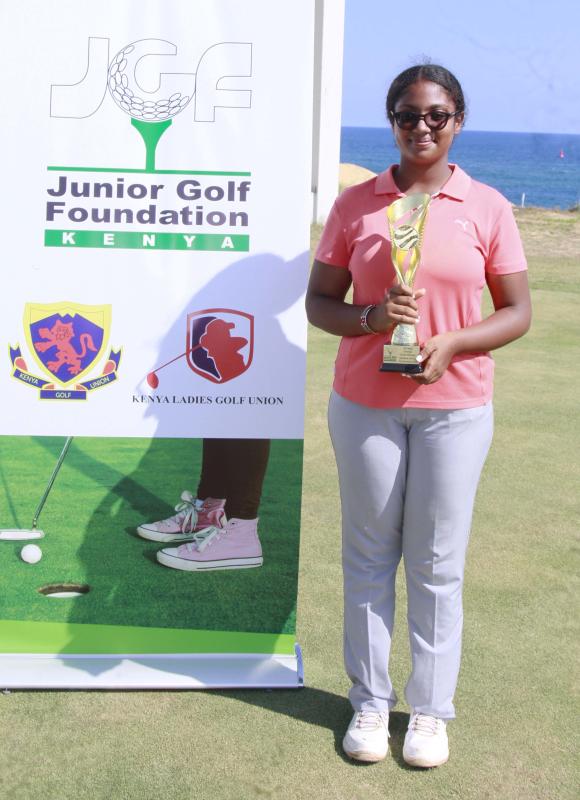 Rasmeet Kaur braved the current Coastal heat and strong winds to emerge the overall winner of the Mombasa Golf Club's 2021 Junior Golf Foundation (JGF) series tournament the par 71 Sea-Link Course, on Sunday.
Kaur carded a countback score of 100gross in the day-long 18 hole-tournament to claim the overall gross title in the handicap category.
"I am honoured to be the winner of this event. The greens were good and I played an easy game and won despite the hot climate. I would like to thank the organisers JGF, the club, sponsors and my parents for their support. I hope to defend the title next year," said Kaur.
She had tied on the same score with handicap 23 Havas Maghanga, who was the gross winner in the category of 15-years and over, while handicap 31 Harsimran Kaur, on 79 nett and handicap 25 Charles Roy with 80 nett, were the Nett winner and Nett runner-up respectively.
Faith Achieng, playing off handicap 20, carded 100 gross to emerge the gross winner of the 13 to 14 years age group.
The Nett winner in the same category with 75 nett was handicap 30 Ethan Kinuthia and handicap 25 Gipson Chola, on 82 nett, was the runner-up.
Handicap 30 Mwai Mariga, who had a score of 102 gross, was the gross winner of the 12 years and under, while handicap 36 Lukas Kampa, on 71nett, was the nett winner of the same category.
In the non-handicap category who played five holes, Rian Makwana brought 28 gross to emerge the winner of the U8 category, while Arthur Vincent, on 36 gross was the first runner-up and Devi Soni third with 41gross.
Mombasa Golf Club's vice captain James Gitonga thanked the organisers for bringing the event to the Sea-link course.
The tourney was the 16th in the JGF 2021 Calendar of events that started at Machakos Country Golf Club on July 17.