Golf: Over 100 golfers set sights on Standard County Golf Classic in Nanyuki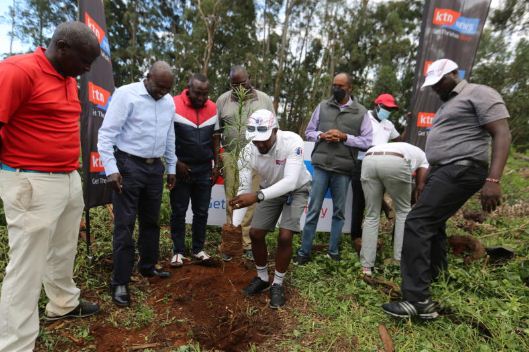 The third leg of the 2021/2022 Standard County Golf Classic series is slated for par 72 Nanyuki Sports Club on Saturday.
Over 100 golfers have registered for the event whose mission is to promote sustainable climate change under the banner 'On the Green Course, for the Green Cause'.
"First tee off will be at 7 am, we expect the number to swell as we are also accepting post entries upto 11am," Nanyuki Sports Club Golf Admin, Justus Muraya, told Standard Sports.
First on the tee box will be the batch of E.Kirogothi, Father Martin, S.Gichuru and K.Kaburu.
Principal Secretary State Department for Industrialization Amb Kirimi Kaberia, Laikipia Governor Ndiritu Muriithi, Standard Media Group Chief Executive Officer Orlando Lyomu and club captain Moses Muthoki are set to tee-off at 11.54 am.
"The greens are smooth, they are rolling. The fairways are also well trimmed, they are short and leveled," says Muraya.
However, the golf administrator is warning participants to expect tough challenges in holes 3,4,5,7 and 8.
They will have to use a wedge in the par-3 hole 3 instead of a driver because of the overhead barriers.
"They will have to hit the ball straight and on the greens if they have to survive the tedious hole," Muraya says.
The players should be aware of imposing trees on hole 4 after 150-yards.
Hole 5 has a dam, a very big tree in front of the fairways and is dog-legged to the right.
"The dam extends to hole 7 where the water mass is expanded with an Out of Bounds (OB) to the left," says Muraya.
Hole 8 is also dog legged to the right with an OB to the left.
Players should also be aware of strategically placed bunkers in holes 1,2,3,4,5,6 and 9 to slow down their game.
Muraya hailed the Standard Group for being consistent with the tournament on their course underscoring its benefits.
"Our caddies have been able to eke out a living from the tournament. Guests travelling from far and wide invest in Nanyuki thereby boosting economy of our town. During the event, our club members are kept busy with the competition. They also use occasion to interact and network," says Muraya.
"We missed the golf tournament last year because of Covid-19, we are glad it's finally back.We can't keep calm," Muraya added.
Muriithi, Lyomu, Muthoki and club chairman Kudip Hunjan are expected to plant trees at the end of the contest as part of the tournament's greening initiative.
The Nanyuki Golf edition is in partnership with Panafrican Equipment Group/FMD East Africa, known for their Massey Ferguson tractors and other farm machinery.
"We are happy to be part of this noble course that advocates for sustainable climate change. Creating a safe environment around us will leave a legacy to the future generations," FMD East Africa Sales Manager Lucy Mukuru said.
Standard County Golf Classic Nanyuki leg selected tee off time
7am: E.Kirogothi, Father Martin, S.Gichuru, K.Kaburu.
7.08 am: Father Herman, E.Kinoti, P.Ekwam, B.Njoroge
7.16am: B.Waikwa, M.Karuga, S.Munyua, S.Mose.