Clinical Muthaiga team retains Tannahill Shield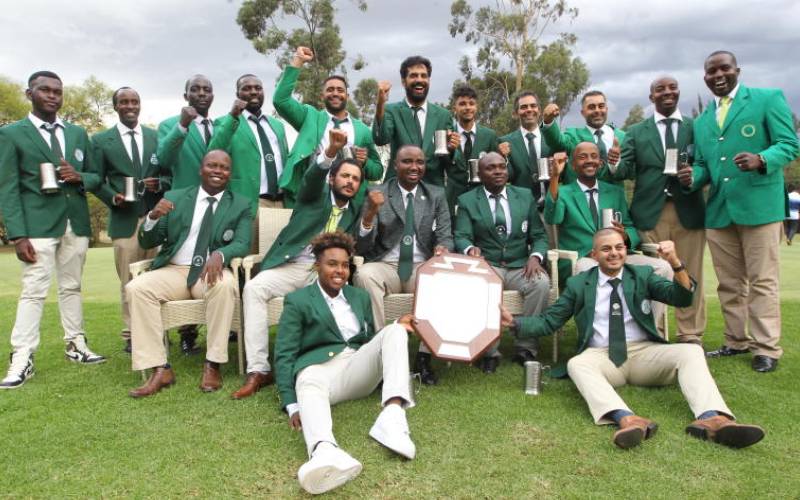 Clinical Muthaiga Golf Club fired 53 points to retain the 97th edition of Tannahill Shield Golf Tournament at the par 72 Royal Nairobi Golf Club yesterday.
Hosts Royal and Kenya Railways tied second on 36 points. Western Kenya finished the three-day contest fourth on 35. Fifth place was bagged by Mombasa Golf Club on 30.
Sigona Golf Club and Limuru Country Club tied sixth on 26 while Vet Lab Sports Club and Karen Golf and Country Club were last on 23 apiece.
Muthaiga dominated the leader board on all days on their way to retaining the trophy in the foursome strokeplay competition.
The champions carded 16 points on Friday, 14 on Saturday morning, 11 on Saturday afternoon and 12 yesterday to carry the day.
The champions were steered to victory in the nine-team contest by teenage sensations Njoroge Kibugu, Taimur Malik and Daniel Kiragu.
Kibugu is best remembered as the only Kenyan who made the cut in this year's Magical Kenya Open held at Muthaiga last month.
Other players who contributed to Muthaiga's win were Aman Sodi, John Gitonga, Khusil Nathwani, Bo Ciera, Bhavnish Chandaria and Neer Chandaria.
"The secret to our good run is the young players we retained in the team from last year, they were very effective," Muthaiga Golf Club chairman Ronald Meru said.
"We started our preparation for this event six months ago, the team trained both at Royal and in Muthaiga. We also made the players to stay together to gel and know each other well since Tannahill is not all about skills," Meru said.
Meru hinted that Muthaiga reserved a budget to facilitate the golfers in terms of logistics ahead of the competition.
They also looked for a number of sponsors who came on board to support the ten-man squad.
"We also set up a support system for the contingent, that was made up of our golf captain Wycliffe Kaisha, his assistant Jeff Kubwa and resident pro Nelson Mudanyi, that gave the players moral support during the event," Meru said.
Meru said they left nothing to chance by fielding a strong squad during the contest.
"We went all out, we put our best team on the frontline to help us retain the trophy," he said.
Meru admitted he was a very happy man after bagging two Tannahill Shield victories in his two-year tenure as Muthaiga Golf Club chairman.
Royal Nairobi Golf Club chairman Bernard Mwaura praised the winning Muthaiga's team saying: "Muthaiga are very committed, they are dedicated to the Tannahill cause, they are very competitive, they have definitely improved the quality of this championships."
This year's edition also saw the launch of the seniors' category, played by golfers 55 years and above, which acted as a curtain-raiser to the main event and was won by Muthaiga.
Unlike last year, the last team in this year's edition was relegated.