How to enjoy playing golf solo in the times of Covid-19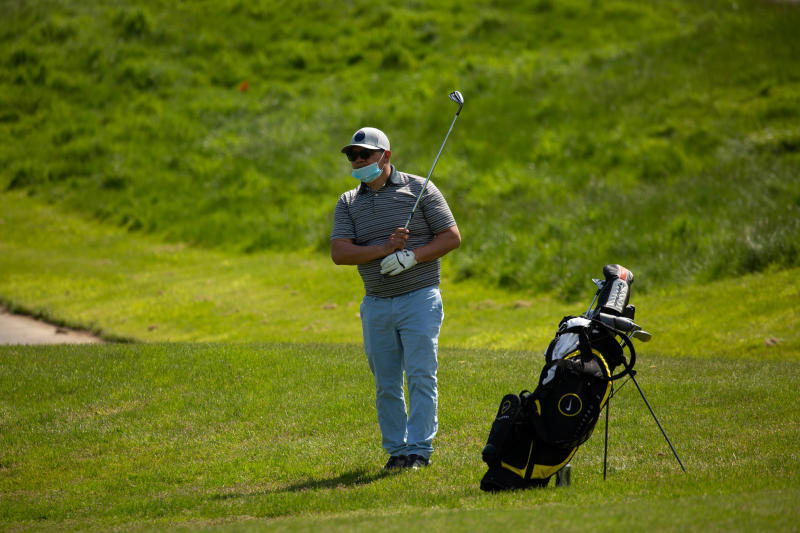 There is an old idiom that a change is as good as a rest. People who live in four-season climate countries get an unsolicited four-month break during Winter, enough time for rest away from their golf.
With all that time in their hands, they take that as an opportunity to evaluate their performance in golf during the past season.
Those of us lucky enough to live in the tropics get to play the year-round, save for that odd day when Zeus, the Gods of thunder and lightning, decides to pour his rainy blessings on us.
Unfortunately, playing throughout the year robs you that opportunity for reflection and self-evaluation of your golf, and the chance to sit down, redesign and re-jig your swing.
You are in luck this year. Covid-19 has all but stopped golf, except for some golf-damu die-hard addicts who have refused to be intimidated by having to haul their golf bag or the absence of a caddy.
Carrying your bag has one other benefit; it gives the golfer a four-hour physical body workout. If you play twice in a week, you may not need to hit the gym, which is closed anyway!
To get maximum enjoyment when golfing solo, you are advised to get a lightweight double-strap golf stand bag or golf carry bag. Luckily, these golf bags are quite affordable.
I prefer a stand bag because it has two legs, instead of a carry bag lies flat when dumped on the ground.
An unwanted visitor of the slithery kind could easily sneak in when you are not watching!
Do not dare carry your regular cart bag and expect to complete your round. You will be lucky to complete even three holes before the effort knocks you out.
College golfers are used to carrying their own stand bags, so do golfers in Developed countries where a caddy fee is more that the green fee.
You can also get one of those three-wheeled carts that are pushed.
Ladies seem to prefer instead of carrying a full set of clubs on their back.
If you ever get a chance to golf with the Safari Golf Club in USA, the likes of Zack Ikiara, Sam Kariuki and Mombasa Open winner Mark Kibutu in New York, and James Sang in DC, expect to haul your own bag.
The great American writer, Mark Twain, author of the novel Tom Sawyer, described golf as a long walk spoiled. He forgot to add the words tranquil and quiet.
The hustle and bustle of the lives we lead today leaves us with very few opportunities and locations solitude and tranquillity.
A golf round of golf played offers you four hours of that.
As PGA Tour Professional Harold Varner III put it, "I love that you can do it by yourself. It's not like other sports where you need someone else to be there to compete against".
"You do not need someone throwing the ball at you. With golf, it's just you and the course". You don't even need a caddy. Switch off your phone, and the course is your sandbox.
In addition, not everybody wants to engage in contact sports. That is one reason they invented ball-and-bat sports like tennis and squash. You still need an opponent when playing those two, but in golf, you don't.
I can hear those groups who go by the moniker Permanent Four-Balls screaming out their negativity and aversion to solo play. You know those ones who can never tee off unless there is another player? The same golfers who can't golf without laying bets. They can never get the point in golfing alone.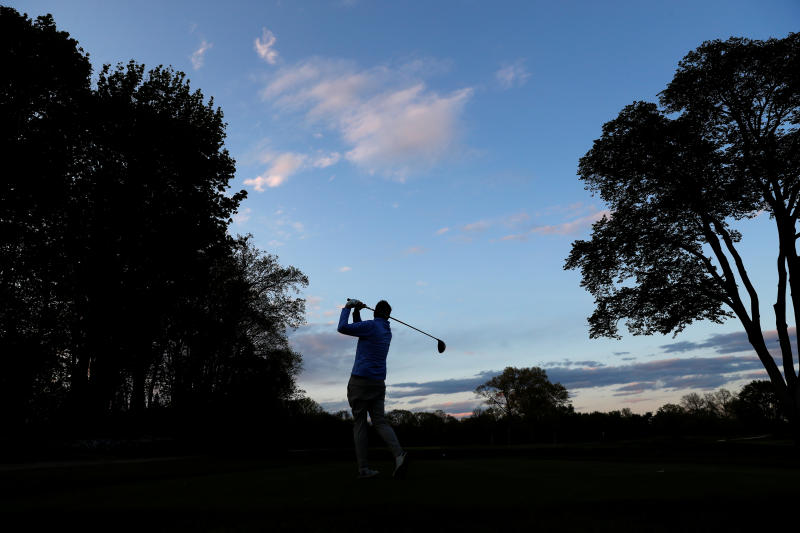 While there is fun and camaraderie when playing with a bunch of buddies, there are times when one needs some space, peace and quiet for meditation.
And nowhere else can you get that while enjoying the cool breeze and fragrance of trees and flowers, while also getting a physical workout than on the golf course. Other than jogging through Karura forest, of course.
The other advantage of playing golf alone, one that all Professional Golfers engage in, is using that opportunity for do-overs; Mulligans.
How many times have you played a shot, then felt you could have done a better job, and wished you had the opportunity to do it again?
Or wished you had a chance to try out something you read or watched on a video and the opportunity to play that shot just happens when you are in the middle of a competition round and have to play safe?
When golfing alone, you can take that Mulligan, play that shot again. But only if doing so will not cause any delays.
If the golfer or golfers ahead are no less than one shot away, and the groups behind you are at least a shot back, you can take advantage of the situation and retake the shot. It's no different from replaying the putt you missed.
But there are some tricks you need in order to really enjoying golfing alone. I already mentioned the need to carry your clubs using a double strap carry bag, the kind you hang on both shoulders. Light-weight versions are available.
First, you need to ditch your ball retriever; that contraption you use for fishing golf balls that take a swim. Carry an extra sleeve of balls instead. Fishing expeditions cause hold-ups.
Golfers who play Stiff steel shafts, especially those with forged heads know that a set of such irons can be quite heavy. Graphite shafted irons are much lighter than iron shafts.
Carrying a half-set is another strategy for lightening the weight. Instead of fourteen clubs, carry seven. This is actually very good practice for learning how to dial-in your distances.
What would you do if you found your ball at the exact yardage for your 7-iron, but on that day, you are only carrying even-numbered clubs?
Do you feather 6-iron, knockdown a 5-iron, or pump up and draw an 8-iron? You need to have shots in your bag.
The expertise to play the ball a defined distance using different clubs, as well as the proficiency to play one club to different distances is what sets apart better golfers from regular hackers.
Be careful how you carry your bag. To avoid back pains, ensure that it hangs down your back to a point at on your lower back, just above where the glut muscles start.
Without a caddy, you will have to do more advance planning. For example, when you get to the green, place your bag on the exit side, towards the next tee. You should not walk across the green when carrying a golf bag.
You need a towel or ball cleaner for wiping your balls. Remember to wet them before commencing play on each nine.
There will be nobody to ask for a distance read, or to blame for missing your putt. To measure the distance to the pin, you will need a Laser-based DMD like a Bushnell rangefinder, or a GPS-enabled watch like the Garmin S-40.
You could also do it the traditional way by counting steps. With a golf bag on your back, that does not sound like a good idea.
Restoration of areas that you mess up when playing remains your obligation. Kindly smooth your footsteps in the bunker with a club, since there are no rakes during this Covid-19 era.
Similarly, fix the pitch marks that your well-executed shot dug up. It's amazing just how many golfers don't carry, or even own a divot repair tool.
You do not need to carry a sandbag for filling divots. The club should engage some of the caddies, now unemployed, to fill the divots.
Finally, do not risk dehydration while out there alone. Carry a bottle of water in your bag. Add a couple of bananas or sandwich for nourishment. Remember, there is no half-way house and the clubhouse is closed.
Be prepared for the one disappointment to ever rock your life, should it happen when playing alone: A Hole-in-one!
Your fate would be like the one that hit the Priest who feigned sickness so he could sneak off and play a round of golf alone.
The golf Gods decided to punish him with a Hole-in-one! Who would ever believe him?
You may recall the look on the kid in the USGA advert when he shot a hole-in-one but there was nobody else around. Luckily for him, the green's keeper saw it happen from afar and drove over to demand his soda!
There you have it. Rather than curse at the inconveniencies caused to your golf by the Coronavirus, why not take advantage of the opportunities it presents? After all, you can't make an omelette without breaking some eggs.
LipOuts: More ideas are being floated on how to maintain social distancing when playing golf. A new one proposes drilling two holes on every green. The first golfer to land the ball on the green chooses which hole he will putt to. The second golfer putts to the other one. That shall surely keep them apart. With some bets at stake, I see some serious gamesmanship coming up!