Nigeria sends out early warning to rivals at African Cup of Nations
FOOTBALL By Reuters | January 13th 2022 | 3 min read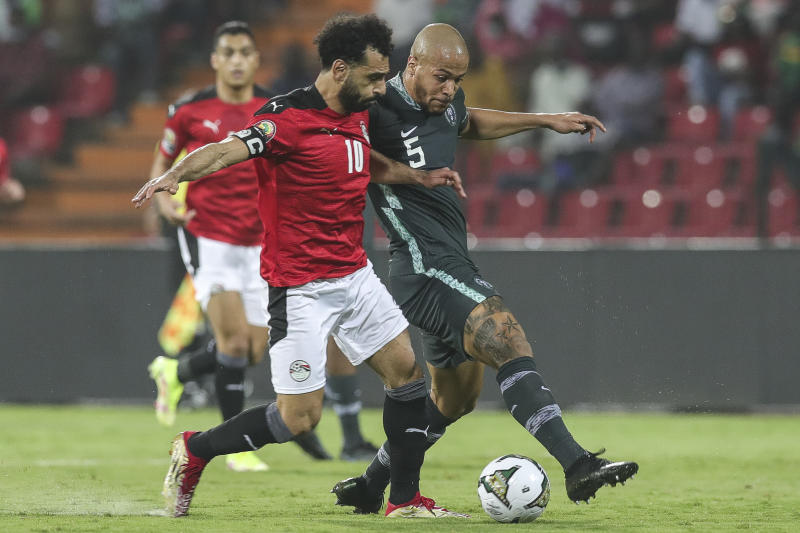 Nigeria put behind their tumultuous build-up to the Africa Cup of Nations by beating Egypt on Tuesday with a display that sent out an early warning to their rivals in Cameroon.
Kelechi Iheanacho struck a superb first half finish for a 1-0 victory at the start of Group D action in Garoua.
Nigeria had fired coach Gernot Rohr just weeks before the tournament, scraped through the recent World Cup qualifiers in unconvincing fashion and also lost key forward Victor Osimhen to injury.
The Nigeria Football Federation also failed to send out call up letters in time for strikers Emmanuel Dennis and Odion Ighalo, whose clubs then refused to release them for the tournament in Cameroon.
But despite all the setbacks, Nigeria gave their supporters much to enthuse over with Tuesday's showing.
In contrast, it was a disappointing day for the north African heavyweights.
Champions Algeria were held to a disappointing goalless draw in Group E by Sierra Leone, making their return to the finals for the first time since 1996.
Algeria had several chances but struggled with the heat in Douala and failed to break through a resolute defence, where former England international Steven Caulker was making his debut.
He switched his international allegiance on the eve of the tournament. Sierra Leone president Maadu Bio took to Twitter to express his delight.
"We are very proud of you, our Leone Stars," he said.
Iheanacho, who is now Nigeria's lead striker for the finals, crashed a half-volley from the edge of the box into the top corner after 30 minutes to settle the contest.
However, Nigeria should have added at least a couple more goals in what was the best performance by a team in the finals so far.
Egypt failed to shift out of first gear and could not get talisman forward Mohamed Salah into the game as he cut an isolated figure up front.
"The performance in the first-half was very poor, and that's the truth, we weren't on the pitch," said Egypt coach Carlos Queiroz.
Meanwhile, Liverpool forward Mohamed Salah has said he is not asking for "crazy stuff" in ongoing contract negotiations.
The Egypt international, who turns 30 in June and has fewer than 18 months left on his current deal, said it was up to the club to show appreciation for what he has helped them achieve.
Salah has previously stated his desire to stay with the club.
"I want to stay, but it's not in my hands. It's in their hands. I'm not asking for crazy stuff," Salah told GQ.
Salah, who has helped fire Liverpool to both Champions League and Premier League triumphs since signing in 2017, added: "The thing is, when you ask for something and they show you they can give you something, (they should) because they appreciate what you did for the club.
"I've been here for my fifth year now. I know the club very well. I love the fans. The fans love me.
"But with the administration, they have [been] told the situation. It's in their hands."
Asked whether it was an ambition to be recognised as the best player in the world, Salah, who has scored 148 times for Liverpool, said: "If you asked me if this was a drive for me to be here? Yeah, of course.
"I can't really lie and say honestly I didn't think about it. I want to be the best player in the world. But I will have a good life even if I don't win (the Ballon d'Or). My life is OK, everything is fine.