Majak returns to Tusker amid the club struggling to stay afloat
FOOTBALL By Mike Kihaki | December 15th 2021 | 3 min read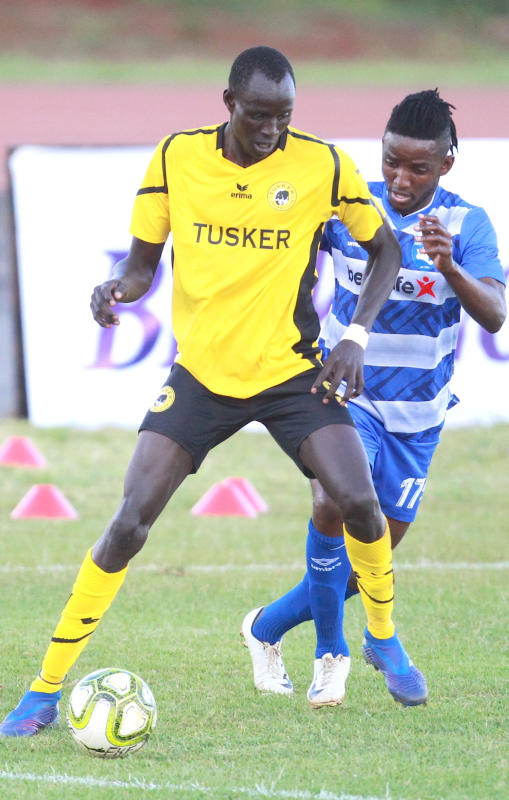 21-year-old South Sudan international and Tusker Striker David Majak who was on a six month loan deal with the Swedish topflight (Allsvenskan) is back in the country.
Majak, two weeks before the lapse of his six-month loan spell with Kalmar FF is expected to rejoin his parent club in January and will be eligible to play in the Kenyan Premier League.
The striker who joined Tusker in 2019 from Kakamega Homeboyz has been part of the Tusker family for three seasons will link up with his former club on the expiry of the loan period which ends on 31st December 2021.
Majak signed for Kalmar back in April on a 6-month loan deal and found himself loaned out for the rest of the season to IFK Luleå in Division 1 North. At Lulea he featured in 12 games and managed to score three times.
According to Kalmar FF's sports manager Jörgen Petersson, the loan deal was to enable Majak to get adequate game time this making it easier for them to evaluate and monitor him.
"The structure around David Majak Chan is based on a longer test period where we want to be able to see and evaluate him during the season to be able to make a decision about the future.
An important part of that evaluation is to be able to analyze David in a match. To get the opportunity for as much playing time as possible in competitive matches, we see a loan as the best option for him" Said Petersson.
Brewers are struggling to get a win after playing to a barren draw with Sofapaka in an FKF Premier League match at home ground with Tanzanian striker Ibrahim Joshua and Ugandan Deogratious Ojok trying to impress on Sunday afternoon having lost the two and drawn one in the last five matches. When he left early this year, the club hailed him for his good work.
"Majak has been a faithful servant of the club and has been a disciplined and dedicated player. Seeing him make this progress is a proud step for us as a club," said Tusker FC Chief Executive Officer Charles Obiny.
But with him back, the Charles Obiny led team will hope and wait for him to come and resuscitate the brewers from the fall. The club confirmed his return saying the South Sudan national will be joining the club in two weeks' time.
"Majak is already back in the country and will be turning out for us in January. His contract will be expiring this month and that is why he can't play for us immediately," Tusker in a statement.
His return could bring in new changes and a massive boost for the Brewers who are struggling with goals this season and are 14th in the Kenya Premier League. The club also lost the services of the youngster Henry Meja who had scored 10 goals for the Ruaraka based team who moved to Sweden after signing a long-term contract with AIK.
With all indications that winger Boniface Muchiri is joining Ulinzi Stars after completing his training, and Jackson Macharia, another dependable player, is in the final year of his contract will leave a gaping hole that Majak will need to try and fix.?