Turkish coach Firat wants to stay and help rebuild the Kenya national team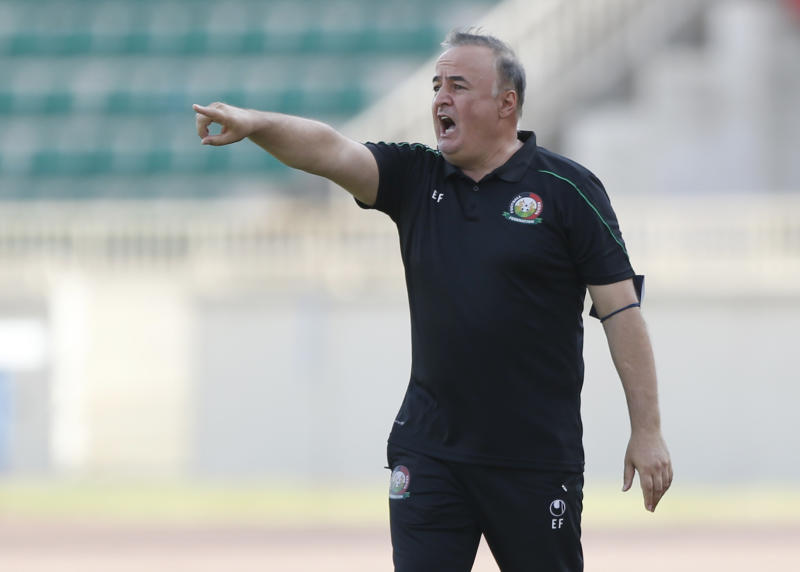 Harambee Stars head coach Engin Firat has boldly said he would like to continue coaching Kenya despite his two-month contract ending this week.
The Turkish tactician was appointed to guide the national team on a short-term basis replacing Jacob "Ghost" Mulee and the deal is set to expire on Friday.
Firat has guided Kenya in four matches, losing twice, drawing once, and winning once.
His last assignment on Monday saw Kenya defeat Rwanda 2-1 at Nyayo Stadium in what was Group E's last World Cup qualifier match.
Stars captain Michael Olunga and Sweden-based midfielder Richard Odada were on target for Kenya in the victory.
Speaking to the Standard Sports after the match, Firat said he sees a future with the national team, adding that he would love to see through the project of rebuilding the team.
He was impressed with Stars' performance in their last three matches of the World Cup qualifiers and admitted he would like to continue with the job.
"Anyone who has eyes can see that this team has a bright future. These boys are young; between 20 to 22 years and they will play for the next 10 years. We should focus on building for the future," said Firat.
"It has been an amazing journey for me in Kenya football. Remember I said that if I don't see any future, then there is no need of staying. But these boys have shown the potential and that is all a coach can ask for and therefore I am interested on staying."
"It did not start well away in Mali where we lost 5-0, but I learned from the mistakes we made and have improved. Kenya have good players who are young and ready to learn."
However, a source inside the FKF Secretariat that was formed last week after the disbandment of the FKF by the Ministry of Sports has said it is highly unlikely that Firat will be allowed to stay.
"For now, we have not received any decision by the Caretaker Committee. As it stands, when the contract expires, Firat should leave unless otherwise. Remember Firat's appointment was also under investigation which was documented under the FKF Inspection report with questions raised on the rapid hiring and firing of coaches," said the source who declined to be named.
After the win, Kenya finished third in Group E with six points after a win, three draws and two losses.
Mali advanced from the group with 16 points after managing five wins and a draw. Uganda managed to collect nine points with Rwanda finishing at the bottom of the table with one point.