Fans vent their frustration at Harambee Stars, coach Firat after loss to Mali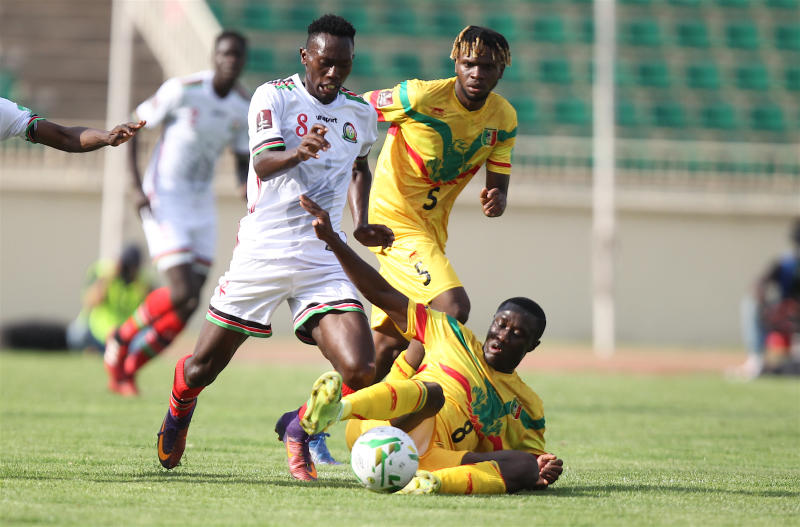 Kenya's dream of playing at the 2022 World Cup fell short yesterday after the second loss in a week at the hands of West-Africans Mali in a qualifiers match played at Nyayo Stadium in Nairobi.
Mali's forward Ibrahima Kone returned to haunt Kenya once again with his 55th-minute goal, enough to hand the West Africans all three points.
Kone last Thursday was a thorn in the flesh for Harambee Stars defenders in Agadir, Morocco where he scored three goals in the 5-0 win.
The defeat effectively ended Kenya's 2022 World Cup dream as they now trail Mali with eight points. Only group winners proceed to the final qualifying round. Mali remain top of Group E with 10 points after the win.
New coach Engin Firat asked for patience from the fans and called on the team to embrace lessons taken into the final two games.
"There was marked improvement in Sunday's game compared to what we witnessed on Thursday. We managed to string together some complete passes and the attacking force looked much sharper. It's a learning process and we have borrowed some vital lessons that will prove vital in our remaining two matches against Rwanda and Uganda," said Firat.
On social media, Kenya football fans could not hide their frustration at the team, most still questioning Firat's appointment by Football Kenya Federation.
Disband Harambee stars for sometime and concentrate on Rebuilding, — Ogola (@OgolaAlfred) October 11, 2021
I was still thinking...for how long will we wait for @Harambee__Stars to die?..I think we have wrong people leading our team..@Officialfkfpl officials should resign.....we are tired..tunapigiwa kiwanja ya kuomba then home? #nicktoresign @KoinangeJeff @citizentvkenya @RobertAlai — lamky (@LameckKogo) October 11, 2021
Why would anyone wish harambee stars to qualify to World Cup. I can't stand that humiliation — J Nyaga k (@jnyagak) October 11, 2021
@Nmwendwa will not take soccer anywhere we better even be banned by FIFA until a future date . Tanzania can now beat our @Harambee__Stars like a drum because TFF has Patriots , fans love the good game, clubs are professionally run than we do here and graft in soccer is punished. pic.twitter.com/KWlrUQaMCE — Cebe Pavlov (@AmThePaul) October 11, 2021
What a shame.....Harambee stars should be disbanded and the ministry of sports conduct recruitment like the military all over Kenya — Marcus (@MarcusMozzziah) October 11, 2021
On matters our national soccer team,???? i think shida yetu ni jina la team. Maybe tubadilishe from Harambee stars to Kanisa Stars, Siasa Stars, Corruption Stars or Kabila Letu stars. I'm sure there'll be a flood of trophies n a stampede of supporters. — Rovoga E. Chonelwa (@ErickRovoga) October 11, 2021
There is talent in mashinani,who could represent us well in our national teams,maybe much better than this current squad @Harambee__Stars.Problem is those responsible don't want to look for such talents,they believe only in Nairobi f.clubs and kpl players.We need to change. — Shadyak Lucky (@kinyeu_ke) October 11, 2021
I hate Harambee stars more than I hate snakes,can someone inform the panel that Garisa,Moyale,Turkanas,Samburu plus others can produce good footballers than Kisumu Kakamega! — Rashford M (@RashfordM1) October 11, 2021
Harambee Stars made an improvement ????, lost by a goal unlike the first leg match that ended 5 nil.
I don't think Nick will step down. #NickMwendwaMustGo #UEFANationsFinal #UEFANationsLeague — Enos Nyaosi ???????? (@EnosNyaosi) October 10, 2021