Talanta FC now nurture new generation of talent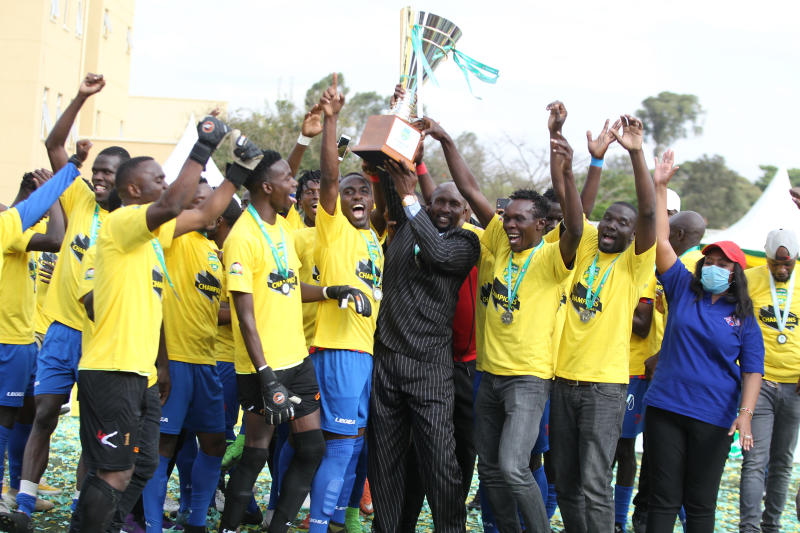 A unique government football project initiated a decade ago as a youth development and talent search initiative is now bearing fruits with Talanta FC playing in this season's Kenyan Premier League for the first time.
Talanta FC, an offshoot of the Talent Academy initiated by the Ministry of Youth and Sport, are daring to dream as they aim for greater heights.
The team's qualification to the elite league marked the success of a project initiated by the government and UNICEF.
In 2010, the government set up the National Youth Talent Academy (NYTA).
With its formation, Talanta FC set out to identify young talent across the country and with sponsorship from Communications Authority; young talented boys were unveiled and will be out hunting for glory in Kenya's top most football league in the 2021-22 season.
Some of the players who have come through the team's ranks include national team Harambee Stars trialists Timothy Otieno, Aziz Okaka and goalkeeper Farouq Shikhalo, who was in the Harambee Stars squad that played in the 2019 Africa Cup of Nations in Egypt.
"I take pride having come through the ranks of Talanta FC. After being identified, I have played at the AFCON and professionally in Tanzania," said Shikhalo.
Shila Mandela, one of the veteran players in the team grew up as a street boy in Eldoret, with nothing but unemployment and uncertainty waiting for him when he finished secondary school.
He was spotted in the dusty pitches of Eldoret during the Safaricom Sakata Ball in 2010, when UNICEF's Vulnerable Youth Programme moved to Eldoret. A Child Protection Centre that provided lunch for the street children opened up.
Douglas Ratemo, who heads Talanta FC, said the government, through the Ministry of Sports, remains committed to developing talent through the project.
"Playing in the Kenyan Premier League is a culmination of commitment from government and our supporters- the Communications Authority, UNICEF and also the players," said Ratemo.
"Our initial plan was to build an incubator for talent and handover the players to other clubs and continue moving round the country through the National Youth Talent Academy identifying talent. But we have seen Talanta FC grow to the level they have today," added Ratemo.
Coached by veteran local tactician Ken Kenyatta, the side amassed 72 points to top the second Division league.
Kimanzi Muthengi of UNICEF, who played a crucial role in the formation of the team, said this project can be replicated across the country.