Harambee Starlets dreaming of 2022 AWCON finals in Morocco
There is a growing sense of optimism within Harambee Stars squad as they prepare for the upcoming 2022 Africa Women Cup of Nations Qualifiers (AWCON) and 2023 World Cup Qualifiers.
The national women which is expected to report to camp on Thursday (April 15) took a huge step forward in preparing for the qualifiers set to kick off in June by getting vaccinated against Covid-19 at Kasarani Stadium yesterday.
Five technical bench members and 21 players were vaccinated ahead of their international friendly match away to Zambia's Copper Queens on April 24.
AWCON will be held in Morocco next year, while Australia and New Zealand will co-host the World Cup finals in 2023.
And in the 30-member squad that is led by captain Dorcas Shikobe and experienced midfielder Corazone Aquino together with a number of new faces like Kibera goalkeeper Pauline Matekwa and Zetech's Faith Kadenga, head coach David Ouma is confident of returning to continental finals.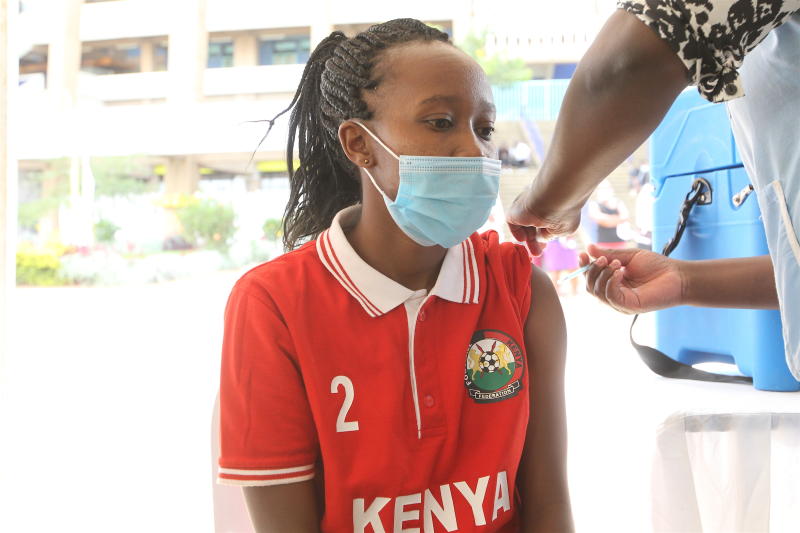 Ouma has been boosted by the availability of Cyprus-based duo of goalkeeper Annette Kundu and Ruth Ingosi for the Zambia friendly.
"We are grateful to the Ministry of Sports and Health in collaboration with the federation for organising this vaccination exercise for the national team ahead of the international assignments. This is a huge step towards our preparation for both the 2022 AWCON and 2023 World Cup qualifiers,"said Ouma.
"I'm excited at the prospect of leading the team in the AWCON qualifiers again. But unlike the past finals, next year's competition will be used to select African teams for the 2023 World Cup. It will not be easy, but with the talent we have I believe this team has what it takes to qualify for the Morocco tournament."
Take a quick survey and help us improve our website
Take a survey
He continued: Of course we are continuing with our team rebuilding process. Initially, I only depended on the Premier League for players, but right now I have another pool of players from Division One, regional leagues, schools and sanctioned tournaments.
"However, I feel the game changer has been the FKF Women's Cup and that's why we have many new call ups in the provisional squad that we developed. The competition is very stiff and nobody is assured of a place in the team.
"We are in a challenging situation, but we have been monitoring each player's training remotely. As you know our work is to ensure they meet the fitness level to compete at the international level."
Just like their coach, captain Dorcas Shikobe and Corazone Aquino are optimistic of rewriting history with the team that first featured at the AWCON finals in Cameroon (2016).
"Our hope and prayer is to see the leagues getting back to action. It is only through the activeness of our league that we will be able to perform well and hopefully qualify for AWCON," said Shikobe.
Aquino added: "These early preparations are going to play a key role in our qualification campaign. Impossible is nothing and I believe this group of players have a chance to write history by securing a ticket to the World Cup. We just have to train hard and go for it."