Coronavirus: Cristiano Ronaldo could miss Barcelona match after testing positive again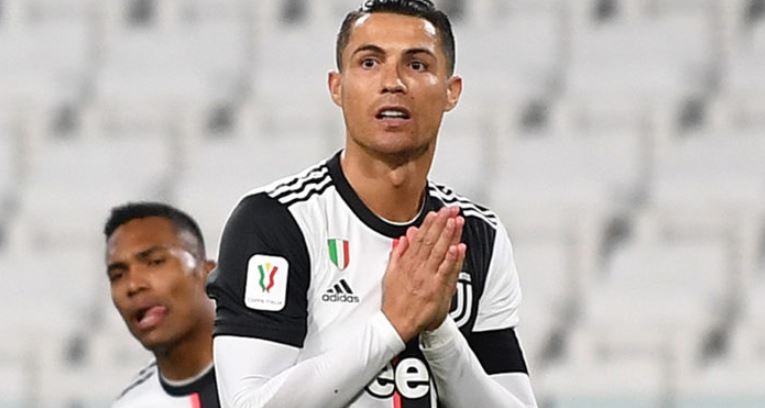 Portugal and Juventus talisman Cristiano Ronaldo has tested positive for Covid-19 again, according to Marca.
The latest test means Ronaldo might not meet Barcelona talisman Lionel Messi in the much-awaited Champions League clash on October 28 in Turin, Italy.
Sky Sports, however, reports he will take another test 24 hours before the Barca game and a negative result would mean him being available to face Messi.
The five-time Ballon d'Or winner will miss Serie A action when Juventus take on Verona this Sunday.
Juve coach Andrea Pirlo will be hoping to have Ronaldo fit for their second UCL group stage match after he was unavailable for selection against Dynamo Kiev.
Ronaldo, who has been unable to use the club's training facilities, will remain in quarantine per protocols.
He has been keeping busy and staying fit in his home gym.
Ronaldo rubbished suggestions last week that he breached Covid-19 rules by returning to Italy after testing positive while away with the Portugal squad.
Italy's minister for sport Vincenzo Spadafora said the former Real Madrid forward may have violated health protocols by travelling to Portugal for UEFA Nations League action.
The Portugal forward linked up with his national side for their October showdowns but two Juventus members of staff had tested positive for coronavirus.
Reports indicated CR7 returned two negative COVID-19 tests but needed one more before being officially granted permission to leave fiduciary isolation and travel to his homeland.
A new look for the #UCL's all-time top scorer! ?? https://t.co/gY5zVQzKCG — UEFA Champions League (@ChampionsLeague) October 22, 2020
CR7, however, posted an Instagram post stressing he was abiding by the rules and regulations throughout.
"Thank you for all the messages of support. My family is on another floor of the house; we can't have contact. But I'm asymptomatic, I can't wait to get back on the pitch to play.
"I'm always indoors, sometimes sunbathing, [which is] also to pass the time," the former Real Madrid hitman pointed out.
"I'm respecting the protocol. I haven't violated it as has been said – that's a lie. I returned from Portugal because my team and I wanted to respect all the procedures.
"I returned to Italy via air ambulance and I've had no contact with anyone, not even in Turin," he added.