Kenyan Premier League players who changed positions and excelled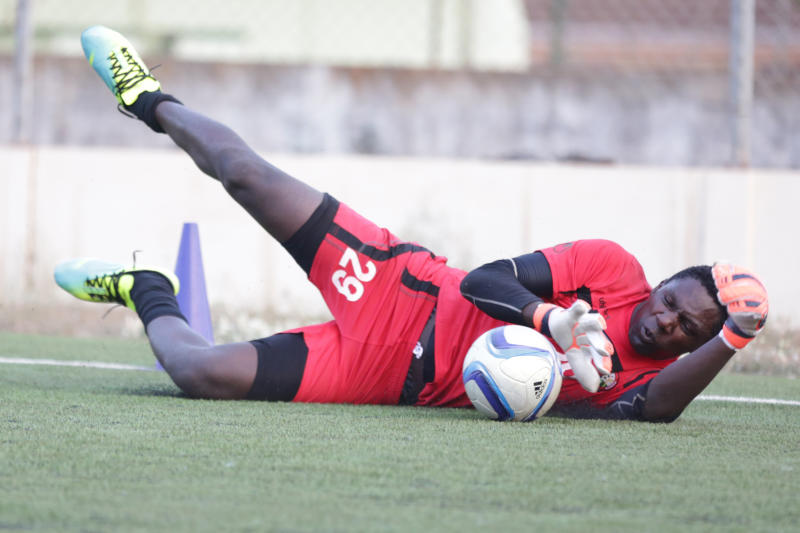 Many footballers at times reveal their current playing positions is opposite to the roles they occupied when young.
In most cases, the players are tried out on different positions so as to determine their strength as they grow in the sport.
While majority end up playing in positions they started out at a tender age, some find themselves in totally different areas of play later in life.
Some footballers began their careers as outfield players, but ended up being goalkeepers, or the other way round.
That explains why in modern football, you'll find a few goalkeepers, with excellent ball distribution skills.
For instance, Manchester City goalkeeper Ederson, Manchester United's David De Gea and Burnley's Joe Hart, all started their careers as outfield players before eventually moving into goal.
And just like Mexican legend Jorge Campos, who throughout his career was signed as a goalkeeper, but often played as a striker, in Kenya, there are a number of players who've either switched from the posts to the outfield position and vice versa.
KARIM NDUNGWA
Take a quick survey and help us improve our website
Take a survey
AFC Leopards fans will forever remember Karim Ndungwa not for his goals but for saving them blushes when it mattered most.
The Ugandan, a natural striker, made headlines on June 9 with heroic performances when he made a series of saves to inspire 10-man AFC Leopards to a 1-0 victory over Sofapaka in a Kenyan Premier League match at Nyayo National Stadium.
"It was not about me, but all those players who showed up for the match. I'm glad we won," Ndungwa said then.
A section of Ingwe players led by the goalkeeping trio of Wycliffe Kasaya, Joel Bataro and Ali Kesi made good their threat to boycott the match over unpaid salaries and bonuses, forcing Ndungwa to wear a different jersey and don gloves.
Though in an unfamiliar territory between the posts, the Ugandan put up a brave face as he helped his side secure maximum points. Ndungwa later ditched Leopards for Rwandese side AS Kigali.
BARNABAS TIEMA (UN-ATTACHED)
The former AFC Leopards, Sofapaka and Vihiga United goalkeeper started out as an offensive player at Olympic Academy (Kakamega), but switched to goalkeeping roles.
He shone at Sheywe High and Mumias Muslim where his goalkeeping skills were honed by then coach Nick Yakhama. He later joined AFC Leopards in 2009-on completion of his Form Four examinations.
After a four-year spell in the den, Tiema switched his allegiance to Sofapaka where continued standing between the posts until late 2014 when he returned to the offensive role.
He later joined Ushuru for the second half of the 2016 season before moving to Vihiga United.
MIKE OKOTH (FORMER KENYAN INTERNATIONAL)
The legendary Mike Okoth started out as a goalkeeper at Itiero Secondary School in Kisii, where he helped his school clinch the national football title in 1987. By then, he was playing for Shabana, but in 1988, he picked up the scorer's boots. He joined Tusker (then Kenya Breweries) a year later.
In 1992, he moved to Omani club Boshar and three months later switched to K.V. Oostende in Belgium. His most successful season was in 1998–99, when his club Racing Genk won the Belgian Pro League. In 2006, at the age of 38, he was still active in football, although in a low-division league. He scored 18 goals in 54 appearances for Harambee Stars.
FRANCIS 'DANCO' OCHIENG' (ULINZI STARS/FORMER KENYAN INTERNATIONAL)
He is the only player to have played for the national team both as a striker and a goalkeeper. He started off as a shot-stopper in 2001 with the defunct Mumias Sugar then switched to a striker for one season before going back to the posts.
But in 2008 while at Ulinzi Stars, he again moved from being a goalkeeper to a striker albeit for a year following his exploits in the military inter-brigade games. He came off the bench to score a consolation goal in his debut as Ulinzi striker in their 2-1 loss to Nairobi City Stars before hitting a hat-trick against Tusker (3-2) in the second match.
Ochieng' finished as the second runner-up in the golden boot award chase with 11 goals. He made his maiden appearance as Harambee Stars striker in a friendly match against Egypt in 2008, before sustaining an injury that kept him out for long.
Upon his return from injury in 2010, Ochieng went back between the posts and inspired the soldiers to Kenyan Premier League triumph with his exploits earning him the best goalkeeper in the Foya awards. He was also called to the national team for the Nile Basin Tournament in Egypt.
As a goalkeeper, many will remember him for scoring a free-kick from his half to secure a 1-1 draw against Thika United on March 30, 2014.
BONIFACE OLUOCH (GOR MAHIA)
The Gor Mahia goalkeeper is always at ease playing with his feet.
He spent most of his years as an offensive player at Joseph Apudo High School and then Railways FC in the early 2000's. But coming from a footballing family that boasts four goalkeepers, the 33-year-old Kenyan international was convinced by his late brother George Odhiambo (a former Gor Mahia goalkeeper) to wear the gloves.
"It started as a joke. There was a time my local team had less players and they asked me to play in the midfield before my late brother began to train me as a goalkeeper. But I'm glad my background as an outfield player shaped my goalkeeping career. I'm never afraid to do something with the ball," Oluoch told Standard Sports.
He joined Black Mamba in 2004 and later moved to KCB for one season before crossing the borders to sign a two-year deal with APR of Rwanda. He was lured by Tusker and returned to the KPL in 2008, but after a six-year stint with the 10-time KPL champions, Oluoch switched his allegiance to Gor Mahia (2015) where he has won three league titles. Occasionally, Oluoch plays as a striker in inter-estate tournaments.
FRANCIS ONYISO (ULINZI STARS/ FORMER KENYAN INTERNATIONAL)
Onyiso was a commanding goalkeeper with great feet. The former Kenya one and Ulinzi Stars custodian started his footballing life as a flamboyant winger but moved between the sticks after he was persuaded by his junior teammates during a friendly match.
"I can tell you for free, Onyiso was a deadly midfielder. One day when we had gone for a friendly match at the barracks, we didn't have a goalkeeper so we asked him to try and he turned out to be excellent," Boniface Ambani, a former international told The Standard Sports.
LEVIS OPIYO (NAIROBI CITY STARS)
The younger sibling to Kenyan international Peter 'Pinchez' Opiyo, who joined Nairobi City Stars last year, played as a midfielder at Islamic Youth Academy (later named Fullchester) in his early career.
He took over the goalkeeping role when their regular keeper failed to show up for a tournament.
"I started football as a midfielder at Islamic Youth Academy (later named Fullchester). One day our goalkeeper didn't turn up for a tournament and my coach Beto asked; "Who can play as keeper?", Opiyo told the club's website. "I can," I said. And I found it so interesting. And that's how I transformed from an up-field player to a goalkeeper."
VICTOR ONYANGO (FORMER KENYAN INTERNATIONAL)
From his ball handling skills, few could deny that Onyango was an outfield player. He played as a left back in his early career before converting into a goalkeeper. He went on to become one of the best goalkeepers of his generation, representing the national team Harambee Stars in different international matches.
SALIM SHABAN (FORMER SONY SUGAR/MUMIAS SUGAR)
The former Kenyan international was an excellent shot-stopper at Sony Sugar and defunct Mumias Sugar but played as a striker at different times.
Meanwhile, Manchester United executive vice-chairman Ed Woodward has said talk of mega-money football transfer moves "ignore the realities that face the sport" because of the coronavirus outbreak.
United have been linked with a £200 million (Sh21 billion) bid to lure England captain Harry Kane away from Tottenham Hotspur.
But Woodward's comments suggest any such deal is unlikely in the current climate.
It is six weeks since the Premier League suspended all matches and, with no certainty as to when or if the season can resume, club finances are under strain at all levels.
United, one of world football's commercial powerhouses, are better off than most, however, with Woodward telling a fans' forum late Friday the club were determined to play their part in aiding those affected by the virus.
"We have always believed that our commercial model gives us greater resilience than most clubs and we are grateful for the enduring support of our commercial partners in helping us achieve that," he said.
"However, nobody should be under any illusions about the scale of challenge facing everyone in football and it may not be 'business as usual' for any clubs, including ourselves, in the transfer market this summer."
Woodward added: "On this basis, I cannot help feeling that speculation around transfers of individual players for hundreds of millions of pounds this summer seems to ignore the realities that face the sport."
Looking ahead, Woodward said he hoped "a season which still held so much promise for us in the Premier League, the Europa League and the FA Cup when it was suspended" could resume.
"And while it may be that games need to be played behind closed doors in the shorter term, we all recognise that football will not be fully back to normal until supporters are once again in attendance."
United have not taken advantage of the British government's coronavirus job reduction scheme, which sees taxpayers' money used to contribute to a portion of employees' wages, with Woodward stressing club staff were still being paid "in full".
Nevertheless he warned even United could not escape the economic impact of the virus.
"Of course, everyone is grappling with the economic realities of the pandemic and we are no different, so the longer the crisis continues the greater the impact will be for every club, including ourselves."
At the same time, Premier League strugglers Norwich City have defended their decision to use the British government's furlough scheme for 200 non-playing staff after the season was suspended due to the coronavirus pandemic.
With vast swathes of British industry shut down because of the coronavirus, the UK government launched a scheme that sees 80 percent of wages up to a maximum of £2,500 ($3,000) a month guaranteed during the economic crisis caused by the pandemic.
Norwich, who were bottom when the campaign was suspended, and Newcastle are the only Premier League clubs currently using the job retention scheme.
Bournemouth, Liverpool and Tottenham Hotspur performed U-turns due to a vocal backlash after initially announcing they too would take advantage of the scheme.
Norwich say the suspension of football will cost them between £18 million and £35 million.
"The decision we made was in the best interests of the club and its staff," chief operating officer Ben Kensell told BBC Radio Norfolk.
"We've been very transparent that we're run in a self-financed manner.
"We generate a turnover of £123m - £93m of that is broadcast, and we've spent £125m this year - and that's how we run the club,
"Ultimately, if we had the available cashflow to not have to take up schemes then, like other football clubs have, we would."
The Canaries hope to make £2.5 million of savings and have agreed with British tax authorities to delay £18 million of repayments.
Norwich players have not followed the lead of fellow professionals at Watford, Sheffield United, Southampton or West Ham in agreeing to wage deferrals or taking a pay cut as most of the Arsenal squad have agreed to.
However, the players, head coach Daniel Farke, the executive committee and directors have donated more than £200,000 towards local initiatives.
Kensell said furloughing staff now could hopefully prevent the much more traumatic step of making people redundant once some form of normality returns.
[Additional reporting by AFP]