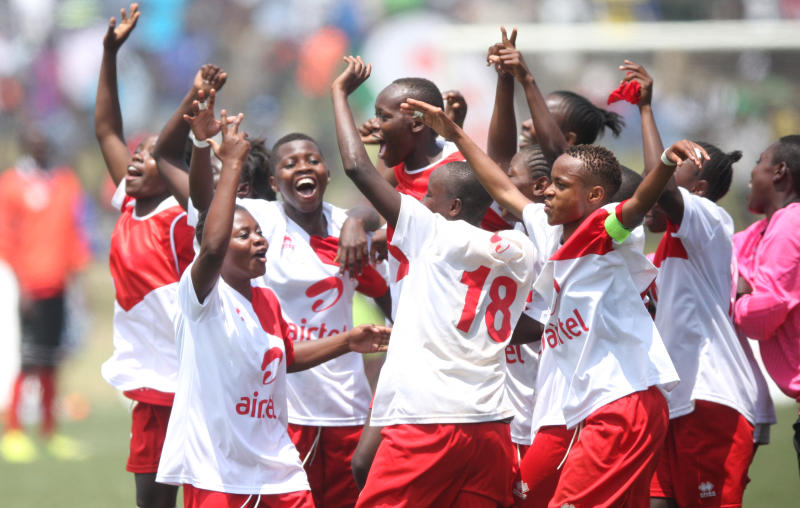 Kaya Tiwi High School's Under-19 football coach Babu Hinga said his team has been pooled in a difficult group in the Coast Region secondary school Term Two games that begin on Wednesday at Malindi High school.
Hinga is, however, confident of winning the title despite being newcomers in the championships.
"Our qualification to the games shows that I have a strong team that is ready to do battle," said the experienced coach, adding that the boys have been improving with each match.
"All teams are preparing well for their shot at the trophy and represent the region at the national games in Kisumu. We are going to fight to the end of the championships."
Kaya Tiwi are pooled together with former Coast region champions Serani of Mombasa in pool A that also has Canon Mweri and Hola Boys, representing Kilifi and Tana River counties respectively.
Pool B has Mariakani boys (Kilifi), St Mary's (Taita Taveta), Shimba Hills (Kwale) and Lamu's Lake Kenyatta.
In girls' Under-19, the battle is expected to be between reigning East Africa champions Kwale Girls, Waa Girls and 2016 national champions, St John's Kaloleni.
St John's and Kwale Girls are in pool A alongside Mombasa's Mama Ngina and Ngao of Tana River while Kilifi's Mitangani, Waa (Kwale), Mwatate secondary (Taita Taveta) and Lamu's Majembeni are in pool B.
In boys' Under-16, Kilifi's Mida, Lamu Boys, Kwale High and Canon Kituri (Taita Taveta) are in pool A while pool B has Lutsangani (Kilifi), Kaya Tiwi (Kwale), Serani (Mombasa) and Madago (Tana River).
Girls' Under-16 champions Waa are in pool A together with Kilifi county champions Ngala Secondary and Mama Ngina (Mombasa).
Lamu County will not field a team in girls' Under-16 category.
Pool B has Katana Ngala (Kilifi), Mnyenzeni (Kwale), Mau Mau (Tana River) and Taita Taveta's Kajire. [Ernest Ndunda]