Kenyan boxers dreaming big ahead of the new season
BOXING By Ben Ahenda | January 1st 2022 | 4 min read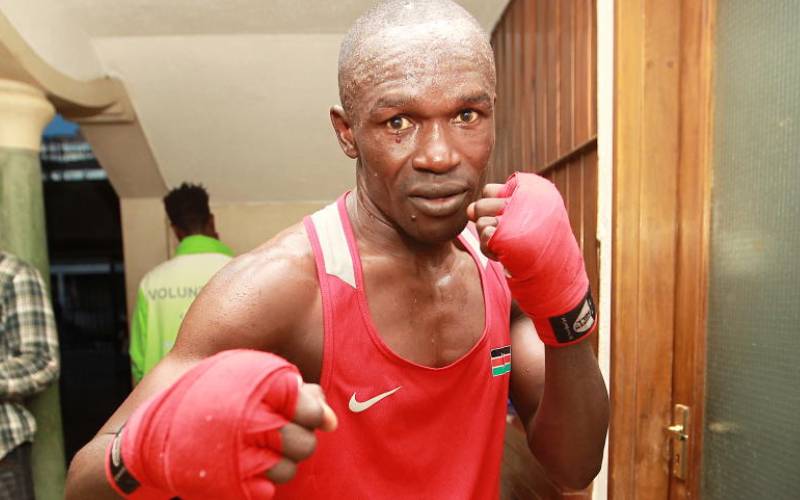 As Kenya aim to stamp her authority in international championships, experienced boxers are not taking chances in the fight to earn slots for three international championships this year.
The three championships are Africa Boxing Championships in January 2022 to be hosted at a venue yet to be confirmed by Confederation of African Boxing (CAB), World Women Boxing Championships in Istanbul, Turkey in March 2022 and Commonwealth Games in Birmingham, England in July 2022.
The boxers' first test of character will come when they participate at the upcoming Africa Boxing Championships.
Cameroon is the only country that has expressed interest to host the two-week competition.
Kenya is expected to send three formidable squads of 13 boxers a piece to the three international championships.
And after a disastrous 2021 season, coaches are determined to select players purely based on merit as they seek to restore their lost glory.
The selection process of the provisional squads was done during the first and second legs of Jamal Cup Championships held in Nairobi and Kisumu between November and December 2021.
Head coach Musa Benjamin confirmed the two tournaments assisted them to come up with three squads that could effectively feature in the three international championships.
"We made the decision to use the two tournaments to select players capable that can deliver positive results and help us improve on last season's performance," Benjamin told Standard Sports.
Experience, ability to deliver desired results, consistency in training sessions and ability to maintain and retain fitness are key factors that will guide the national team selectors in coming up with the final squads.
And winners of different bouts in the two trials' tournaments stand a high chance of being given the first priority in the selection process of donning national team colours if their recent performance is anything to go by.
Chances are high that some boxers who will take part in the Africa Boxing Championships could easily find themselves into teams that will take part in both the World Women Boxing Championships and Commonwealth Games.
Four boxers have expressed confidence of making the cut in all the three squads.
They are 2015 Africa Boxing Championships lightweight gold medalist Nick Okoth, Africa Zone Three Boxing Championships super heavyweight gold medalist Elly Ajowi, Commonwealth Games flyweight bronze medalist Christine Ongare and national welterweight champion Elizabeth Akinyi.
The four boxers were all eliminated in the first round at the 2020 Tokyo Olympics in Japan last year.
Okoth, 38, who is also an AIBA Level One Coach, is determined to take part in his last two tournaments before hanging his gloves to concentrate on coaching.
"After years of service to the nation where I have won many medals, there comes a time when you retire and give back to the society. That is exactly what will happen at the end of this season (2022)," said Okoth who features for Kenya Defence Forces.
Akinyi, 28, sees herself landing in all the three squads in her quest to win more medals in international championships. She won two bronze medals in the middleweight in Africa Boxing Championships in Congo, Brazzaville in 2016 and Africa Zone Three Boxing Championships in Kinshasa in May 2021.
"I'm faithful I'll be selected into the three squads for international championships but I have also started rigorous training to maintain my fitness," she said.
"Definitely, I will not let the coaches down."
Equally, Elly Ajowi's aim is to reach the medal bracket at the Africa Boxing Championships.
"My focus is on the Commonwealth Games but winning a medal at the continental championships is a morale booster in my fight for top honours at the big games," said Ajowi.
Christine Ongare is also keen to win a gold medal this year in Birmingham.
Ongare who was the only Kenyan boxer to win a medal at the 2018 Commonwealth Games in Gold Coast, Australia wants to use Africa Boxing Championships and World Women Boxing Championships as her training grounds ahead of the Birmingham showpiece.
"The first two international tournaments should guide me in a Strengths, Weaknesses, Opportunities and Threats (SWOT) Analysis before participating in the England Games," said Ongare.
Despite Kenya's participation in the three international competitions, local programs are likely to commence in March 2022 with the National Novices Championships from the counties to the national level ahead of the National Intermediate Championships that will open doors for the five legs of the National Boxing League.
"Without any stoppages owing to the Coronavirus pandemic, this time round we hope to run all our programs uninterrupted throughout the year," Boxing Federation of Kenya Competitions Secretary John Waweru said.
The league championships will be hosted in the cities of Nairobi, Nakuru, Mombasa and Kisumu ahead of the Kenya Open Boxing Championships (season-ender).