Pirates, Equity secure wins at Nyayo Stadium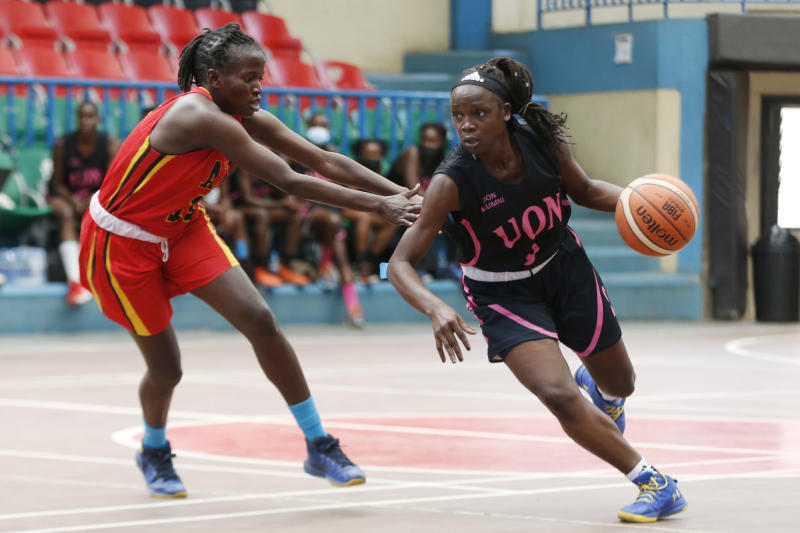 Kenyatta University's Pirates beat Emyba 63-52 in yesterday's Kenya Basketball Federation Men's Premier League match played at Nyayo Stadium.
Elias Guya scored a game high 15 points for the winners who won the the quarters 17-15, 9-14, 14-9 and 23-14 respectively.
"Game was good, it was a crucial match that we needed to win. I'm glad we finished the opponents ruthlessly in the fourth period," Kenyatta University coach Caleb Osewe said.
"Currently, we are seventh on the log, this means we have to win our remaining matches to finish in the league in top eight who qualifies for playoffs," he added.
In the Women Premier League contests at the same venue, Africa Nazarene University beat Lady Bucks 72-49 (11-7,34-8,14-14,13-20) as Equity Bank whitewashed Strathmore University 63-22 (7-4,26-2,17-11,13-5).
In Men's Division One category, Zetech University edged Blazers 87-8. Zetech won the first quarter 23-11 before going down 29-15 before the break.
Zetech pulled up their socks to stretch their lead with a 30-22 win in the third period.
Last quarter was a tough affair for both sides as they tied 19 up. Yoni Wanambiro of Blazers had 16 points as
Thomas Ragen notched 15 for the students.
"It was a tough game considering Blazers is an experienced side," Zetech captain Collins Ochola said.
"We are glad we endured their salvos to register victory," he said.
Ochola said their target is to get promoted back to the Premier League where they were relegated in 2016.
"Covid-19 pandemic dipped our form because there was no league last year, but we are gradually picking up. The team is now in amazing shape," he said.
"We have a new team composed of young players who are hungry for victory," said Ochola.