Eldoret City race and Great Ethiopian Run deal lauded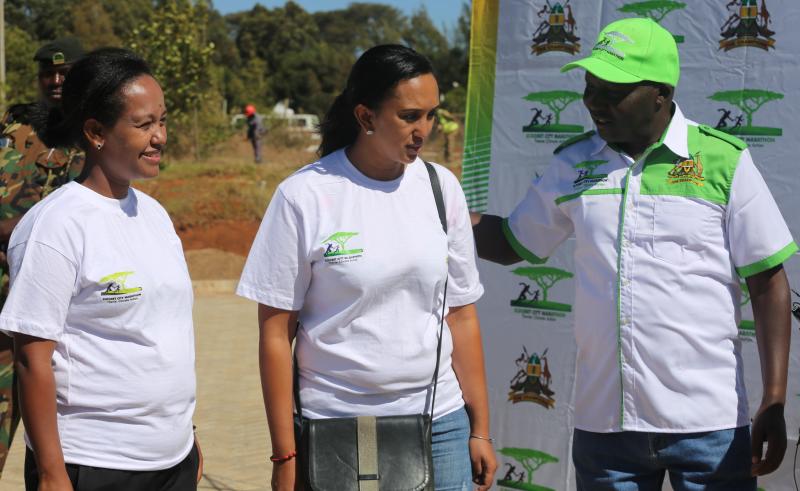 The partnership between the Eldoret City Marathon and the Great Ethiopian Run was lauded after the Eldoret race yesterday.
International partnerships in race organisation and calls for the end of doping also dominated speeches after the marathon yesterday.
Ethiopian ambassador to Kenya Meles Alem was in Eldoret to mark the partnership that is expected to culminate in exchange of the best practices in race organisation between the two races.
Alem was the chief guest in the after-race event which was also graced by Greece ambassador to Kenya Vicky Pantazopoulou.
The partnership between the two races which were founded by two athletics legends – Moses Tanui of Kenya and Haile Gebrselassie of Ethiopia was signed on Saturday.
The Ethiopian envoy said the close ties between his country and Kenya has been cemented by athletics, and the partnership will further unite the two nations which have each produced a high number of world beaters.
"An international race is not a competition without Kenyan and Ethiopian athletes. We need to focus on exchanging our experiences. We need to take experiences from Kenya to Ethiopia and vice versa," Alem said.
He said the doping menace is the biggest threat to athletics careers in the two countries.
His Greece counterpart, Pantazopoulou, lauded the race's Climate Action, explaining how athletics could play a role in saving lives through environmental conservation.
Race Director Moses Tanui also called for an end to doping. "Let us run clean because we can be banned any time we dope."
"We are making this race better each year. This year, the course measurer (Ibrahim Hussein) was in the course as required by Association of International Marathons and Distance Races (AIMS)," he said.
Legendary athlete Kipchoge Keino said the competition at the Eldoret City Marathon signals Kenya's potential in athletics talent.
"Let us do our best to train our athletes. During our days, there were no shoes and sponsorships that we see today and persevered," Kipchoge said.
Related Topics