2021 was year of surprise winners as Kenyans dominated in athletics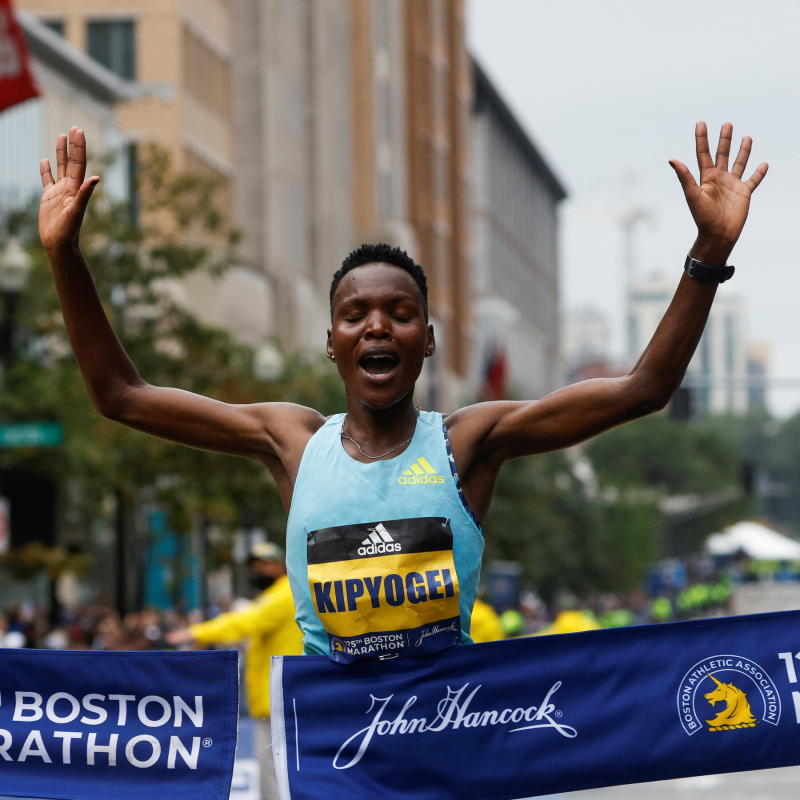 After Covid-19 pandemic ruined the 2020 sporting season across the globe, 2021 came with plenty of competitions and Kenyan athletes never disappointed.
The Kenyans picked up the pieces from a devastating season, where local and international races were canceled resulting in loss of earnings from the sport.
From jaw dropping performances by unexpected athletes to display of pure style and resilience and the return of song and dance and partaking of traditional sour milk (mursik) at Kenyan airports as winners returned home with trophies after conquering the world, the 2021 season was characterised by surprises.
Observers say 2021 was another moment of pride for Kenya. A cold reception by the government, however, almost dampened the celebrations.
Many Kenyan world beaters stamped their authority at the postponed 2020 Olympics in Tokyo, Japan and topped Africa.
Familiar names such as world marathon record holder Eliud Kipchoge and former world champion Faith Chepngetich stamped their authority at the Olympics, winning gold medals in the men's marathon and women's 1500m, and defending their 2016 Rio Olympic titles.
Former world half marathon record holder and current women-only half marathon record holder Peres Jepchirchir outclassed her compatriot Brigid Kosgei — the reigning marathon record holder in the Olympic marathon in Sapporo.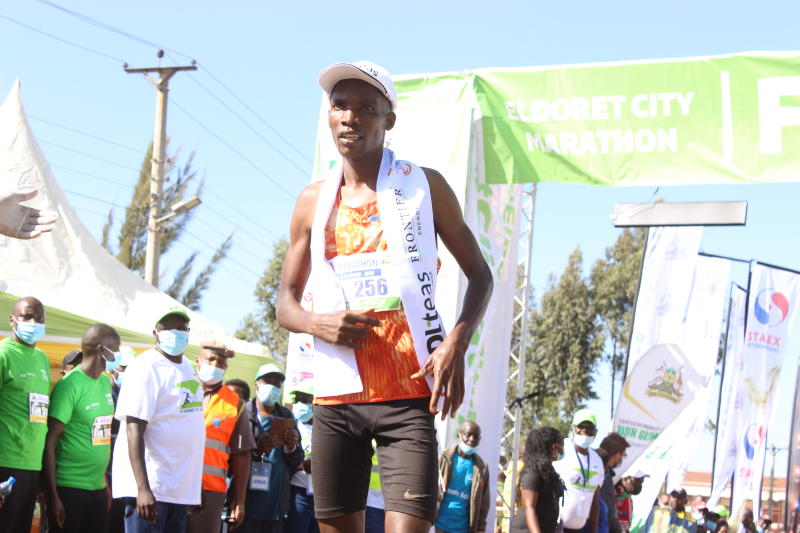 And to cement the Kenyan pride in athletics, athletes who were nowhere close to the pre-race favourites turned tables, shocking the world.
Little was known of Elisha Rotich until October this year when he won the Paris marathon in a course record set by Ethiopia's Kenenisa Bekele seven years ago.
The Ethiopian, who is the second-fastest man in marathon after world record holder Eliud Kipchoge, set the 2:05:04 mark in 2014, and Rotich, 31, lowered it to 2:04:18.
The Paris Marathon, which took place on October 17, marked Rotich's first win in the 42km race as he triumphed in a historic course record.
Rotich says when he completed primary school in 2007, he faced a challenge; his parents were unable to raise fees to take him to secondary school.
In 2010, legendary athlete John Kosgei (1998 Commonwealth Games champion) who is also his uncle took him to Kiplombe in Eldoret, where he started training under his watch. He later stepped out of his uncle's shadows.
"Between late 2010 and 2013, my athletics career was still dormant. In a bid to fend for myself, I moved to Action Estate near (Eldoret) town, where I was a caretaker. I still maintained my training programme. After returning from my training sessions, I could wash the entire compound and address tenant issues.
"I ran some road races in Germany before switching to the marathon in 2013 and relocated to Kaptagat, where I trained under coach Nicholas Koech," he says.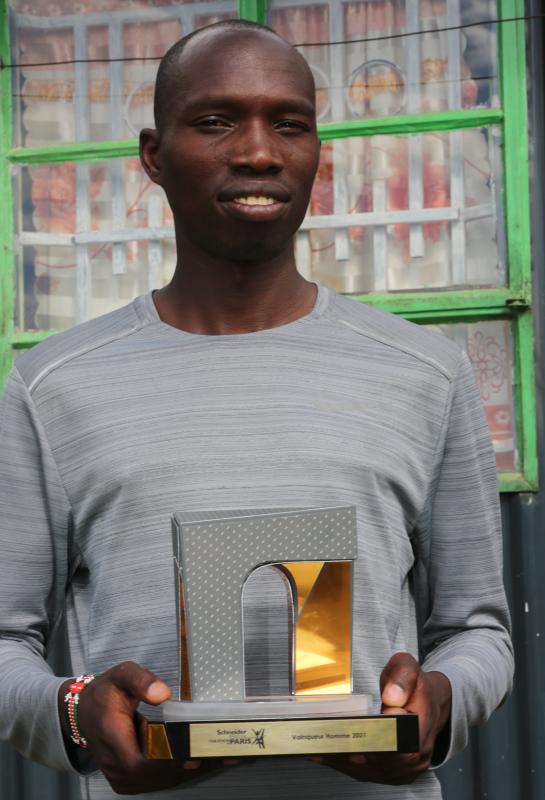 Rotich added that while in Kaptagat, he was not immediately entered into the elite unit because of inexperience.
Another athlete who stood out in 2021 was Amos Serem. He produced a win in 3000m steeplechase at the World Under-20 championships in Nairobi and capped it with a scintillating dance similar to that displayed by steeplechase legend Ezekiel Kemboi in his prime.
Before the Under-20 Championships at Kasarani Stadium, few people knew of Amos Serem.
At the global event, the youngster displayed a stylish dance after winning the 3000m steeplechase on the last day of the championships.
On August 25, three days after being crowned champion, Serem, 19, arrived in Eldoret town to a pompous reception characterised by song and dance, but at their Muyeng'wet/Kabao village home, the opulence that punctuated his arrival in Eldoret was replaced by retiring structures; old wooden and mud walled houses that demonstrated Serem's humble background.
"While at Chewoyet High School in West Pokot, I met renowned junior athletics coach Edward Moti, who shaped my talent through intensive training. Through Moti's efforts, I competed at the national level during the 2019 Kenya secondary school games and won in the 3000m steeplechase," Serem said.
Another youngster Heristone Wanyonyi was another surprise winner as he bagged gold in 10,000m race walk at the World Under-20.
At the world marathon majors, Diana Kipyokei and Joyciline Jepkosgei pulled surprises, producing stunning wins in London and Boston 42km races.
Kipyokei, 27, after a decisive surge at the 28km mark, raced to a stunning victory at the 125th edition of the race.
She was not a favourite and it was her first win at a World Marathon Major.
Her biggest victory and breakthrough was in 2020 when she claimed victory at the Istanbul Marathon in 2:22:06.
She fought off a strong challenge from Ethiopia's Netsanet Gudeta who faded away and finished fifth in the Boston race.
"I was not sure of winning. It was until I crossed the finish line first that I was sure that I had won. It was a tough race," Kipyokei said.
Her name was previously misspelled as Kipyogei but she set the record straight three days before the Boston Marathon.
There was another surprise. At 41 years of age, Edna Kiplagat who had won the 2017 Boston Marathon, moved from fifth to second, finishing in the runner-up position in 2:25:09.
Kipyokei brought home $150,000 (Sh16.9 million), while Kiplagat earned $75,000 (Sh8.4 million).
Judith Jeptum, 26, was in a class of her own at the 2021 edition of Abu Dhabi Marathon in November.
It was Jeptum's first victory of the season, having finished runner-up at the Eldoret City Marathon on June 6, and third at Turkey's Izmir Marathon in April.
Unexpectedly, Jeptum, who was running her third marathon this year, was equally dominant in the women's race, which she won in 2:22:30.
Kenyans Abel Kirui and Felix Kimutai finished fourth and fifth respectively in the Abu Dhabi race.
Titus Ekiru continued his stellar distance running season with victory in the Abu Dhabi Marathon men's race on Friday (26 November).
Kenya's Titus Ekiru and Ethiopia's Hiwot Gebrekidan recorded world-leading times of 2:02:57 and 2:19:35 to break the Italian all-comers' records at the Generali Milano Marathon, a World Athletics Label road race.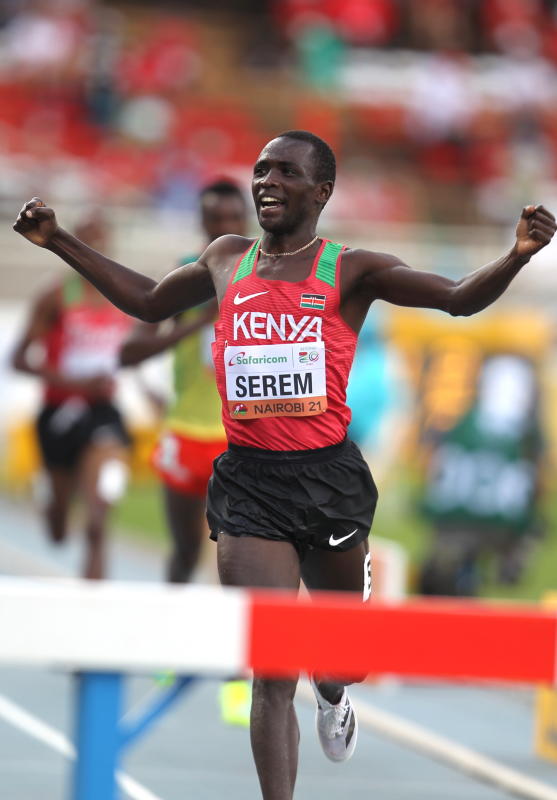 It was Ekiru's second victory in Milan, having won in 2019 in 2:04:46, the previous Italian all-comers' record.
Gebrekidan, meanwhile, was competing in Italy for the first time and was rewarded with a four-minute PB.
This year's race, held in ideal 13C temperatures, was staged on a 7.5km circuit in front of the Castello Sforzesco in the heart of Milan.
In the men's race, the leading pack of 10 athletes set a consistent pace in the first half, passing 5km in 14:47, 10km in 29:28 and 15km in 44:13.
Leading South African runner Stephen Mokoka, acting as a pacemaker in Milan, reached the half-way mark in 1:01:48.
Olympic champion Peres Jepchirchir won the 50th edition of the New York City Marathon in 2:22:39, just three months after winning the Olympic marathon in Sapporo.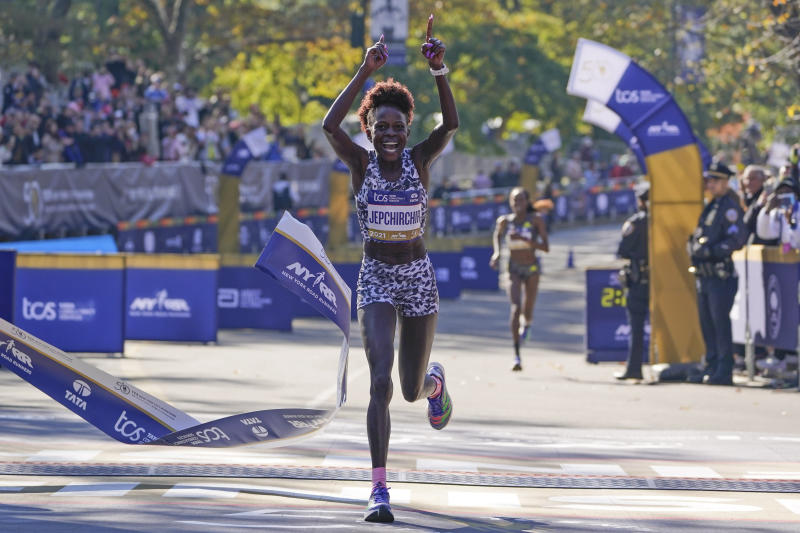 Jepchirchir became the first athlete to pick up Olympic gold and win the famed race in the same year.
Compatriot Viola Cheptoo Lagat finished a surprising second. Lagat was making her marathon debut.
Victor Kipchirchir returned from an injury that kept him out of competition for three years to win the men's title at the Eldoret City Marathon in 2:08:56 as Mercy Kipchumba clinched victory in the women's category in 2:28:10.