Ferdinand Omanyala joins Kenya Police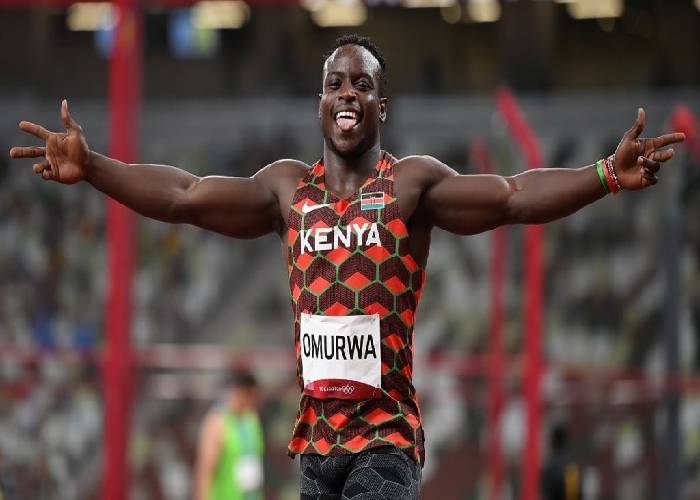 Africa's fastest man in men's 100m race, Ferdinand Omanya, has joined the National Police Service.
Omanyala, 25, will represent the police in future track events, locally.
His employment by the service was confirmed today by the Inspector-General of Police, Hilary Mutyambai.
Unlike ordinary citizens, who have to go for an 18-month mandatory police training, Omanyala has an arrangement with his new employer that will not interfere with his normal athletics programme.
"I have a special arrangement," Omanyala told The Standard in a phone interview.
"I'm waiting on the police service to tell me which rank they'll give me. That should happen sometime next week, when the paperwork will be completed," he said.
Omanyala's admission to the service was ratified by Mutyambai in a brief session held at Jogoo House.
"I'll go through normal police training, and when free, I'd take to the field to prepare for track events. The police engagements won't interfere with my [athletics] programme," said Omanyala, who is eyeing a place in Team Kenya to the Commonwealth Games set for Birmingham mid-2022.
Omanyala, who is also a Second-Year Bachelor of Science student at the University of Nairobi, joins a pool of other elite athletes in the National Police Service, including David Rudisha, Joshua Kamworor, Vivian Cheruiyot, Julius Yego, Ezekiel Kemboi (retired), among others.
He rose to stardom early this year in Lagos Nigeria, where he clocked 10.01 seconds on March 30, 2021 at an athletic event dubbed the "Making of Champions" Grand Prix.
Omanyala, a rugby player-turned-sprinter, finished third in the Tokyo 2020 Olympics semi-finals in 10.01 seconds.
He capped the season with an impressive African record (9.77) at the Kip Keino Classic on September 18, 2021.
With that performance, Omanyala, who is now ranked the eighth fastest in the world, slashed eight seconds off the previous time (9.85) that was being held by South African athlete Akuni Sembine.