Queens's baton leaves Kenya for Uganda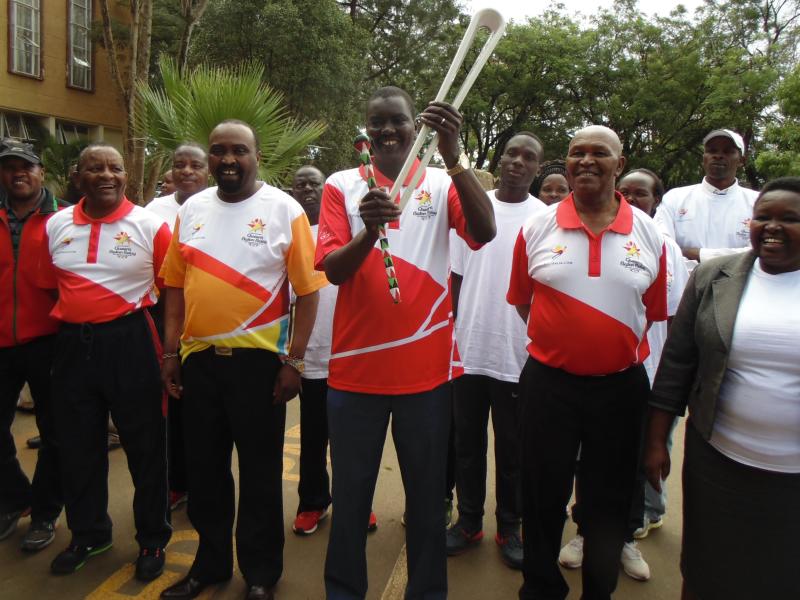 The Queen's Baton on Wednesday left for Uganda after a stirring three-day stay in the country.
The road towards Commonwealth Games in 2022, Birmingham began after the Baton arrived in the country on 2nd November 1.00am from Cameroon and was received by the National Olympic Committee of Kenya (NOC-K) Athlete Representative Humphrey Kayange who doubled up as the Baton Manager.
The past three days have seen NOC-K go through different activities displaying the three themes; Youth, Inclusion and Sustainability.
The relay was launched by the Chief Guest, Hon. Amb. Amina Mohamed, Cabinet Secretary, Ministry of Sports, Culture and Heritage at Arboretum and was attended by the NOCK Executive Committee led by the President Dr. Paul Tergat, Athletes and federations officials.
This was after a relay by athletes from different backgrounds; Refugee athletes, Paralympics and children round the city parading the Queen's Baton.
The Queen's Baton went into its final leg in Kenya on Tuesday at Ngong Hills, a key training facility for Kenyan Athletes and champions.
Cultivating the forestry and Climate culture at the forest which promotes use of sustainable processes in its conservation including Wind power generation, promotion of reuse, recycle and reduction, athletes in the relay planted trees in the forest.
Athletes travelled to the outskirts of the town with Matatus, showing the Kenyan culture that has brought employment to the youths, creativity through graphics of legends and sportsmen and entertainment.
The baton bearers for the two days included: NOC-K President Paul Tergat, 100m and 200m Paralympian Samson Ojuka, Collins Injera, who holds second place for highest scorer in the World Rugby Series, Weighlifter and Police Officer Winnie Lagat, Actress Natasha Nyawira, Huruma Kids, Ferdinard Omanyala the fastest man in Africa, World Champion and two-time Olympian Hellen Obiri, Olympian Faith Ogallo, Kenya's Tennis Star Angela Okutoyi and 5,000m Olympic Gold Medalist John Ngugi 1988 Summer Olympics.
The relay ended the day on Tuesday with a visit to the Statehouse where the First lady, H.E. Margaret Kenyatta received the baton.
Humphrey Kayange travelled today morning to Uganda where UOC President Donald Rukare received the baton.