Wanyoike's bold advice to Stanchart race participants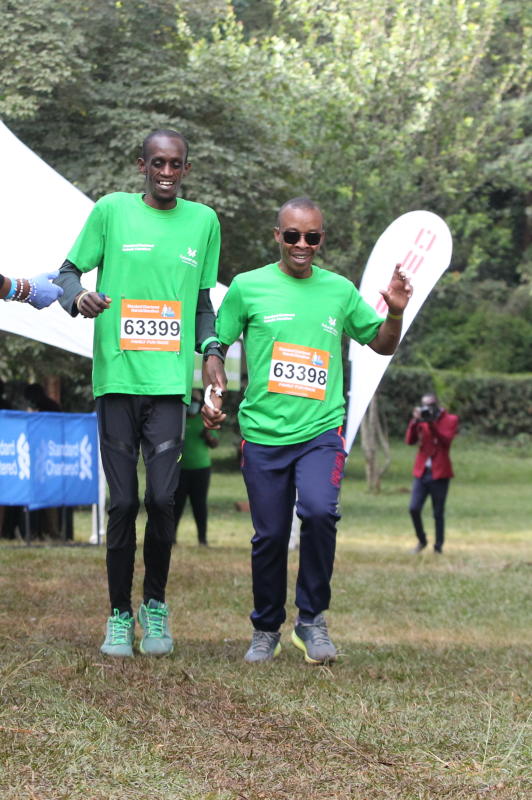 Paralympics 5000m record holder Henry Wanyoike has a piece of advice to those going for the 18th edition of Standard Chartered Nairobi Marathon slated for Sunday in Nairobi.
He advises the athletes to avoid running in new shoes and clothing on the day of the race.
"Kindly get used to your kits at least a month to the marathon.
"This will help you avoid such discomforts like blisters during the run," said Wanyoike in his interview with Standard Group's Spice FM yesterday.
The Hamburg Marathon record holder has told the participants to drink a lot of water a day to the race, probably four liters, to stay well and dehydrated.
"Kindly eat a lot of fruits with starch to get the energy for the run," he said.
"Have a banana during the race or after, it will give you instant energy."
On issue of rest, the 47-year old former blind runner urged the athletes to go to bed much earlier a day to the race to help relax their muscles.
"About 6-8 hours sleep is good, you can start doing this four days to the marathon," he said.
However, he warns the contestants not to go with the opponents' paces, saying they should be able to run their own race the way they have been training.
"What's important is the finishing, don't kill yourself if you can't win," he said.
"Never be disappointed with sports, go with your own pace, start slowly, even if it's walking, the whole point is about starting and finishing."
Wanyoike who has received three state commendations says sports requires a lot of discipline and it is on this note that he is advising those looking forward to take part in Sunday's marathon in the future to join small groups within their area of resident to get the support and motivation.
"Training is good for your health and fitness. The only way to create a running culture is to link up with neighborhood clubs. This will burst the boredom of running alone," said Wanyoike.
"I have seen this working well in my area, by joining the clubs people have embraced athletics very easily.
"If you want to run faster, go alone, if you want to go far, run with the team."