From running in sandals to big victories – The story of Amos Serem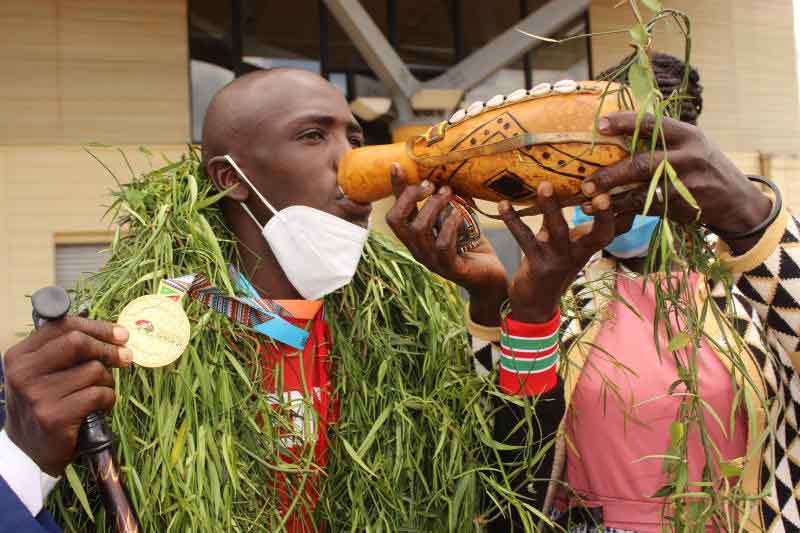 Before last month's World Under-20 Championships at Kasarani Stadium, few people knew of Amos Serem.
At the global event, the youngster displayed a stylish dance after winning 3000m steeplechase on the last day of the championships.
On August 25, three days after being crowned champion, Serem, 19, arrived in Eldoret town to a pompous reception characterised by song and dance, but at their Muyeng'wet/Kabao village home, the opulence that punctuated his arrival in Eldoret was replaced by retiring structures; old wooden and mud walled houses that demonstrates Serem's humble background.
Nothing has changed at his parent's home since the August 22 win, but Serem; a second born in a family of four, hopes to use his athletics career to better the current situation.
The Standard Sport's spoke exclusively with Serem on his exploits, plans and fears.
Who is Amos Serem?
I finished high school last year and the World Under-20 championships was my first international race. I was born in Muyeng'wet/Kabao village and treasured athletics from a young age. I discovered I could run while in Standard Four at Chepkoilel Central Primary School. My father was my first coach
How did your athletics career start?
We would often watch athletics competitions with my father, who was also an athlete. While in lower primary, I started competing because I had passion for athletics. It is my father who coached me. I remember taking part in school competitions held at Naiberi Primary School at that young age. I ran in sandals.
While at Chewoiyet High School in West Pokot, I met renowned junior athletics coach Edward Moti, who shaped my talent through intensive training. Through Moti's efforts, I competed at the national level during the 2019 Kenya secondary school games and won in 3000m steeplechase.
How did you meet Ezekiel Kemboi and what was his advice to you?
He told me that 3000m is a Kenyan race and encouraged me to take it up. He said he was confident I could make it.
How did you prepare for the World Under-20?
I prepared well. I went to the Global Sports Camp in Kaptagat and my head coach Patrick Sang gave me a good programme. Sang saw potential in me and encouraged me to train harder and I am thankful because through discipline and hard work, I delivered.
At the national World Under-20 training camp in Nairobi, I also trained well under my coach's programme.
Why were you using signs and symbols before sprinting to the finish line?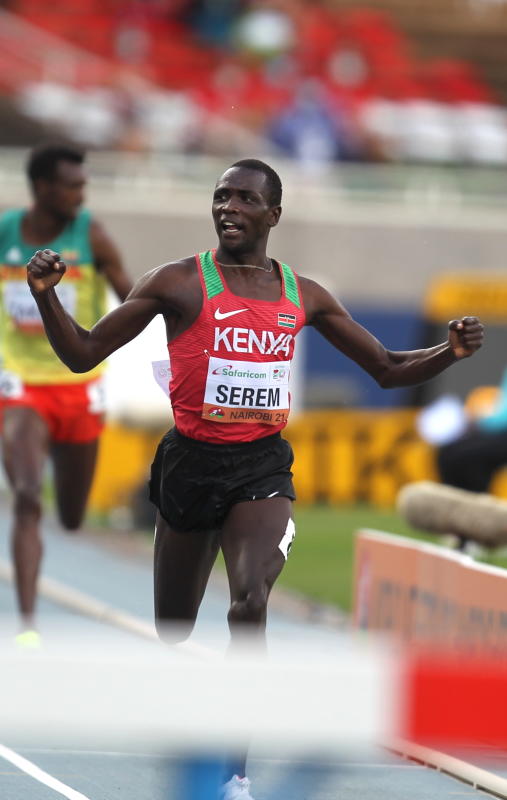 I heard Kenyan fans calling my name and asking me to out-sprint my competitors. I was using the signs to urge them to be patient, while assuring them that all was well.
I was assuring them that I would sprint after clearing the last barrier. I thank the Kenyan fans because we connected well during the race.
What was your tactic and how did it work?
Taking the lead with 300m to the finish was my plan. I discovered, no one was willing to take the lead. I decided to reserve my energy for the last 150m.
Why did you decide to dance after finishing top?
I was celebrating the win with a jig. My mentor Ezekiel Kemboi set the dancing style and to me, that is a steeplechase dance. It will be my tradition.
How was it being coached by your father at the initial stages of your career?
My father was the one who gave the first training programme. He woke me up very early in the morning for training before I left for school. He could monitor my health and give me time to rest whenever I was unwell. He identified my talent and nurtured it because he understood athletics. Initially, he was everything; a father, a doctor and a coach.
Why did you choose steeplechase?
In all the races I took part in (400m, 800m, 5000m and also 10000m), steeplechase was the most promising. I loved it because it is a Kenyan race. I also benefited from good training by my high school coach, Moti.
Are you under pressure to deliver in 'the Kenyan race?'
Yes, Kenyans have high expectations in steeplechase. But I am not under pressure because I intend to run my race. As the Kenyan team at the world Under-20, we tried our best to stamp the country's authority in the distance. We will continue to work hard. I urge Kenyans to support us.
What are some of the challenges you've faced?
I was hit by injuries due to the kind of shoes I was using during my training. I was not lucky to have good shoes.
What is your target in 3000m steeplechase?
My aim is to take part in Diamond League races. I also aim to win more medals for my country. My manager is planning on having me compete in the Diamond League races.
Ultimately, my focus is to break the steeplechase world record.
How has your diet changed, now that you are a professional athlete?
There are no changes in my diet. I have been taking ugali with indigenous vegetables. These foods remain my favourite.
When are you planning to start your own family?
I'm focused on my career.