Kenya end Para Games on low note as Sang finishes sixth in 1500m T11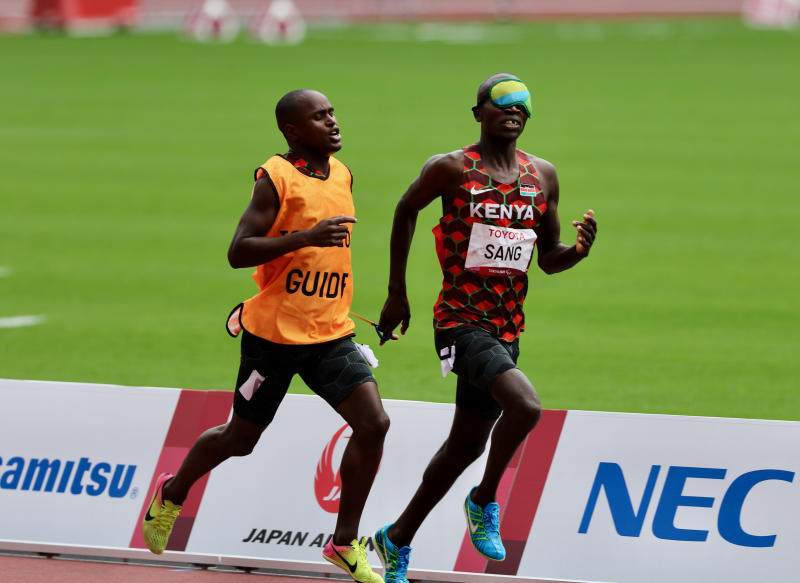 Kenya ended her 2020 Tokyo Paralympic Games campaign on a whimper with 1500m T11 finalist Erick Sang's forlorn look in post-race interview summing up a forgettable sojourn to Japan.
Beaten, spent and decidedly not in the best psychological frame, Sang and his make-shift guide Erick Kirui struggled to keep up with a ruthless field egged on Brazilian Yeltsin Jacques to a World Record.
"We live to fight another day," a tired Sang wiping away gushing sweat flowing down his brow as guide Kirui, amid gasp for breath, fought off bile welling up his bowels.
"After the crash during the semi-final, I didn't know whether I would compete again. I need to tune my body back, but as the results show I couldn't" the visually impaired athlete said.
Sang and his hurriedly selected guide, Erick Kirui, looked out of depth as they finished sixth effectively banishing any hopes of a medal to add to the bronze won by Nancy Chelangat Koech on Monday.
"I knew it was always going to be tough after my guide Korir (David) was ruled out because of the injuries he suffered when we fell in the semi-finals," Sang said even as he paid tribute to Kirui for stepping forward to help in the final.
On Monday, Korir was left with cuts on his thighs and elbow after Brazilian Julio Cesar Agripino dos Santos tripped and trampled him on the homestretch.
Although Sang was reinstated, team doctors ruled out his injured guide thus opening the door for Kirui. Tried as they did, however, it was obvious whatever tactics they employed, they were not prepared for the searing pace eventual winner Yeltsin Jacques injected to the final.
The Brazilian's gun to tape dash also wiped out Samwel Mushai's record of 3:58.37 as he cantered home in a new World and Paralympic Record of 3:57.60.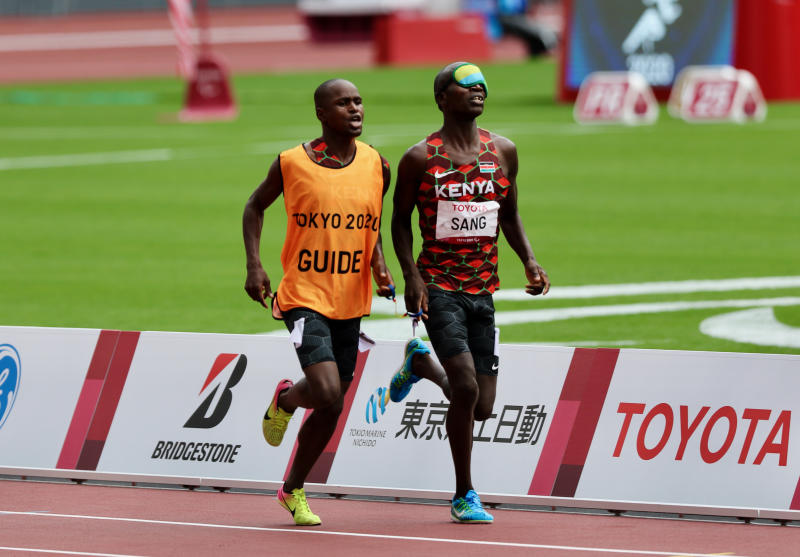 Shinya Wada (4:05.27) of Japan set Asian record for silver while Russian Paralympic Committee's Fedor Rudakov settle for bronze with a personal best of 4:05.55.
Sang's 4:21.53 was only good for sixth placing.
"The lesson I take home is that we need to double our effort and that we should always prepare in conditions similar to the host nation," Sang said.
"We did our best but it was not good enough. My message to our brothers and sisters back in Kenya is to continue to support us. The government has shown the will.
"I had never imagined that we could be put in a training camp for two months, fully catered for by the government. Unfortunately, the government's help was undermined by the Covid-19 pandemic because we had not trained outside the training camp at Kasarani."