Kigen and Kibiwott through in steeplechase as Bett out with Sum exiting 800m in the heats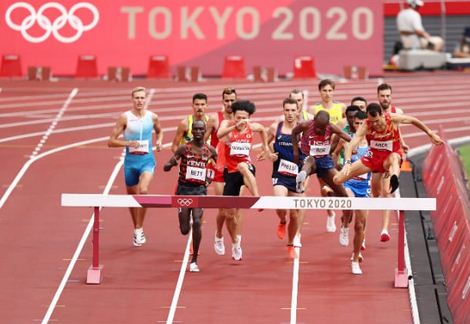 There were no major problems for Kenya's 3,000m steeplechase duo of Benjamin Kigen and Abraham Kibiwott as the athletics programme started in Tokyo on Friday, but it was a nightmare start for the other Kenyan Leonard Bett who could not qualify to the finals.
Kigen and Kibiwott all sailed through to the final on Friday after finishing among the top three automatic qualifiers in their heats, but Bett failed to sail to the finals after finishing fifth in his heat, which means he is out of the even at the first hurdle.
Kigen who was in the first heat finished third in the race won by Ethiopia's Lamecha Girma.
Japan's Ryuji Miura made his home fans who watched from the comfort of their homes happy after finishing in second position.
Kigen clocked 8:10.80 which was his seasonal best, not a bad time considering the humidity in Japan. Girma won in 8:09.83 with Miura's 8:09.92 not only good for second place, but it was also a Japanese national record.
In the second heat, Kibiwott had no time for to hang around as he won his heat without much fuss.
Kibiwott clocked 8:12.25 while Getnet Wale was Ethiopia was second in 8:12.55 with Italy's Ahmed Abdelwahed coming third in 8:12.71.
For Bett though, he will rue a poor decision to allow other athletes to pass him at the final water jump when he was in a good position to finish in the top three in the race won by Morocco's Soufiane El Bakalli.
Bett finished in fifth place in 8:19.62 which was not even enough for a place among the top six fastest losers in the three heats.
The women 800m race was also another nightmare start for Kenya as Eunice Sum finished sixth place in the second heat.
The Team Kenya captain found it tough as she said bey to the competition before it had even started.