NOC-K visits athletes in Kaptagat and Kapsait, listens to concerns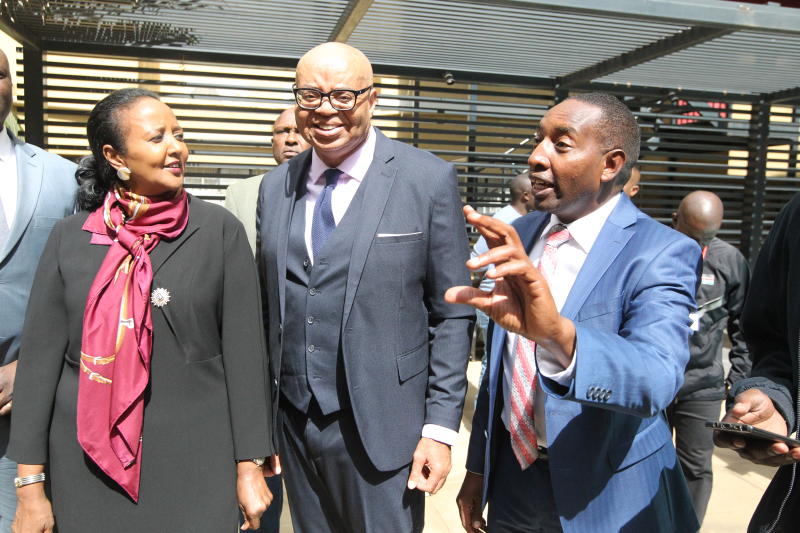 A delegation from the National Olympic Committee of Kenya (NOC-K) and Athletics Kenya (A.K) have today visited Global Sports Communication camp in Kaptagat, Uasin Gishu County where some of the Olympic athletes are training, to check on their preparedness, motivate them as well as listen to their concerns.
Ag. Secretary-General Francis Mutuku accompanied by Athletes Representative Humphrey Kayange and Tokyo Olympics General Team Manager and Athletics Kenya Executive Member Barnabas Korir met athletes at the camp including the reigning Olympic marathon champion & the world record holder Eliud Kipchoge and world cross country and half marathon champion Geoffrey Kamworor who train at the camp. They were joined by two-time Chicago and London Marathon champion, Brigid Kosgei who trains at Kapsait Nike camp.
Lead by coach Patrick Sang who heads the training camp, the officials were given a tour of the facility by the athletes before having a round table sit-down with them.
Mr. Korir informed the athletes that they were on a fact-finding mission, by both NOC-K and A.K so as to understand best how to support the athletes as we gear towards the Olympic Games. Being an Olympic year, it was necessary to reassure athletes of support from the stakeholders involved towards their preparations.
With the Olympic cycle already in the quadrennial where Paris 2024 falls, NOC-K has also started the process of identifying athletes for scholarships which should assist talented athletes to train and compete in readiness for 2024.
Wycliffe Kinyamal and Rodgers Kwemoi who train at the Kaptagat camp are among the six who received Tokyo 2020 scholarships that were issued yesterday by NOC-K President, Dr. Paul Tergat in Eldoret.
The athletes affirmed that they are ready to bring the Olympic medals home.
Eliud Kipchoge speaking on behalf of the athletes emphasized the need for teamwork among athletes and other stakeholders. "The visit from NOC-K and AK is an opportunity to know the full recipe of an athlete's life at camps, and this will enable you all to understand the necessary support required by athletes.''
Take a quick survey and help us improve our website
Take a survey
Brigid Kosgei spoke passionately around equal recognition and celebration of women in sport, mentioning that they put in equal effort as their male counterparts to achieve their results. Having won four times Chicago and London Marathons in 2018, 2019, and 2020, Kenya cannot wait to see Bridgit at the Olympics. Accordingly, Athletics Kenya chose her to lead the Kenyan women's marathon squad to the Tokyo Olympics.
Kayange informed them that the Athletes Commission has the sole mandate to ensure they are well represented in the Olympics body and hence they should maximise the use of the office to address their issues. ''We are here to get to hear the athletes' voice so that we can articulate it at the NOC-K executive board to be able to support you effectively. We want to ensure that our engagement with athletes is done throughout, before, during, and after the Games.'' This includes career transition programs such as the Athlete 365 training conducted by NOC-K towards the end of 2020 where 60 athletes were trained on post-sports career transition. More of such programs will be rolled out in the new quadrennial.
Julius Yego receives a scholarship of Sh900,000
Earlier today, the team met with javelin throw Olympic Bronze medallist Julius Yego at his training grounds in Eldoret.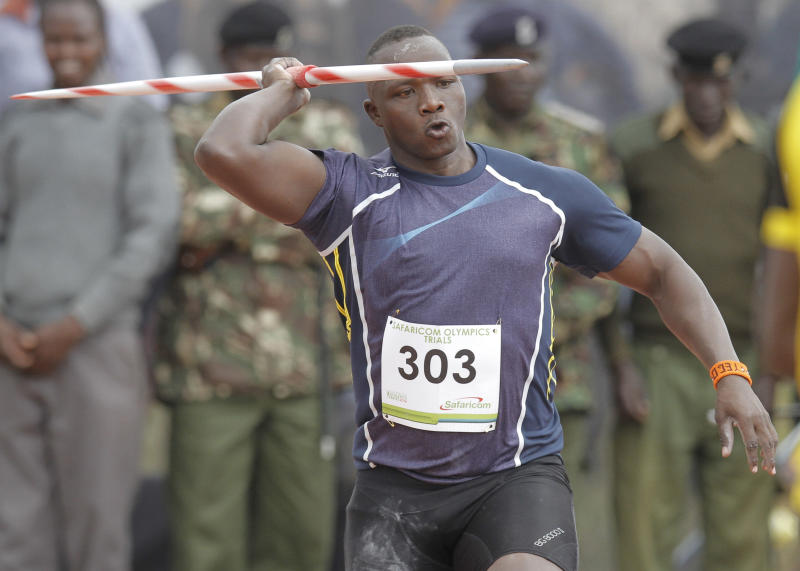 Yego was issued with his scholarship cheque of Kshs. 900,000 to cover his training until August 2021 in readiness for Tokyo 2020.
Julius Yego while expressing his gratitude for being considered among the athletes receiving individual scholarships said, 'I will develop a program with my coach to improve my training. My main target is winning the Olympics. Winning the silver medal in Rio was great and I appreciate it. My main focus however this Olympics is to win a gold medal.''
Recalling that he missed the Kipkeino Classic last October where most athletes were expected to use it to test themselves for competition fitness considering the long period they had gone without competition, Yego remarked that, 'I had planned to attend the Kipkeino Classic last year to maintain my fitness. It was however not an opportune time given my recovery plan from injury and therefore I had to miss the Classic.''
Kapsait Nike Athletics Camp
On Monday evening, the delegation had visited Kapsait Nike Athletics Camp, which has two camps for elite runners and includes an under 20 Camp based at Kapsait High School. This is where Edward Zakayo trains, he is the World and Africa Under 20 champion in 5,000 meters and the Africa champion in 5,000 metres and the 2018 Commonwealth Bronze medalist.
The Kapsait High School athletics camp has over 30 young athletes learning and training.
The delegation lead by Dr. Tergat was made to understand the training schedule of the athletes and how they balance school and athletics, as well as their needs as young athletes, to inform them of the next plans of action.