World 5000m championships finalist Jacob Krop thanks AK and sports ministry for food and cash donation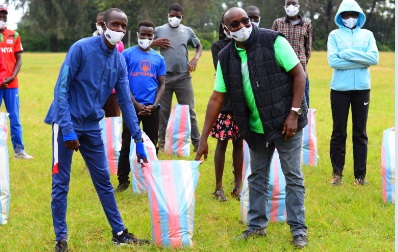 Athlete says he is ready for senior competition after he missed chance to compete in the under-20 event
World 5000m championships finalist Jacob Krop has vowed to graduate into the senior ranks with success after Covid-19 killed his dream of running at the now postponed World Under-20 championships.
Krop, who finished sixth after clocking 13 minutes 03.08 at the world championships in Doha last year, was among 50 athletes who pitched camp during the December holidays in preparation for the world under-20 championships.
The event is scheduled to be held in Nairobi.
The runners at the Chewoyet National School in Kapengura, Pokot County, are from Turkana, Trans Nzoia and West Pokot counties and are being trained by Edward Moti.
There are 19 camps set up by Athletics Kenya in partnership with Ministry of Sports which are helping athletes prepare for the postponed global event that was scheduled for July -12.
World Athletics is yet to confirm the new dates, which is likely to be next year.
Speaking as each athlete at the camp received cash donation of Sh3,000 and foodstuff worth Sh3,000 from Athletics Kenya, the Form Four student at Chewoyet National school said he is keeping fit with hopes of concentrating on senior competition when the season starts in August.
"Now that there will be no under-20 this year, I had discussion with my management and we agreed to just focus on senior competitions. My focus now will be Diamond League in August," he said.
"It's still not clear whether Africa cross country will be held this year and with the Olympics shelved to next year, the season is just messed by this pandemic and we hope all will be clear soon," said Krop, who is being deemed as the future 5000m star.
Krop and Felix Korir are some of the athletes from the camp who had qualified for Africa cross country championships in Lome, Togo.
Kenya has struggled at global stage in the 5000m discipline, where no athlete has won a gold medal in the last 12 years.
Krop thanked AK and Sports ministry for coming to their aid during this difficult period.
"I'm happy because the federation and the ministry has supported us since December. Some of us are really feeling the hit during this period. The food and the cash will keep us going," Krop said.
The AK youth development chairman Barnaba Korir urged the youngsters who might miss the under-20 championship should it be held next year, not to lose hope but use the challenge to make their senior debut.
Athletics in Kaptama in Mt. Elgon led by 400m specialist Allan Kipyego and Kapcherop in Keiyo, also received their donations.