World 1,500m champion Cheruiyot rues missed chance to break record
ATHLETICS By Xinhua | April 8th 2020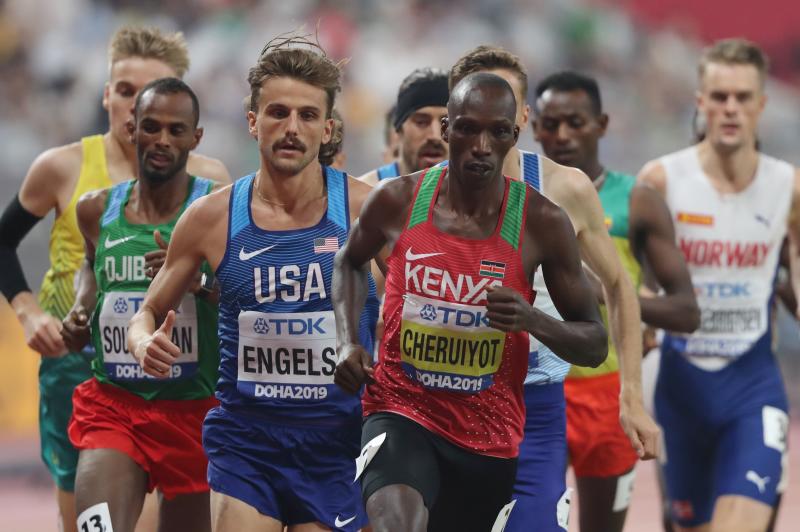 World 1,500m champion Timothy Cheruiyot has said he had high hopes of peaking at the right time this season to make a serious attempt on the world record.
"When the year started, I had two items I wanted to accomplish - winning Olympic gold and breaking the world record. At the moment, the Olympic dream is gone, moved to 2021 and the dream chance of running at the higher level at full throttle looks bleak," he said on Sunday.
Hicham El Guerrouj's record of 3:26.00 has stood the test of time for over two decades and Cheruiyot, who has seen his rise from obscurity to blossom as a world champion feels he was the man to finally shatter the record.
However, the coronavirus pandemic has nipped in the bud his dream as he has no idea when he will return to action.
Cheruiyot is worried many athletes will struggle to regain fitness and sharpness in competition whenever the ban on sports competition is lifted.
With the shutdown of all training camps in Kenya, Cheruiyot, like many other athletes is facing the prospect of lazing at home in 2020 after the Covid-19 global pandemic wrecked the sports calendar.
Cheruiyot now has turned his focus on staying safe and forgotten his hope of chasing records.
His best time on the miler is 3:28.41, which he posted in Monaco in 2018.
"People break records when they run regularly and competitively at the highest level. So clearly from where we stand that is not going to be the case this year," he added.
Meanwhile, Olympic 5,000m silver medalist Hellen Obiri has urged fellow athletes to follow social distancing and practice good hygiene standards.
Obiri, the world 5,000m champion, who has been forced to amend her training program, says she only has one session in the morning to train.
She believes, like other sectors, sports will have to suffer initially before order is restored. However, she believes she will emerge out of the self-quarantine stronger and ready to battle her way to the top to win the only medal missing in her collection, Olympic gold.
"I have to train alone and it is difficult. It requires a lot of discipline and focus because distractions are many," Obiri said on Monday in Nairobi.
"These are difficult times, which call for special measures. As athletes and role models we must sensitise the need to keep safe and follow government directives. We must be very careful, that is why I can only afford to train once a day."
With no Diamond League meetings and the World Athletics Continental Tour having been postponed, Obiri has had to be careful not to peak too soon.
"There will be time for action and the important thing now is to remain safe and healthy. When everything is done and there is no coronavirus, we will train as a team and compete at the highest stage again," she said.
World Athletics President Seb Coe has said it will be a lot harder to stage all competitions in 2020 when the situation allows and athletes will have to select which events to take part in after Covid-19 is defeated.