Joyceline Jepkosgei's grand plans for 2020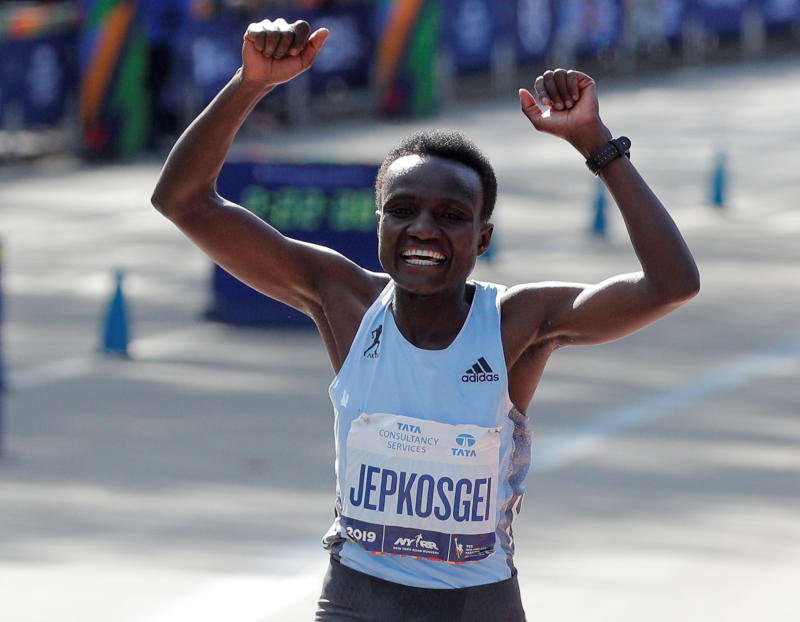 She obliterated a big field to win the New York City Marathon last month in 2:22.38, just seven seconds off the women's marathon course record. But that was no surprise to Joyceline Jepkosgei.
In 2017, Jepkosgei smashed the world half marathon record to become the first woman to run 21km in under 65 minutes. Brigid Kosgei later broke her record as she set 64.28 minutes.
Jepkosgei, who was voted the 2019 New York Road Runners Pro Performer of the Year, spoke to Standard Sports.
First, congratulations for being voted the 2019 New York Runners Pro Performer of the year. How did you feel about the achievement?
I wish to thank everyone who contributed to my achievements this season, particularly my coach and manager as well as the fans. The award came as a surprise but I am thankful for everything. I competed in a number of races in the US in the run up to New York City Marathon but I didn't expect to attain such a feat. I am encouraged to go one better.
You ran your debut full marathon in New York and won. Did you expect a World Marathon Majors race in your debut against a strong field?
Winning New York City Marathon was a surprise. I was nervous at the start line but the win crowned my season. It was great running with Mary Keitany who is my mentor. The pressure was too high.
Some athletics analysts say you moved to marathon before getting enough experience in road running. How is it?
Take a quick survey and help us improve our website
Take a survey
No. I always have the desire to take up challenges and I feel it is the right time to run the full marathon. I had already achieved in half marathon and taking up a new challenge is good for my career.
Which race or races are you preparing for next season?
I am yet to get the list of races to take part in 2020. I have just recovered from NYC marathon. I am eyeing the Kenya Defence Forces championships early next year as a starter for the season. It is also my hope to run a World Marathon Major race but my coach and manager will decide.
Tell us how it all started. How did your running career begin?
It all started in Cheptil Secondary School where I represented my school in several competitions and my coach noticed me and we became friends. We got married immediately I completed my secondary school education about eight years ago and my career took a nosedive. I went into my maternity leave and gained weight, but months later, through the encouragement from coach, I started training.
You are a young mother and your marathon journey has just started. How do you multitask motherhood, training and competitions?
Striking a balance between motherhood and my athletics career has been tricky. But my husband Nicholas Koech and coach has been a pillar. He has had to spend time with our kids as I take part in competitions.
Tell me something about your coach. How has he helped you achieve?
He is strict and disciplined. He has impacted the same on me and I appreciate him for that.
Does serving in Kenya Defence Forces have any impact in your athletics career?
Every success in athletics is the culmination of discipline. For me, being in the disciplined forces is just a plus. I also have to always respect my coaches and other athletes.
Every athlete needs time to recover after a marathon. How have managed your recovery?
Recovery is an integral part of the sport. My recovery periods have been shorter in 10K and half marathon but running a full marathon earlier in November, I discovered that I needed more time to recover. Previously I needed a month or less to begin training, but now I need more than that.
What activities do you engage in while on recovery?
I take time to relax and meet friends. It is also a perfect moment to have time with the children. But on top of that, I spend time weeding my vegetable garden and walking.
Do you get leisure time? How do you spend that precious time?
Yes. Leisure time is rare and whenever I get such a time I listen to gospel music and read a novel.
Several women athletes have come out of maternity and staged impressive shows. Do you share a similar experience?
Yes. Before running the Nairobi half marathon in 2015, I had come from my maternity leave and I felt strong. It's like you have saved a lot of energy.
How do you take care of your health?
Maintaining my physiotherapy schedules, eating healthy foods and preventing any stress. To remain healthy, I have chosen to deny myself several tasty foods because I have to always check my diet.
What is your favourite food?
I like Kenyan traditional foods, fresh from the farm.
Do you feel like returning to the half marathon to set another world record as you continue running the full marathon?
Yes. I still like the half marathon and will still compete. A record is there for every athlete to break.
What is your ultimate goal in full marathon?
To inspire budding athletes. I also aim to be among the best runners in the world.