Beatrice Chepkoech breaks steeple chase World Record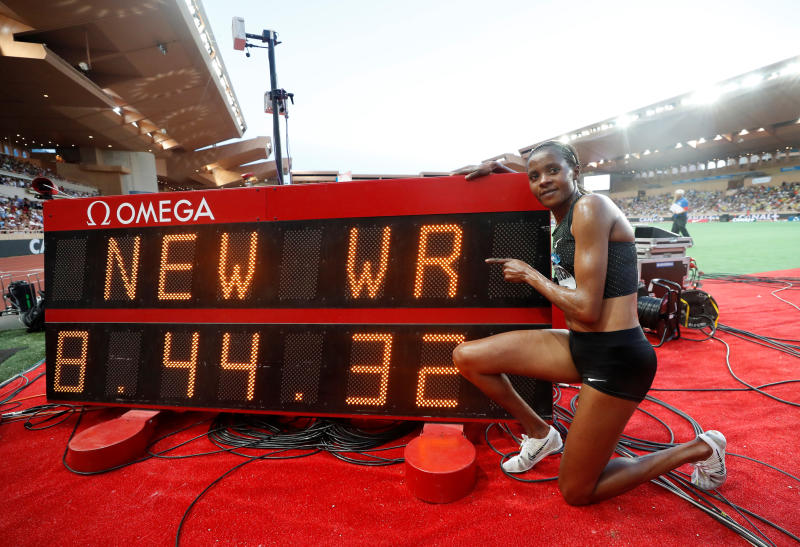 Many athletics lovers will remember what Beatrice Chepkoech did at last year's World Championships in London.
The Kenyan was leading the steeplechase women final and she looked destined for victory if not a top three place, but she did moments later was shocking. She passed the water jump and was forced to come back after realising her mistake and by then the other competitors were way ahead of her.
She, however, found back and despite her costly mistake she was able to overtake a number of runners ahead of her and only missed a medal by seconds as she finished in fourth place.
Fast forward to 2018, at the tenth IAAF Diamond League meeting in Monaco and Chepkoech once again shocked the world, but this time for good reason as she took more than eight seconds off the women's world 3000m steeplechase record.
She was no longer the laughing stock of steeplechase after her mistake in London as she raced home, alone and triumphant, in 8:44.32 at Stade Louis II in Monaco on Friday night.
That obliterated the mark of 8:52.78 set by Ruth Jebet of Bahrain in winning at the IAAF Diamond League meeting in Paris in 2016, and the 8:58.78 set in Eugene last year by her compatriot Celliphine Chespol, who was on her shoulder halfway through this race but slipped back to a 10th-place finish in 9:12.05.
The 27-year-old Chepkoech, who had come into this race with the fastest time of the season, 8:59.36, has never won a major global medal but she gave an indication of her sharpness this season by taking silver in the Commonwealth Games 1500m final in Gold Coast.
She was clear of the field with three laps remaining as the rising tone of the commentary highlighted the growing possibility of a monumental performance that was duly delivered.
"I wanted to break the world record, that was the plan from the beginning of the season," said Chepkoech. "And I was aware the biggest chance would be at Monaco due to weather, crowds and the whole environment. And this plan worked well.
"I knew I was running fast splits, but I was not worried. I felt strong during the race. I was thinking maybe I can break 8:50 but not at all was I dreaming about 8:44.
"And this time still could be improved I'm sure. Maybe my next target could be to run under 8:40.
"It is a great feeling I brought back to Kenya the steeplechase world record. I'm very proud of it."
In fact, Chepkoech who is managed by Jose Hermen's Global communication is the first Kenyan woman to hold the 3000m steeplechase world record.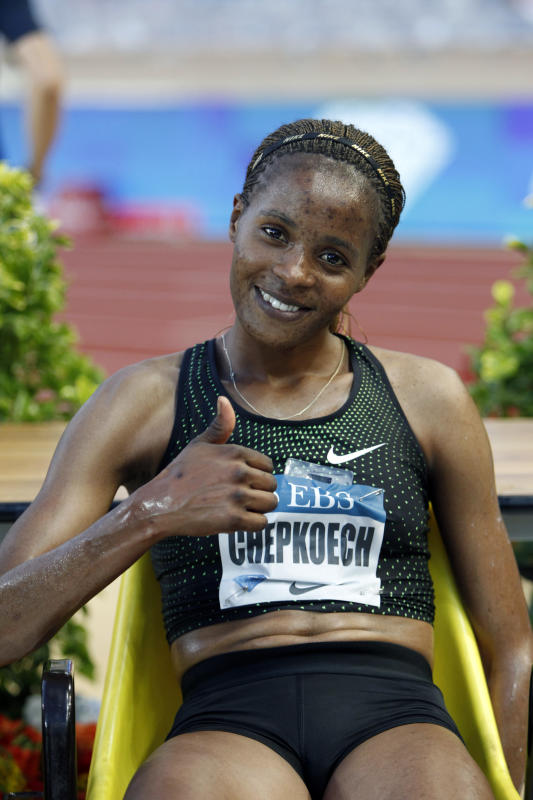 For Chepkoech, the plan to attempt the World Record was born six months ago after producing good results in Athletics Kenya Cross Country circuits according her coach Gabriel Kiptanui.
Chepkoech also drew a lot of inspiration from David Rudisha's World Record in 2012 during the Olympics Games in London.
"It's been six months of serious preparation for record attempt, we did a lot of research during this period, we found out that many pacemakers in the races tend to run slow and can't be relied on for the record attempt" Kiptanui told The Standard Sports.
"So we decided that in Monaco if the pacemakers are slow, then Beatrice should just run past them and go it alone. Also during our fact finding, we also got a lot of inspiration from David Rudisha's World Record in London Olympics, he didn't have pacemakers and that really inspired Beatrice, and we decided that should the rabbits be slow, then she should attempt it alone," he said.
In his Kericho-based training camp, Kiptanui handles 40 athletes including the Kipngetich Ngeno, 800m silver winner from just concluded World Under-20 in Tampere, Finland.
Other runners from Kiptanui's stable include 2013 World Under-18 1500m gold medalist Robert Biwott, Laban Kiplangat a member of Kenya's team to Tampere in 400m.
He had previously coached Mercy Cherono when she broke World Youth Record in women's 3000m in 2007 in Ostrava timing 8:53.94.