Decades after independence: Ugunja and Ugenya residents yet to realize dreams
SPECIAL REPORTS
By Joe Ombuor | September 2nd 2018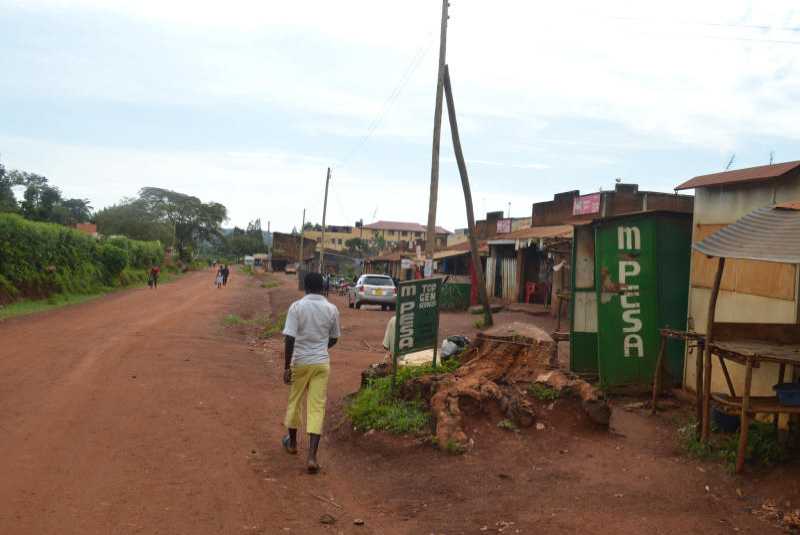 Discussion on places in Kenya that have lagged in development cannot be complete without a mention of the larger Ugenya Constituency that in 2012 was split into Ugenya and Ugunja Constituencies...
The two Sub Counties with a combined population density of 420,000 spread on 419,142 square kilometre landmass have not known tarmac 55 years after independence and six years since devolution, save for the Class B1 stretch of highway traversing from Kisumu through Busia into Uganda.
Failed attemps
Yet Ukwala, a dusty township in Ugenya was not only the first seat of administration in Siaya County hosting the first District Commissioner in the 1970s, but was home to the first Court in the current Siaya County.
Ukwala has remained a dark town until recently when the Executive Director of Global Peace Foundation (GPF) Mr Daniel Juma Omondi who hails from the area installed solar floodlights donated by philanthropists from South Korea.
Ugenya, first represented in parliament by John Odero Sar (1963-1969) in 1974 produced one of Kenya's pioneer Ministers for Tourism and wildlife in the person of Matthews Joseph Ogutu who had served as Assistant Minister for local Government from 1969 when he took over from Odero Sar. He left no tangible development project in his tracks.
After Ogutu, came in laws James Aggrey Orengo and the late Archbishop Stephen Oluoch Ondiek who did 23 long years between them. Orengo's 13 years as MP that ended in 2013 are punctuated by the Ugenya Sub County Headquarters and a Lands office put up in Ukwala during his five year tenure as Minister for Lands and settlement in the Grand Coalition Government.
The late Archbishop Ondiek remembered for bringing a mortuary to Ukwala hospital is also credited with the building of a library in Ukwala when he was chairman of the Kenya national library services. He initiated a water project on which thousands of Ugenya people rely for the vital commodity.
Roads are said to be the artery of development and in Ugenya, a tarmac thoroughfare remained but a mirage until former MP David Ochieng popped on the scene in 2013 after Orengo opted to go for the Siaya County Senate seat that he occupies to date. "Upgrading of the Rwambwa/Ugunja tarmac road project was his pet campaign tool and he pushed for its implementation like none of his predecessors had done," says Mr Oloo Muganda, an ODM party activist in Ukwala ward.
He says Ochieng overstepped party boundaries for the project and that it was courtesy of the 42 kilometre road currently under construction at a cost of sh1.2 billion through Ukwala that he came close to levelling votes with Chris Karan who beat him with a mere 347 votes in the August 2017 elections in spite of enjoying the advantage of being an ODM party candidate.
Ochieng who contested on the little known Movement for Democracy and Growth (MDG) party that he formed after losing favour with ODM and party leader Raila Odinga garnered 23,418 votes to Karan's 23,765.
Reason? He had been perceived a jubilee mole for reaching out to the Government to support his development forays and had no apologies to make about it.
Now Ochieng has declared his readiness to return to the blocks on the same obscure party if Karan fails to get respite from the Supreme Court, ostensibly his last port of call to escape facing the electorate afresh.
He is flaunting a string of development projects he managed to initiate in five years that besides the road include a forestry college at Yenga, the only one in Western Kenya, a Teacher Training College at Nyaharwa, a Medical Training Centre at Sihayi and facilities at Ukwala Level Four hospital.
While ODM obviously is the most formidable party in Ugenya and the entire Luo land where party leader Raila Odinga holds an unshakable forte, public opinion has it that forcing Karan back via a by-election would be a tall order indeed for the orange party.
"Perhaps the best that ODM can do to retain the seat is to have a candidate popularly elected by the people through the party to face Ochieng, given the fact that Karan's nomination in 2013 was controversial," says staunch party supporter Ms Janet Onyinge who is the Secretary of Women's league, Karuoth Sub location.
Among individuals touted to possess the clout to give ODM a winning chance against Ochieng, Ms Onyinge opines, is Kenya Country Executive Director of Global Peace Foundation (GPF) Mr Daniel Juma Omondi.
"He has been on the development arena installing solar floodlights in Ukwala at a time the township was totally dark and distributed solar lanterns to deserving villagers. Juma has taken many local students for studies to South Korea and can easily win people's support if he declares interest in the seat and wins ODM nomination," says Ms Onyinge.
"We also have journalist David Ohito who together with Siaya County Executive for Education, Youth, Gender and Social Services Ms Mary Omondi lost the controversial party nominations that produced Karan last year. He has not been much on the ground but can give Ochieng' a run for his money if popularly nominated by the party," says Ms Onyinge.