Where is Odero Jowi? Diplomat who brought Unep to Nairobi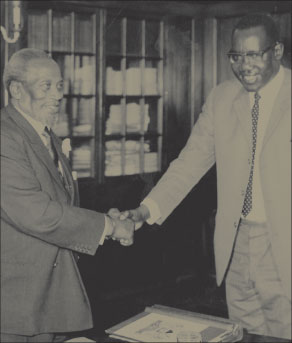 Former President Jomo Kenyatta congratulates Joseph Odero Jowi when he was appointed Minister for Economic Planning and Development in 1969. [PHOTOS: JOE OMBUOR and FILE]
By JOE OMBUOR
Where is Joseph Odero Jowi, the man credited with winning world support to have the United Nations Environment Programme (Unep) situated in Nairobi?
It was Odero, then serving as Kenya's Ambassador to the United Nations in New York, who pulled through the unprecedented diplomatic coup in 1972 that saw a major UN agency move – for the first time – outside the United States and Western Europe into the Third World. The feat earned him instant international acclaim.
"That was something I worked really hard to win," Odero explains. Today, the once eloquent, imposing and articulate diplomat and Cabinet minister who brought great honour to Kenya and the African continent is alive, but certainly not well.
The super diplomat is nowhere on the radar of the Government he served with so much distinction. Odero, perhaps better known locally by the older generation for his brief stint as Minister for Economic Planning and Development after the assassination of Tom Mboya in 1969 is, sadly, a forgotten giant.
Aged 75 and a pale shadow of his former self going by photographs taken in his prime, Odero now leads a humdrum existence, staring at the horizon of his days from a National Housing Corporation apartment in Langata, Nairobi.
His wife, Salome, gives him company and support. I find him seated in a wheelchair in a corner of his three-bedroomed apartment. Inches above his head hangs a framed portrait of US President Barack Obama. Photographs of his family in earlier days dominate the remaining space on the wall.
"Welcome," he says in a frail voice when I appear at the door. He is alone, but Salome appears soon after. "It's been a long time since I talked to a scribe," says Odero, scratching his head that, strangely, bears no trace of grey hair.
"Did you say your rural home is in Gem? he asks. Bethwel Ogot and Omolo Okero, who were my classmates at Maseno School, also come from Gem. Our class of 15 was the first to sit the Cambridge School Certificate examination at Maseno School."
Previously, Maseno students completed their high school studies at Alliance High School.
"Was Barack Obama Senior also your classmate?" I barge in, my eyes glued to President Obama's portrait hanging just above his head.
State affair
"No. Obama's father was my student at Maseno," he says. Former Gem MP, the late Aggrey Otieno Ambala, was in that class too. I taught history and geography for two years before going to India to study economics at the University of Calcutta and the University of New Delhi. The late Samuel Ayany, after whom Ayany Estate is named, was a fellow teacher at Maseno," he explains.
He says of Barack Obama Sr, "He was a very bright student. He was always at the top of his class. The President must have inherited his brains".
He continues, "No sooner did I return from India than Tom Mboya asked me to take up an appointment as Principal at the International Confederation of Trade Unions-sponsored African Labour College in Kampala, Uganda. I returned to Kenya in 1963 after a two-year stint in Kampala. I married Salome in the same year."
Odero says he was appointed Assistant Minister for Labour to serve under Eliud Ngala Mwendwa after independence.
"I was later moved to the Ministry of Finance to deputise James Gichuru. It was from there that I was posted to the East African Community secretariat in Arusha, Tanzania, as Minister for Finance and Administration," he reveals.
"President Jomo Kenyatta recalled me after Mboya's assassination in July 1969 to step into his shoes as Minister for Economic Planning and Development. I recommended the late Robert John Ouko to take over from me in Arusha."
He pauses and stares at the floor as memories of Tom Mboya's assassination come flooding back. After a deep sigh, he says: "I was close to Mboya and people knew it. Many from my community viewed my acceptance of Mboya's post as a betrayal since they were convinced his assassination was a State affair."
Odero says he was in political trouble as borne out during the General Election a few months later, when he lost the Ndhiwa parliamentary seat to Martin Otieno Ogingo, an affiliate of opposition leader Jaramogi Oginga Odinga.
But Kenyatta was to give Odero a soft landing, appointing him Ambassador to the United Nations where he proved most effective.
His diplomatic wizardry in the world body peaked when Kenyatta presided over the inauguration of the Unep headquarters in Nairobi, unfurling the United Nations flag at Kenyatta International Conference Centre on October 2, 1973.
He quit his UN post before the 1974 General Election to make another stab at the Ndhiwa parliamentary seat, which he won, beating Ogingo and seven other contestants on a Kanu ticket.
In a move that remains unprecedented to this day, he abandoned the seat midstream in 1977 for a United Nations job.
Reason? "I was fed up with politics," he says, but records have it that speculation at the time blamed his action on frustration at not being appointed a Cabinet minister in spite of his huge experience. He does not agree. Ogingo won a subsequent by-election.
Difficult decision
He says of his peculiar move: "I made the difficult decision on realising that I would be more useful doing something else. I explained as much to my people and they agreed to let me go. I had been invited by an organisation in Canada to write a book on the operations of the East African Community where I had served as a minister."
Odero was in Canada when Kenyatta died in August 1978. President Daniel arap Moi, Kenya's second head of State, snubbed Odero, whom he did not consider for any public appointments.
And nothing seemed to be forthcoming from President Mwai Kibaki until 2007, when the Government announced through the then Foreign Affairs minister Raphael Tuju that Odero and another former diplomat, Leonard Kibinge, were to be awarded Elder of the Burning Spear honours for their distinguished service to the nation.
Joseph Odero Jowi was born on August 15, 1939, in Sori, Karungu Bay in what is today's Ndhiwa Constituency, Migori County.
"I attended Sori Primary School, then joined what was then known as the Government African Secondary School, Kisii (Kisii School).
He completed his high school education at Maseno then went to Kagumo Teachers College. He later went to India for further education.