We have lost hope in Tullow Oil, Turkana residents say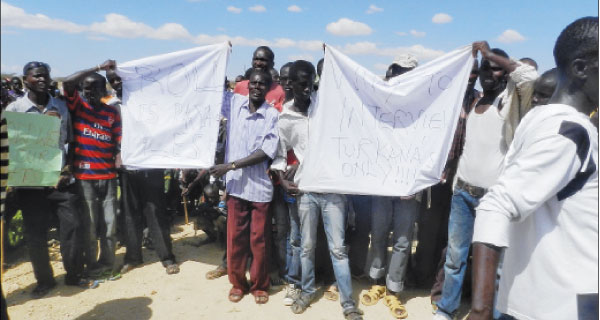 Turkana residents demonstrate on the streets
By LUCAS NG'ASIKE
When former President Kibaki announced the discovery of oil in Turkana last year, residents received the news with joy. But the black gold is slowly turning into a curse.
Locals are now engrossed in a fight with Tullow Oil, the firm that discovered the oil, over land and oil proceeds. The British firm struck oil in Ngamia 1, Twiga 1 South Well, Ekale 1- Wildcat and Etuko oil well.
But locals feel they have been sidelined by the company in the sharing of oil proceeds. The community says Tullow operates without involving them. This has led to major conflicts, threatening to put the region into oil insurgency.
Earlier this year, a leaders' forum held in Lodwar and attended by Interior Minister Joseph ole Lenku and his Energy counterpart Davis Chirchir, Tullow Oil officials and Turkana leaders failed to resolve the stalemate surrounding the conflicts.
The community demanded that Tullow Oil streamlines its operations by involving the community directly.
"We thought the discovery of oil would alleviate our suffering but now we have lost hope in oil. We have been sidelined by the oil exploration companies since they started oil exploration in the region'', says Akure Lopeto, a pastoralist.
Ms Akure says they have lost a chunk of grazing land to oil exploration in the region, yet they have not been compensated.
Environmental degradation
However, the company says it has built a school, a health centre, a water project and offered scholarships to students locally and abroad.
Locals also claim oil exploration activities have caused a lot of harm to the environment. But oil experts say oil drilling do not take large chunks of land since the drilled hole is equivalent to the size of a plate.
Lodongiroi Lopusmong, a herder in Lokichar, accused Tullow Oil of "blindfolding" them by offering camels to villagers in exchange for land. Lopusmong said Tullow Oil officials went to the villagers with camels, which were handed over to the elders to feast on.
"They told us they had come to see us and that we can party with camel meat as they open dialogue about the land matters. We ate the camel meat but we did not agree to give them a portion of our land. We later realised they had fenced the place and settled to explore oil," said Mr Lopusmong.
Several meetings held between local leaders and Tullow Oil to resolve the land stalemate bore no fruit, as the community refused to allow Tullow Oil to expand its drilling activities.
Locals pointed fingers at some local leaders claiming they had been compromised in a land deal to favour Tullow Oil. Turkana Governor Josephat Nanok castigated some leaders for "threatening to chase away investors from the region".
Nanok had earlier said oil exploration activities in the region should not be interrupted since it is of economic benefit to the county and the entire country.
Suspended operations
"We appeal to local leaders not to incite the community to reject investors. We are blessed with oil resources and others which should be explored so that it uplifts the economic livelihood of the community," he told a leaders' forum.
Last weekend's protest sparked a lot of anxiety after Tullow Oil suspended operation.
MPs James Lomenen (Turkana South) and Nicholas Ng'ikor (Turkana East) led locals in a protest march to an oil field, which led to the suspension of oil drilling in the region.
The leaders said Tullow Oil was short changing the community on jobs, tenders and vehicle hire contracts. But in a statement through its associate PR firm African Practice, Tullow Oil said it takes its relationship between them and the local communities seriously.
"Tullow takes its relationships with the local communities extremely seriously and the decision to suspend exploration and appraisal operations was taken to prevent further escalation of the demonstrations while discussions to resolve this issue for the long term are ongoing'', read the statement.
The firm further said it is working closely with the local communities and county and national governments so that the company can resume work on Blocks 10BB and 13T as soon as possible.
According to the African Practice, Tullow Oil has employed over 800 locals out of the 1,400 employees it has in Kenya.