Kenyan growing local veggies in United Kingdom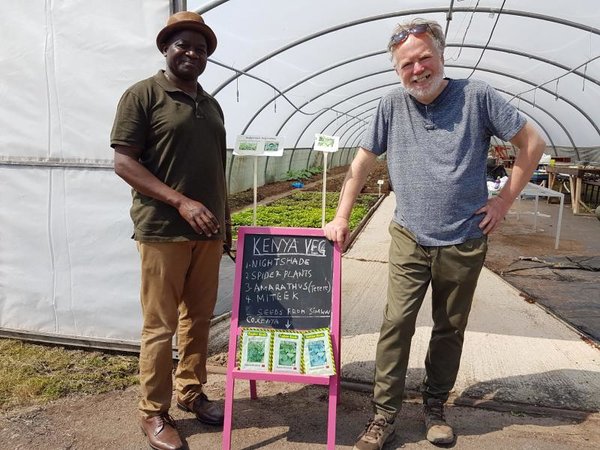 ?When Kimnyango Seronei moved to the United Kingdom 15 years ago, the last thing he thought he would miss about his home country was fresh vegetables. Not because Coventry, the city where he works as a researcher lacks greens, but because the variety available in Kenya is a luxury in the diaspora.
"We have always been trying to find out who is going back to Kenya for a visit so that we can ask them to bring back some indigenous vegetables. To live abroad means to be cut off from sources of fresh food we were used to," he says.
After some observation on how rampant the challenge and subsequent need was, the enterprising Seronei came up with an idea: to formulate a business strategy that would ensure Kenyans in the UK get supply of fresh veggies.
He secured a small farm, rented a greenhouse and buckled down to work. He applied traditional methods to grow his crops.
"On the farm, I grow amaranthus (terere), night shade (managu), cow peas, and methi (mrere). They are very adaptable to the conditions here and are rich sources of calcium, magnesium and vitamins A and C. In the greenhouse, we cultivate the spider plant and the saga," he tells Smart Harvest.
He says the aim of the gardening project is to provide a sustainable, fresh and quality indigenous vegetables for close to the 2,000 Kenyans in Coventry as well as the city's locals.
"I shall run open days for locals to come and taste the vegetables," he says.
And his hard work is already paying off as in the last two weeks, he sold his first batch of vegetables. He has also acquired another greenhouse that he plans to put to full use as soon as he receives Simlaw seeds from Kenya Seed Company.
"I am fortunate to have been allowed use of the greenhouse for the trial project, and that the seeds I needed for this are easily available. Many Kenyans here who have heard about the project have already placed their orders for the vegetables," he says.
Beside the Kenyans, people from other African countries in the diaspora are raring to try the organic vegetables. This is a feat for Seronei as this is the first time these crops are being grown in Coventry.
His quest to become a flourishing indigenous vegetable farmer in the UK has also been aided by some campaign groups that encourage locals to eat local produce from local shops.
"It is encouraging to see the crops thriving. It is nice to see a successful and sustainable project from a member of the local community," said Robert Bell, an official of one of the campaign groups.