Rivers Nginyang', Cheptopokwo and Kolowa have also dried up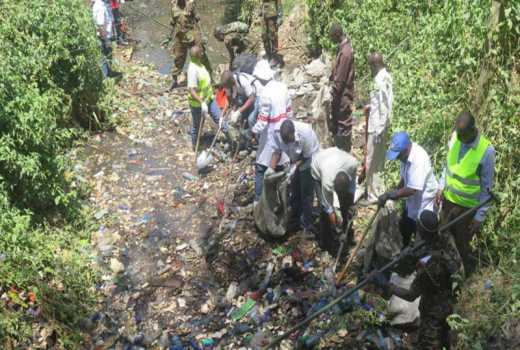 A group of pupils from Chemolingot Primary School mill around a dry riverbed as some dig small pans in the hope of getting water.
River Chesitet that is the main source of water for the pastoral communities living in the area is now dry, leaving locals helpless.
"Water will slowly seep through, although it is not enough to satisfy the entire household, but that is what we can do for now," says Paul Lotodo as he digs a pan in the dry river bed.
Just like river Chesitet, rivers Nginyang', Cheptopokwo and Kolowa have also dried up, leaving residents with the options of digging through the riverbeds as they patiently watch and wait to 'strike' the rare commodity.
The situation, has impacted both on the social life as well as education as school-going children throng riverbeds in large numbers to try their luck.
"It is a traumatising situation as children have to abandon classes and look for water. The situation might worsen if the dry spell continues," says Angorokwo Domokwang'.
Environmentalists point at forest destruction and over-abstraction of water by farmers as the reasons for drying rivers.
DRY SPELL
At river Njoro that drains water into Lake Nakuru, results of over-abstraction coupled with both industrial and agricultural pollution and ongoing dry spell are felt.
The river that empties fresh water into the lake and serves as a drinking point for wildlife within Nakuru National park has dried downstream, a move that has prompted the county government to partner with the World Bank towards renewing the river and lake.
The team, according to the County Director of Water andIirrigation Johnson Kamau, will also be working towards conservation of Lake Nakuru, Naivasha and Elementaita.
River Weseges, which serves four counties and is the main tributary of Lake Baringo, is also in trouble.
"The devastating results are sadly felt downstream," says James Kimaru, Baringo National Reserve game warden.
The river supplies fresh water for flamingos in the lake.
"The flamingoes drink and bathe in fresh water whereas they extract their food from the saline water in the lake. Fresh water is important to these numerous birds which often woo tourists from across the globe," Kimaru said.
The drying of river Weseges has resulted in the receding of water in the lake.
River Molo, which is on the verge of drying, also faces challenges of over-abstraction by large-scale farmers.
Following over abstraction of water that has led to the river drying downstream, regional Water Resource Management Authority (Warma) manager Simon Wang'ombe says numerous complaints have been launched by locals.
Mr Wang'ombe said Rongai sub-county is the most affected in Nakuru where flower farmers and small-scale tomato farmers illegally channel water from rivers to their farms.
Water levels at rivers Perkerra, Narosura, Molo and Rongai have drastically dropped.
"River Perkerra that supports many farmers who engage in irrigation activities is almost drying up as a result of low water levels from its tributaries, a situation we can blame on wanton destruction of trees," says Lawrence Bomett, a member of the Lembus Council of Elders.
Speaking during a tour of the Mau Forest Complex, the KFS officials led by Chief Conservator Emilio Mugo and Chairman Peter Kinyua attributed the decreasing levels to dry spell and encroachment on riparian areas.
According to the Secretary of the National Environmental and Complaints Committee John Chumo, cases of water abstraction are rampant in most rivers across the country.
At the Kaptagat forest, a 40,000 hectare water tower cutting across Elgeyo Marakwet and Uasin Gishu counties, timber merchants have been engaging in illegal logging, leading to destruction of watersheds clustered under the Cherang'any water catchment area.
The depletion of forest cover has led to the drying of most rivers in the two counties, key among them Torok and Kipsinende.
MASSIVE LOGGING
"Many rivers that originate from these forests are on the verge of drying up due to massive logging which have destroyed the riparian areas," says John Kibet, a local resident.
Kaptagat forest is vital for the two counties, with Eldoret and Iten towns depending on the water from rivers flowing from it.
Kerio Valley Development Authority (KVDA) insists that the only way to ensure flow of rivers is through reforestation.
Officials say they will embark on planting more indigenous trees along the affected rivers. "As a parastatal, we will continue providing resources so that we can reclaim many rivers and dams," says KVDA Managing Director David Kimosop.
In Nandi County, reports from the Environment, Water and Natural Resources department reveal an alarming reduction in forest cover.
County CEC Jacob Tanui blamed human activity including logging, mining and farming for the reducing forest cover which he said had affected water catchment areas.