When siasa gets hot, farming cools me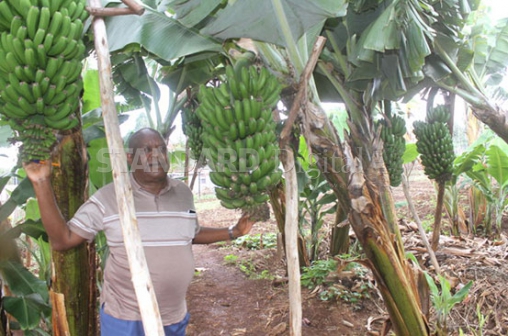 As the General Elections are nearing, politics is getting hotter and one man knows this too well. But when things get too thick, he knows where to get some refreshing aura to refresh his energies — his farm.
Nyamira Governor John Nyagarama runs one of the best organic farms in the area, reaping from the small portions of land characteristic of the Gusii region where the resource is getting smaller by the day.
Less than four kilometres from his office in Nyamira town is a glistening governor's private residence, standing at the centre of a three-acre piece of land at Tente near the headquarters of Nyamira Seventh Day Adventist Church Conference.
On the side of the huge house is a model farm. Mr Nyagarama says the farm is completely organic and he does not apply any artificial fertiliser during or after planting.
Organic agriculture includes crop rotation and diversification, enriching the soil with organic matter and use of non-chemical pesticides. The governor says after soil analysis on the farm, results showed it lacked key nutrients and he immediately decided to apply farmyard manure.
Rake in profits
"We dug holes around the farm six to seven feet apart and put manure in them. We also dug a trench around the small portions of land to prevent the soil from being washed away. Initially, the soil was dry, but we had to ferry more from outside the farm," he explains.
The sprouting green kales planted in separate holes around several portions of land in the farm is a clear indication of a manure-rich soil.
"A single harvest from one hole can feed more than 15 people at one given time," says Nyagarama.
During his first days in office, the governor established an Artificial Insemination (AI) department, from where farmers receive services at half price. Initially, AI could cost between Sh1,500 and Sh3,000, but currently farmers pay the county government Sh500 for servicing one cow. The governor also has a banana farm from where individual farmers and groups buy suckers. Now in his fourth-year of banana farming, Nyagarama has sold over 100,000 banana suckers to various farmers' groups. His quarter-an-acre banana farm has the hardened tissue-culture banana varieties that are resistant to diseases and mature fast. "At the time I was planting, we gave farmers several suckers. We have a great potential for banana production and all the farmers need to do is pace up with the new tissue culture technology to rake in profits," he says.
Mashed bananas is a staple food among the Kisii community, but Nyagarama believes it is time farmers turned into banana farming as a business venture.
"We feel left behind by other communities when it comes to banana farming. My farm here is an indication that we are ready to bounce back. Despite the many challenges in the community, I will continue to supply the disease-free suckers to the farmers," says the governor.