How ready are you for planting?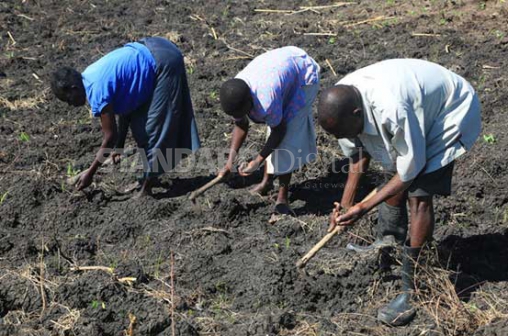 The dry spell is almost over, farmers will be going back to the fields. The fact that many farmers have only weekends to get to the field, a little advance work can make farming this year easier. Today I will list what you should have ready by the time of planting.
Conduct a soil test
Good crop-production often requires the application of lime and fertiliser. Soil-testing enables you to find out the composition of your soil and helps you determine how much lime and fertiliser you need to apply.
To find out what you need to do to improve your soil's quality, you should know each of the following attributes of the soil. The current pH levels of your soil, fertility levels of the principal nutrients, type and quantity of lime your soil needs, nutrients need to be added to your soil as fertiliser, amount of fertiliser your crop and soil needs. If you do not have this information, a soil test may help.
Soil-testing is a simple process. Dig a few inches below the surface and take a few samples from around the plot. Mix them in a clean plastic bucket and put some in a plastic bag. Take the sample to the nearest agricultural research station for analysis or you may contact nearest agricultural extension officer.
You will have the analysis in a few days and you will know whether or not you need to amend your soil with lime and what mixture of fertilizer to use.
You will need to add lime to adjust the soil pH. A reading of 7 is perfect pH for most crops, but most plants will do fine in anything over 6 on the scale. Anything below 6 (acid) should get a healthy dose of lime to begin raising the pH. Use quick-acting lime if you will be planting this year. Raising the pH of soil will allow nutrients to be released to plants as acidic soil 'binds' nutrients and makes them inaccessible to plants. It is imperative that you test your soil, and the pre-planting season is the time to do it.
Have your seeds ready
After getting your soil test results, the next step is to choose what kind of plants you want to grow. About 60 per cent of farmers will be planting maize and beans, with the rest resorting to others crops.
Avoid diseased plants
Choosing and buying good-quality seeds is important to successful gardening. Seed bought from a dependable seed company will provide a good start toward a bountiful harvest. Keep notes about the seeds you purchase: germination, vigour of plants and tendencies toward insects and disease. From this information, you can determine which seed company best meets your needs and which varieties are most suitable for your area.
Seed catalogs are a priceless tool for any farmer. Leafing through these resources can make plant selection easy and fun. Should you choose to buy transplants, it is important that you buy from a reputable dealer who will give you the assurance of high quality in his plants. Insist on fresh, stocky plants that are healthy, medium-size, have a deep green colour and are free of diseases and nematodes. The best vegetable transplants are not necessarily the tallest and largest available. Do not buy diseased plants or plants that show signs of change in colour or wilting. The key is start with a good plant to end up with good, healthy farm.
Put your fertiliser ready!
If you have had a soil test done and told the lab what you want to plant in the plot you should have a fertiliser recommendation to work with. It is important to have your fertiliser.
Fertilisers are comprised of three critical elements: nitrogen (N), phosphorus (P) and potassium (K). Those are the three numbers you find on fertiliser bags (10-10-10) (0-20-15) or some other numerical combination indicates the proportion of each element found in the bag.
Most companies bag fertiliser in standard configurations. Get your fertiliser early. Waiting until the last minute might just find you running all over looking for the right mix. Commonly, since fertiliser is very seasonal, when it's out, it's out.
With everything lined up in advance, you'll be ready when the planting time comes. Given the unpredictable rain pattern, keep a close eye on the farmers near you. When they are busy in the fields chances are high that the planting time is at the corner. If you have everything ready, it will save you last minute hustles and you will dedicate most of your time to planting.
- The writer is an expert on sustainable agriculture and agricultural innovations.
Help! My cow has refused to go for long call
It was a dry December some years ago when I had just left the vet school and was steaming with the zest of a young vet. I came across a case that has ever since stuck in my mind like the memory of a maiden kiss.