Peasant farmer attends police vetting to learn profitable farming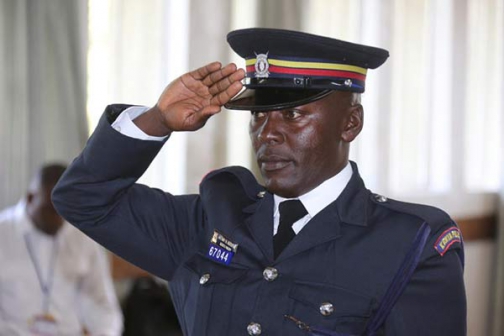 The Peasant Farmer was in school this past week. No sooner had the duly elected President of our sovereign and democratic republic of Kenya signed into law a bill lowering interest rates on bank loans than I hurried to seek for a loan from the local bank to purchase another acre.
Shock on me though, because when my account was consulted, I was found to be only worth mashilingi taslimu ya Kenya in the hundreds! I could not qualify for a loan because I was a risky customer, the 8-4-4 manager told me! He continued that my account should be in the millions like that of police officers. He wondered aloud whether I am a real farmer or just a bandia kitchen garden man! Wakulima wenzako are depositing maelfu na maelfu every day and you are only at 50 and 100 bob?
So I left the bank with my farming tail between my legs and went to reflect about myself and my poverty. What was this the manager said about farming and policemen? Were they policemen who farm or farmers who police? Anyway, I made the decision to take leave form the Peasant Shamba and attend the police vetting where stories have emerged of multi-millionaire 'watumishi kwa wote' who engage in farming.
It was for this reason that I started following the Johnston Kavulundi-led police vetting panel in various towns. Wee, I tell you, anyone who wants to make real pesa should attend these sessions. They are free and highly insightful to upcoming wakulima.
Every askari polisi who came had mamilioni ya pesa...their accounts could be described as holding halaiki ya manoti! First, the Peasant Farmer realised the askari came in clean and well pressed blue police suits and saluted before sitting and introducing themselves to the vetting committee. Lesson number one? Discipline and respect.
These successful farmers who also police as a pastime respected discipline. Then, all their accounts had mamilioni ya hela transacted through MPesa. Lesson number two: don't trust anyone else with your money: not the farmhand, not your girlfriend, not your dog! Customers have to send you all the money to your MPesa account.
Also, link your MPesa account to your bank account. When questioned deeply, all these farmer who police answered that thye manage their farming activities through their wives. Lesson number three: marry a farm manager, siyo mke nyumbani but a 'mke shambani'! However, money must go through you, not her. Also, somewhat these policemen had a piece of shamba somewhere in ingo.
Lesson number four? Go back to your mashambani and claim your land inheritance! Also, these farming police monies kept rotating from one askari to another especially in the evenings. Lesson number five? Share your success internally with your fellow farmers!
So what kind of farming were these prominent and successful wakulima nambari moja engaged in? Aaah, easy: selling rabbit urine, kuku kienyeji, selling fish to National Housing Corporation of Kenya, trading rice from Mwea in Kisumo, milk hawking, grow maize, carrots and tomatoes and sell them with Makaa and camel husbandry. Lesson: don't be a kawaida mkulima.
And so, with all these lessons, the Peasant Farmer has applied to further his studies at the Kiganjo Police Farmers College, Nyeri!