Introducing Mama Sarah, the avid farmer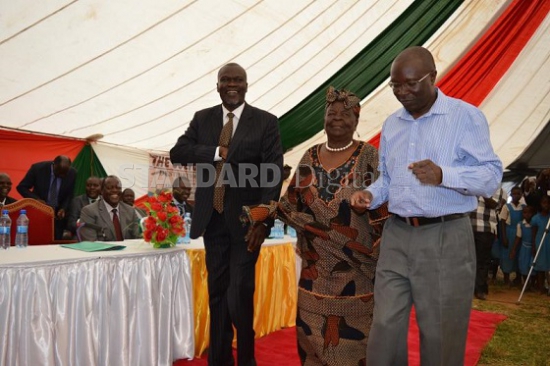 Mama Sarah Obama, US President Barack Obama's glamourous grandmother never ceases to amaze. She was busy threshing maize with her fingers from their cobs amid animated chat and laughter in the company of women, many years her junior, when I walked in after a routine security check at her well guarded gate.
One cannot not fail to notice her ease in the tempest generated by the United States president's impending visit, the first to his fatherland since he took office close to seven years ago. The compound choking with fruit and other trees was awash with bird and other sounds that blended into a perfect natural music. Chicken, in particular, seemed to be everywhere, even atop the concrete slabs under which her husband Hussein Onyango and the president's father, Barack Hussein Obama Sr are buried side by side.
She would momentarily leave the maize threshing to the younger women and concentrate on feeding her chicken and other poultry, describing the birds as 'my earliest venture into farming.'
"I have reared chicken and other poultry since I was married here in 1941. My husband loved poultry and encouraged me to keep as many as possible as a symbol that we welcomed visitors. Traditionally in our society, the importance of a visitor is known by the size of the chicken slaughtered in his honour."
"I slaughtered a cock for Barack when he first visited after the death of his father. I did likewise when he visited as Senator and was prepared to repeat the ritual in a bigger way if he were to visit as President," she says with a laugh.
That she has been a farmer for many years can be seen in the ages of the many fruit trees on the compound she planted in her earlier days.
"That avocado tree has stood there for 68 years. I planted it in 1947," she says pointing at the tree that looks supple but for its rough bark.
"It is older than any of you here," she says as guests, including those with grey hair look on in awe.
"I planted a number of them that time and many survived for years. Those two giant mango trees adjacent to it are two years younger. I planted them in 1949. Many old fruit trees were cut down during Barack's visit as Senator in 2006.
"Together with chicken, these fruit trees played a major role in the education of Barack Obama Sr and my other children. I sold them to raise school fees and would fill the gaps with vegetables that I bought from as far as Kisumu and sold at Nyang'oma market for a profit.
"Remember the famous photograph of a young Barack carrying a sack as he accompanied me to the to the market? The sack contained sukuma wiki. He sat with me at a spot in Nyang'oma market where I had a small stall at the time close to where a petrol pump stands today. He was curious to know what his grandmother did for a living."
Mama Sarah's daughter Marsat Onyango has walked with her mother in her farming life and is conversant with its facets, especially so since she became literally consumed with her foundation and its work for orphans and other disadvantaged members of society.
Ms Onyango oversees the operations of her mother's farm and has seen it evolve from a rudimentary entity where digging was done manually with with jembes and with ox drawn ploughs, to the tractors that do most of the ploughing today.
Among the latest inclusions in the farm that surrounds the homestead is a greenhouse she runs in partnership with Amiran Kenya.
"Our aim is to demonstrate to the people how modern farming technology can give maximum benefits from small portions of land. We have partnered with Amiran to have more of our people combine their conventional move maize, beans and other crops they grow mainly for food with the profitable horticultural farming," says Ms Onyango.
Not far from the newly constructed greenhouse is a dairy unit where dairy cows so rare in this part of Nyanza are reared using zero grazing.
"We have planted napier grass and other fodder all around the farm that we use to feed these animals. We also have local breeds, but this unit serves as a school for local folks to upgrade their stock. That has been Mama Sarah's dream. Milk from here is sold at subsidised prices to the schools in the neighbourhood, including Senator Barack Obama Secondary and primary schools.
Ms Onyango says the same formula applies to the poultry farm where exotic birds are kept for eggs.
"Like the dairy, this is a learning section and the eggs produced go to the schools and other institutions at subsidised prices," she explains adding that the exotic birds do not mix with the local ones that roam freely on the compound.
Plans are under-way according to Ms Onyango to grow the high yielding tissue bananas.
"The tractor you saw ploughing close to the greenhouse is preparing land for the project. We want people to change from low yielding traditional bananas to tissue ones highly yielding and consequently more profitable. This farm will provide the locals with the requisite expertise for the growing of these crops.
To assist people grow maize using recommended inputs and specifications, Mama Sarah has partnered with Pull Pull technology for a demonstration effort highly destructive striger known in the local Dholuo dialect as 'hayongo'. The cow piece like legume that kills 'hayongo' serves as a fodder for the animals.
Other crops flourishing on Mama Sarah's farm include the immensely nutritious moringa shrub whose seeds are said to boost body immunity.
The leaves of the moringa come in handy for purifying water.
The farm is truly multi-purpose complete with a fish pond frequented by experts from the County's Department of Fisheries.
Like other products, fish is sold to surrounding schools and other institutions when harvested. The last such harvest happened a fortnight ago and the pond is awaiting restocking.