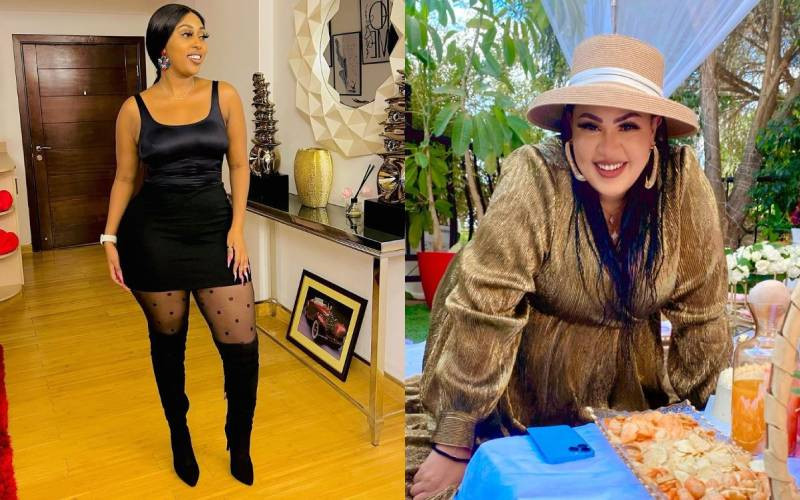 Chairman of Association of Matatu operators Jamal Rohosafi's estranged wife Amira has called out socialite Amber Ray for trying to take pictures with her son Shamir during her last visit to Syokimau.

Narrating her son's side of the story, Amira explained that Amber kept calling her child Shamir, playing on the estate at the time, to take a picture with her.
"Can someone tell Amber Ray next time she comes close to Yamin to keep her boundaries. When I was away for the weekend she kept calling my son Shamir who was playing in the estate to come take a picture with her. He told me this when I got home," wrote Amira.
According to the businesswoman, Amber should be careful not to mess with her children, saying she was ready to go to any extreme to ensure her kid's safety.
"Listen, don't mess with my kids, nilikuachia Jamal. Lakini when it comes to my kids I'll go off on you. But where do we draw the line guys?" added Amira.
Responding to the allegation, Amber refuted the claims stating that Amira's child passed her the wrong information, adding that Amira only wants to make herself famous using her name.
"The way you are all desperate for fame really sickens me. Yaani someone cannot be relevant in this Kenya, you have to mention my name. Not conmen, not some mad people saying that I wanted to take pics with your son. For who? For what?" read part of her post.
Amber further clarified that she is the one that left Jamal for Amira and not the other way round.
"You say you left Jamal for me? When will you stop lying to the world?
"Anyway bottom line is I left him for you and still you couldn't have him. Please, next time you want to be relevant, give me a call, I know you still have my number, if not, tell your husband to give you my number, I can post you as an ad on my page," said Amber Ray.
The two, said to be acquaintances in the past, stopped seeing eye to eye after Jamal, Amira's husband, was found to be seeing Amber secretly.
After the relationship went public, Jamal informed Amira that Amber was her co-wife after they tied the knot.
This led to online fights between the two and eventually a physical altercation that saw Amber relocate to a different area.
Jamal and Amber, however, broke up, and many thought he would rekindle his marriage with Amira, but that was not the case. Instead, Amira announced she wanted a divorce from her husband following the humiliation.
"As from today, kindly consider me a single Mum. @Jimal_rohosafi get that divorce paper ready. Am not going to allow you to disrespect me again," read Amira's post.