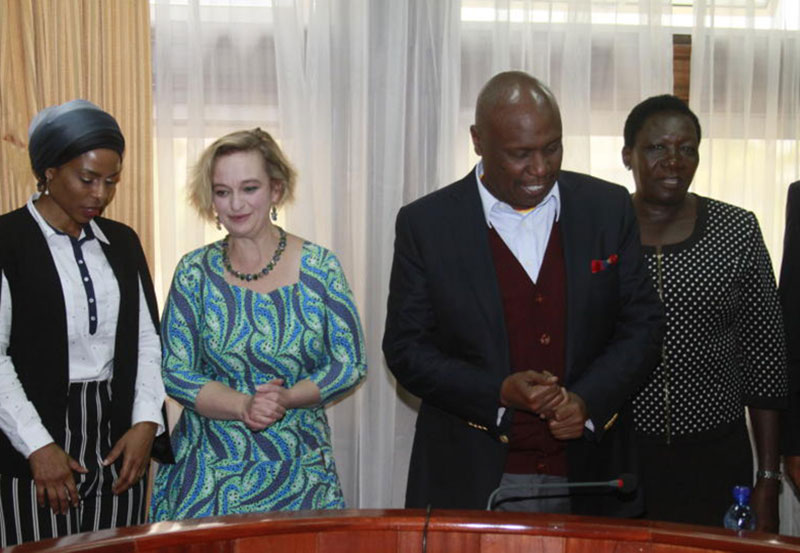 Estonia has offered to help Kenya eliminate paperwork in all offices by fully incorporating Information Communication Technology.
Estonia is renowned for its paperless systems in which nearly all transactions have been incorporated into ICT portals that also contain the details of every citizen.
The country's representative said it was ready to help Kenya eliminate paperwork and enhance efficiency in, among other sectors, online banking, land registries, court systems, surveillance, State gazette and health.
Estonia's Honorary Consul, Kadri Humal Ayal, told the Senate Committee on ICT that Kenya only needed to express an interest.
"I have the green light from Estonia but not from Kenya," said Ms Ayal.
Read More
She told the committee chaired by Baringo Senator Gideon Moi that embracing ICT had seen Estonia's forest cover maintained at 60 per cent by eliminating the demand for paper.
"Use of paper meant the trees were cut down. We advanced in technology so that trees could be spared."
Ayal's statement comes at a time when Kenya is struggling to salvage its environment by protecting forests. Already, thousands have been evicted from Mau Forest, the largest water tower in the country, in efforts to save the country from the severe effects of deforestation.
Kenya has not met its objective to increase forest cover to 10 per cent. It currently stands at seven per cent.
Other sectors
Ayal also told the committee the use of technology would be essential in other sectors and said the approach had improved her country's healthcare system.
"We use e-prescription and the use of technology has ensured that physicians detect and treat cancer before stage one," she told the committee, adding that e-technology had pushed life expectancy in Estonia to 77 years.
Responding to questions from the committee on how Kenya can use ICT to boost operations in various sectors, Ayal recommended partnerships among countries.
Already, Kenya is using some technologies from Estonia, including Taxify, a mobile application used in transport.
Many Kenyans are also using Estonia's Skype, a telecommunication software that enables individuals to make video and voice calls using computers and mobile communication devices.
Gideon said his committee would look for an opportunity to interact with Estonia and explore the use of ICT for the benefit of the country.
The session was part of discussions of the Data Protection Bill 2018 sponsored by the Baringo senator that seeks to protect personal data from misuse by Government and private agencies.
The Bill contains provisions that will significantly change how public and private entities handle information entrusted to them.
It says companies will now have to inform users of any personal data they are collecting, the purpose for collecting the data and how long the information will be stored.
The draft law also gives users the right to decline to have their data collected or processed as well as demand to have false data corrected or deleted upon demand.
A person found guilty of interfering with the personal data of others or infringing on their right to privacy will be liable, on conviction, to a fine not exceeding Sh500,000 or to imprisonment for a term not exceeding two years, or to both, according to the Bill.