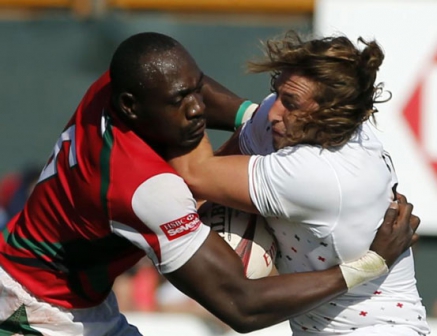 Kenya Sevens head coach Innocent Simiyu is so far impressed with the national team's pre-season training ahead of the 2017/18 HSBC Sevens World Series.
The new season kicks off on December 1-2 with the Dubai Sevens followed by the Cape Town Sevens on December 9-10 in South Africa. Shujaa, who have been drawn in Pool A alongside Series champions South Africa, Canada and invitational team Uganda, are expected to wind up their ten-day residential camp in Nanyuki tomorrow.
"Everything has been good, our pre-season has been good, we've been able to condition the players and also improve their skills while bringing in new players who are skilled. It's a long season, there will be ups and downs we know but we believe we will be able to meet our targets as we have done enough in terms of preparations," said Simiyu.
The former national captain, who is in his second season as Shujaa coach, believes the high altitude training camp has given him an opportunity to try different combinations which will be tested at this weekend's Safland Sevens in Swakompund, Namibia.
"We have been able to try out new things with regard to how we want to play the upcoming series. We are pretty much satisfied with how things have progressed and the new things that we are bringing into our game. We have also had the opportunity to try new players at a higher level in terms of the intensity that we are operating at," said Simiyu.
"There are some good players that we will perhaps see coming into the team while will probably be an advantage to us as it helps sort out issues related to some areas we've been having with the setpiece, particularly the kickoffs and lineouts. It also gives us some dynamics in terms of fire power.
"What's next for us is the Safland Sevens, hopefully we can test the new combinations and players at a higher level, at the competition phase and once we are done with Safland we'll be ready to go to Dubai."
A batch of 12 players including new call-ups Eric Ombasa and Sam Muregi departed for Namibia yesterday.