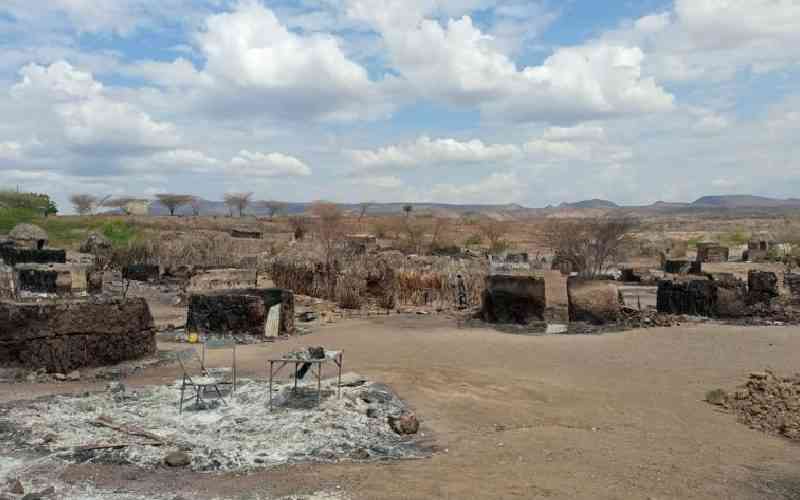 Residents of Napeitom in Turkana East were on August 2, 2022, struggling to come to terms with the Sunday night attack, as the death toll rose from seven to 10.
James Kanen, 44, a pastoralist and businessman, lost four children in the attack that also left his wife nursing serious burn injuries.
On August 2, the number of casualties rose after three more people died at Lokori health facility where they were being treated.
Kanen told The Standard how the bandits raided and torched their manyattas while the occupants were sleeping, oblivious of the attack.
"The pain I am going through is unexplainable. I lost everything, and currently do not even have shelter. My wife is admitted to hospital, and is supposed to be transferred to the Moi Teaching and Referral Hospital (MTRH) for further treatment," said Kanen.
He counts himself lucky as he was away on the fateful night and returned after news spread that his village had been overrun by bandits.
"I came back only to find houses reduced to ashes. My children were unlucky, and they were burnt beyond recognition. They couldn't escape from the manyatta," he added.
"Retaliatory attacks have persisted for years and the government is fully aware of what has been happening. It is so unfortunate that it has resulted in this. For how long will we continue to suffer as residents of Napeitom?" Kanen posed.
He said locals feel neglected by the government and left to suffer at the hands of their attackers.
"What are the plans of the government, especially for those who have been affected? My wife who is currently admitted to Lodwar County hospital is supposed to be transferred; who will assist me because I don't have money? Will she be left to die like the others who were burned?" he posed.
Locals and survivors have sought refuge at Lokori, over 20km away from Napeitom village.
Jacob Ewoi, a resident, said traumatised locals fled the village and are being hosted by relatives in Lokori.
"Villagers walked 20km to Lokori. They have no food and water – they are depending on locals, who also have nothing to offer," said Mr Ewoi.
He added, "Napeitom is a no-go zone. The armed attackers are hiding along the border of Turkana and Baringo counties, and we fear that they may strike any time."
The area has witnessed increased attacks targeting locals, travellers and police officers deployed to Turkana East and Turkana South.
Last week, a police inspector was shot dead in Turkana South while responding to a distress call from passengers who had been waylaid by bandits on the Lodwar-Kitale highway.
A section of leaders held protests in Lodwar town, demanding urgent intervention by the government saying no top government official had visited the troubled area.