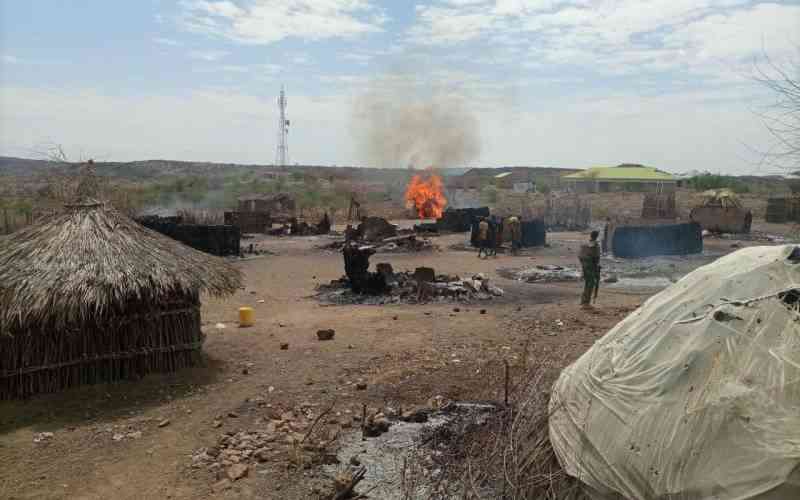 A Sunday night attack in Naipetome village in Turkana East, Turkana county left seven people dead after suspected bandits torched houses.
Some of the residents managed to escape, but seven people, among them children and women, were burned beyond recognition.
"I have never seen anything like this. The bandits just came and burnt houses without stealing anything. They were coming to attack innocent people," said Osborne Arot, a government officer working at Napeitome.
Schools and hospitals have been closed while children and women were taken to Kapedo police camp.
Napeitome, Kamuge and Lomelo are among the schools that have been closed. The raiders also attacked Kamuge village, which is around 22 km from Napeitome.
An aspiring MCA, Bonventure Emase, who had gone to campaign at Kapedo was surrounded by the armed bandits, but managed to escape after one of the bandits identified him.
He pleaded with the bandits to spare 10 residents, who had accompanied him from Kapedo.
They were rescued by Rapid Deployment Unit (RDU) officers and taken to the Kapedo police camp.
Turkana County Commissioner Antony Wambua confirmed the incident, adding that police officers are investigating the matter.
Rift Valley Regional Commissioner Mohamed Maalim said that bandits believed to hail from the neighbouring Tiaty Constituency attacked the residents at around 11pm.
"The bandits conducted a raid when the residents were asleep. They set ablaze 35 houses, which led to the death of seven people who were burnt beyond recognition," said Maalim.
He explained that police officers attached to Naipetom Police Post managed to respond in time and repulsed the bandits from causing further terror. "The officers managed to stop the bandits. They also rescued two women from the burning houses, who are currently receiving treatment at Lokori Sub County Hospital," said Maalim.
Retaliatory attack
Maalim revealed that the attack is suspected to be a retaliatory attack to an alleged earlier raid conducted by bandits from the Turkana community last week.
"We have deployed elite security units to comb the area and bring the assailants to book. Calm has been restored in the area, and we regret the lives lost," he said.
Meanwhile, four bandits linked to the shooting of two police officers on July 29, along the Kitale-Lodwar Highway, were yesterday fatally shot after the police laid an ambush on them.
"The bandits waylaid a public service vehicle between Kainuk and Lokichar along the Kitale-Lodwar Highway on the night of July 29. They injured two police officers who responded and fled the scene," said Maalim.
The regional boss said that the two officers were rushed to hospital with serious injuries, where one succumbed, and the other has since been stabilized.
"Our officers were acting on an intelligence report and managed to ambush a group of six bandits riding on two motorcycles. Four bandits were killed as they exchanged fire with the officers," said Maalim.
He added that two bandits managed to escape on a motorcycle in the 10 am incident and were being pursued.
"We recovered an AK-47, seven rounds of ammunition and one of the motorcycles. These are dangerous criminals, and we are looking for them dead or alive," said Maalim.