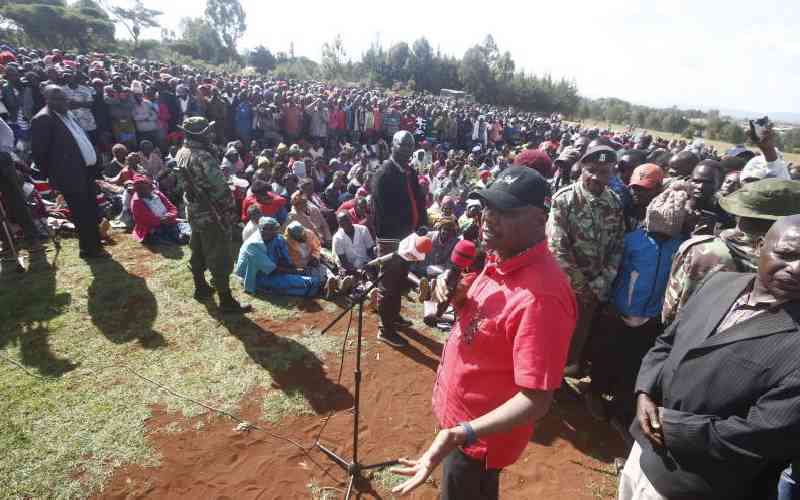 Kanu Chairman and Baringo Senator Gideon Moi yesterday took his campaigns to Baringo South.
Gideon made several pledges, including push for the issuance of title deeds to residents of the Mochongoi Settlement Scheme.
The senator addressed rallies in Kimoriot, Kongasis, Kamailel, Kabel, Nyimbei and Sandai. He said his focus would be uplifting the lives of the residents.
The senator was accompanied by Baringo Deputy Governor Jacob Chepkwony, Baringo South MP aspirant on a Kanu ticket Richard Moindi and Kabarak Vice Chancellor Henry Kiplagat.
Last week, the senator officially launched his campaigns at his Sacho home where he met residents of Baringo Central.
Since then he has embarked on a series of campaigns in bid to woo the over 200,000 voters in the region as he seeks to defend his seat for the third term.
"My duty and responsibility is my people, you the people of Baringo and the people of Rift Valley to ensure whatever the outcome of the elections you must be okay. You have to be in safe hands," said Gideon during a rally at Kimoriot Centre.
Gideon noted that the people of Mochongoi are in critical position and need to be protected due to lack of title deeds.
"You are in a critical position and have to be protected because of the title deeds issue. Since 2002 we have been together and I have stood firm with you and we have stayed together to date. You will get your deeds.," he said.
He said it was time the locals were issued with title deeds to realise the full benefit of their land and the ownership document.
He promised that more roads would be constructed to open up the areas prone to insecurity so that police can access the region and flush out bandits.
Gideon promised to ensure the completion of the Karandi-Mochongoi-Marigat road which locals claimed had stalled.
Last week, the senator revealed that the county has benefited from a Sh8 billion road infrastructure in only one year.
He promised to ensure insecurity is addressed, adding that he will push to have an additional number of National Police Reservists.
In March, the government reinstated police reservists and deployed 60 to parts of Baringo North and Baringo South.
He warned leaders against politicising the issue of insecurity.
He noted that unemployment is still a major issue in the region. He said he will push to have more youth get employed in various government sectors.
Prof Kiplagat said Gideon has done a lot and asked the locals to allow him continue serving them.
Kiplagat said the senator has been a champion of education and has educated over 290 children from needy families in Baringo.
"Gideon has done a lot for the people of Baringo, he has championed for education of needy students. Together with his family they have sponsored 153 learners at Moi High School Kabarak. In Sacho High School the family sponsored over 155 learners. In total the family has sponsored 298 needy students who excelled and are now employed," he said.
Deputy Governor Chepkwony said were it not for Gideon, the locals would have been evicted from Mochongoi Settlement Scheme a long time ago. "Let's not be fooled to reject our own. Let's protect our pillar," said Chepkwon.
Kipnoki Yator said they were the senator's soldiers.