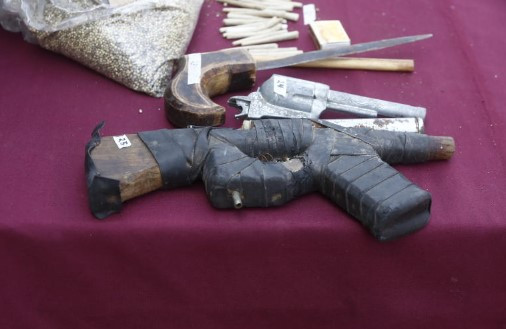 Police have arrested the main suspect linked to a string of murders in Nakuru within the last two weeks.
Nakuru County Criminal Investigations Officer (CCIO) Anthony Sunguti said that five other people were also arrested within Nakuru on Friday morning.
"We have arrested five suspects linked to the murder of three women in Mawanga area. They were arrested in their hideouts within Kivumbini slums of Nakuru East Sub County," said Sunguti.
Detectives from the Directorate of Criminal Investigations (DCI) revealed that the prime suspect in the murders had been arrested in Keroka, Kisii County on Thursday, June 30.
"Evans Michori Kebwaro was smoked out of his hideout yesterday [Thursday] afternoon in Keroka, Kisii where he had gone into hiding," DCI said.
Kebwaro, 24, who the DCI suspects as the lead was then transported to Nakuru where he had committed the crimes and exposed five other people he had been working together with.
"He named five others involved in the murders. At around 5 am, we moved in to their location and found them in different rooms in the same house," said Sunguti.
The five have been identified as Julius Otieno, 27, Josphat Simiyu, 24, Dennis Mmbolo, 25, Isaac Nganga, 18, and Ficky Wanjala, 25.
Various exhibits similar to those found in the hands of 128 suspected members of the dreaded 'confirm' gang were also recovered.
"We recovered three rounds of ammunition, a navy blue Kenya police jersey, rolls of bhang, 13 mobile phones, and security guards uniform," said Sunguti.
The suspects are being held in Bahati Sub County Police headquarters for further interrogations.
"We are conducting our preliminary investigations to get further details from them. We shall take them to court earliest on Monday."
The three victims Grace Wanjiru, 21, Susan Wambui, 36, and Diana Tasha, 25, were killed between June 15 and June 24, all in a similar fashion that involved rape, strangulation, and burning of bodies while at their homes.