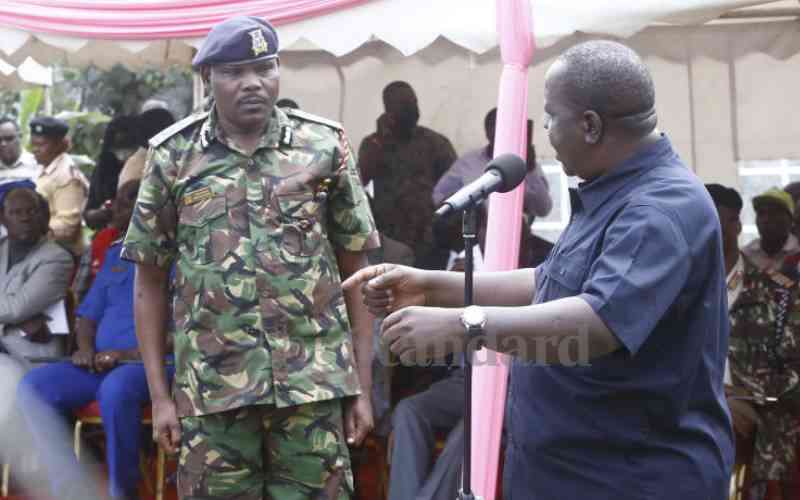 Interior Cabinet Secretary Fred Matiang'i yesterday declared war on criminal gangs that have denied Nakuru residents their peace, killing six women in the last six months.
Dr Matiang'i, who toured the Mawanga area where three women were killed in the last two weeks, hinted that the impending police operation will be bloody and brutal.
"We shall deploy unprecedented fire and force on Nakuru gangs. Let no one come to lecture me on human rights. Where were you when the people were being killed?" said Dr Matiang'i.
The CS also reshuffled senior officers in what he said were efforts to step up the fight against the gangsters who have been linked to drug trafficking.
"We have changed the police leadership. Peter Mwanzo will be the new county commander. The criminals have called him to come and work here. It will not be business as usual," he said.
Mr Mwanzo was the Kasarani sub-County Police Commander in Nairobi. He has replaced Nakuru Commander Beatrice Kiraguri who has been moved back to Vigilance House.
During the visit, Matiang'i was accompanied by Inspector General of Police Hillary Mutyambai, Director of Criminal Investigations George Kinoti, and GSU Commandant Douglas Kanja.
The recent killings, Matiang'i said, have attracted the attention of President Uhuru Kenyatta who earlier this week held a meeting with Governor Lee Kinyanjui at Harambee House.
"Just like me, the President is very angry with this and he has directed senior officers to supervise this operation. We will not surrender to thugs. We won't waste any time. You will not hear about these criminals again," said Matiang'i.
The CS read the riot act to rogue politicians and government officials linked to the gangs, saying that they will bear collective responsibility as the operation continues.
"Anyone who is supporting them, harbouring them or financing them shall be treated as one of the criminals. We shall not discriminate. Chiefs and their assistants who will not cooperate in this war shall have to put their uniforms aside and pave way for those ready to work," he said.
He questioned how the suspected politicians and drug barons have been coordinating operations of the gangs under the watch of government officers.
"It has been reported that the criminals and their masters have been meeting and taking oaths under certain trees. Where are the officers who are supposed to be on the ground as this happens?" he said.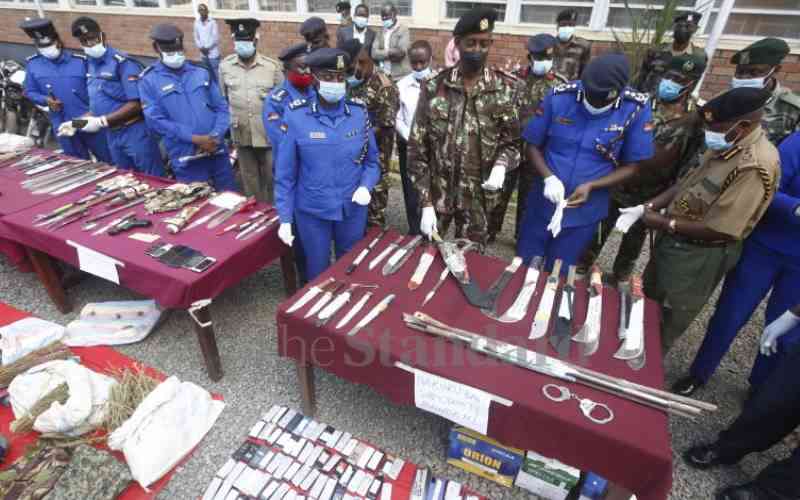 According to the CS, the criminals have been part of the society from which the chiefs and their assistants are drawn, but who have failed to share intelligence reports with the government.
"Whatever is happening here is not supposed to happen in a country where people live freely. It is regrettable that women in Kenya in this era can live in fear of attacks in broad daylight," he said.
Mr Kinyanjui said that the recent attacks had left the families traumatised. He urged the government to take control of the area and residents' security.
"We urge the people to volunteer any information they have on these gangs. Our estates may turn into ghosts because of criminal gangs. We must fight them together," said Kinyanjui.
The governor said they will erect street lights, and his office would donate vehicles to conduct 24-hour patrols.
The visit by Matiang'i came in the wake of rising insecurity in the city where the shocking murders of three women were recently reported at Mawanga estate in Bahati constituency by criminals thought to be members of the dreaded Confirm Gang.
A security operation in the area saw 128 suspected gang members arrested.
Police seized 436 mobile phones, 40 laptops, 61 knives, six swords, 15 pangas, 3,367 rolls of marijuana, more than one kilogramme of unprocessed bhang, and sachets of heroin.
So far, three local MPs have recorded statements with the Directorate of Criminal Investigations over their alleged links to the gang.