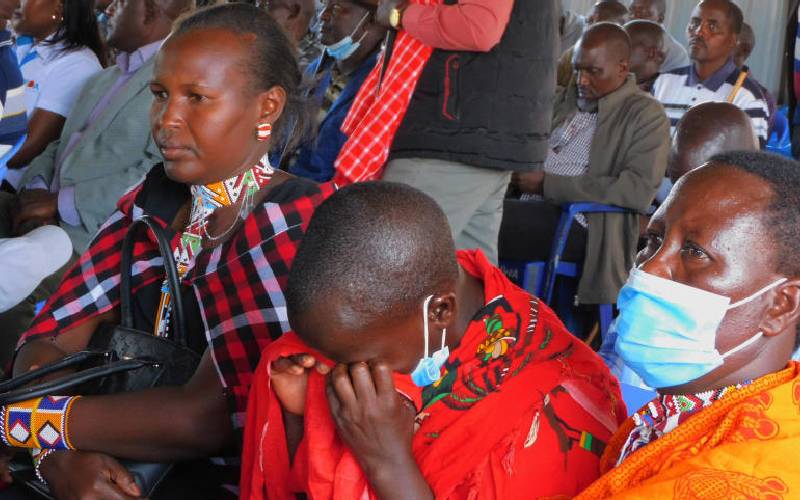 A group of Maasai elders and political leaders now want the government to remove people living in the migration paths of wild animals at Mikururo along the Kajiado-Makueni border.
The Ilkaputei Council of Elders says the corridor has been the main cause of deadly human-wildlife conflict.
In a statement read by their president Solomon Kisemei, the elders demanded immediate action be taken before more deaths are reported.
"The culmination of injustice perpetrated against our people for the last 10 years has reached a climax, and we are saying it must end now. We, therefore, urge the government to move with speed and address this encroachment of wildlife corridors immediately," said Mr Kisemei.
Alternatively, the elders asked Kenya Wildlife Service to relocate the wild animals away from human habitation.
Peaceful co-existence
"You cannot keep such a huge number of animals in an inhabited area and expect peaceful co-existence," said Mr Kisemei.
The leaders, who were speaking during the burial of three residents shot by police two weeks ago in Masimba, said anyone who's grabbed land in the wildlife corridor should be ejected.
Kajiado Governor Joseph Ole Lenku said there was the need for government to urgently address the matter, even as he called for the arrest of officers who shot protestors.
"We are fed up with empty promises by the government. We are ready to name and shame those who have grabbed this piece of land. We cannot sit and wait as our people continue to die.
"Since time memorial, we have been living with these animals, but no one cares about our welfare. We are therefore demanding that all the officers involved in the shooting be arrested and brought to book," said Mr Lenku.
Environment Cabinet Secretary Keriako Tobiko assured those present that the government was committed to protecting both wild animals and the community and urged leaders not to politicize the matter.
"We know that the government is committed to protecting its people. However, we need to give the government time to investigate this matter and come up with a full report on what transpired," said Mr Tobiko.